March was the first full quarter for Infosys under its new CEO Salil Parekh.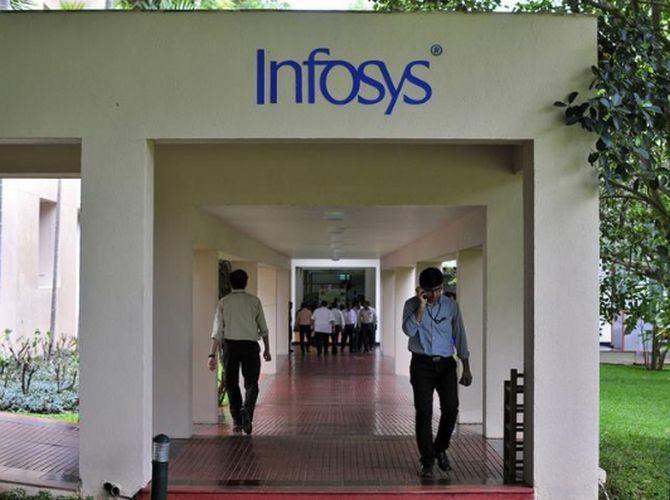 Infosys Ltd on Friday reported a 2.4 per cent rise in the March quarter net profit and projected better revenues in FY'19 as it focuses on digital business and increasing localisation in key markets like the US and Europe.
Eight month into the job, Nandan Nilekani decided to shed Panaya, the Israeli firm whose $200 million acquisition had become a bone of contention between the former management led by Vishal Sikka and high-profile founders like N R Narayana Murthy.
Also, the Board will pay up to Rs 13,000 crore to shareholders including Rs 2,600 crore through special dividend.
Other routes will be decided later for the remaining Rs 10,400 crore, as the company looks to meet shareholder demands for higher returns.
Infosys will also continue with its policy of returning up to 70 per cent of its free cash.
Infosys on Friday reported a consolidated net profit of Rs 3,690 crore, or Rs 16.98 per share, in January-March 2018 quarter as compared to Rs 3,603 crore, or Rs 15.77 a share in the same period a year back.
The consolidated net profit for the March quarter and FY2017-18 includes the impact of Infosys' Advance Pricing Agreement with the US IRS, Infosys said.
This is the first full quarter under the new CEO Salil Parekh -- who had been tasked with restoring growth and order at the country's second largest IT services firm when he joined in January this year.
Infosys said its revenues grew 5.6 per cent to Rs 18,083 crore in the January-March quarter compared with Rs 17,120 crore in the year-ago period.
Net profit was up 11.7 per cent at Rs 16,029 crore, while revenues grew 3 per cent to Rs 70,522 crore in FY2017-18 over the previous year.
"I am pleased with our healthy revenue growth, profitability, and cash generation in Q4. Our robust performance is a reflection of the strong impact we have with our clients and the dedication of our employees," Parekh said.
He added that over the last three months, he had spent time with Infosys' clients, employees and senior leadership.
For 2018-19, Infosys expects its revenue to grow in the range of 6-8 per cent in constant currency terms and 7-9 per cent in the US dollar terms.
Sanjeev Hota, AVP (research) at Sharekhan by BNP Paribas, said Infosys' FY'19 revenue guidance is in-line with expectations.
"We expect FY'19 performance would be better compared to FY'18, given expectations of strong growth in insurance and energy vertical along with higher spends from the larger US banks," he added.
Outlining strategy, Parekh said Infosys will focus on four pillars -- scaling digital business ($2.79 billion in revenue currently), energising client's core technology landscape via AI and automation, re-skilling employees, and expanding localisation in markets like US, Europe, and Australia.
Infosys has also announced that it will acquire US-based WongDoody Holding Company in a deal valued at up to $75 million.
Talking about the decision to sell Panaya, CFO MD Ranganath said the company undertook a strategic review of all its services and platforms.
"The objective was very simple, where do we need to accelerate our investments, where do we need to push forward and which are the areas where we have diminished our alignment with our over all direction we have taken," he said.
The company will also looking at offloading its other subsidiaries, Kallidus and Skava.
It expects the sale to be completed by March 2019.
Infosys said assets amounting to Rs 2,060 crore ($316 million) and liabilities of Rs 324 crore ($50 million) in respect of these three subsidiaries have been reclassified and presented as 'held for sale'.
Upon reclassification, an impairment loss of Rs 118 crore ($18 million) in respect of Panaya has been recognised in the consolidated profit and loss for the quarter and year ended March 31, 2018, it said.
Infosys COO Pravin Rao said the company will be rolling out compensation increases for about 85 per cent of its workforce from April, while for the remaining it will be effective from July.
The wage hikes will range from mid-single digit to high-single digit, he said.
Infosys had a total headcount of 204,107 people at the end of March 31, 2018.
While the gross addition stood at 12,329 people, the net addition was of 2,416 employees.
Besides, the Board has appointed Kiran Mazumdar-Shaw, independent director as the lead independent director of the Board.
The Board has recommended a final dividend of Rs 20.50 per share.
After including the interim dividend of Rs 13 per share, the total dividend for the fiscal 2018 will amount to Rs 33.50 per share.
Photograph: Abhishek Chinnappa/Reuters