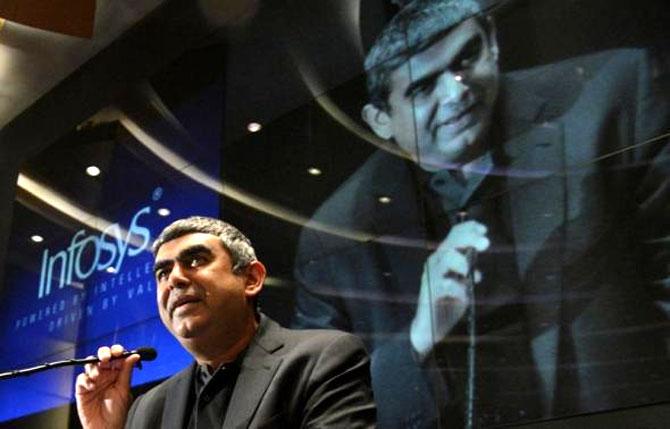 Image: Infosys CMD Vishal Sikka. Photograph: Reuters
Infosys on Friday reported a 13 per cent growth in consolidated net profit to Rs 3,250 crore (Rs 32.5 billion) for the quarter ended December 31, 2014, on higher volume and improved utilisation rates.
The company's net profit stood at Rs 2,875 crore (Rs 28.7 billion) in the same period last year.
The Bengaluru-based firm's consolidated revenues in October-December quarter rose 5.9 per cent to Rs 13,796 crore (Rs 137.96 billion) from Rs 13,026 crore (Rs 130.26 billion) in the year-ago period, the company said.
"We are excited by several breakthrough results in Q3.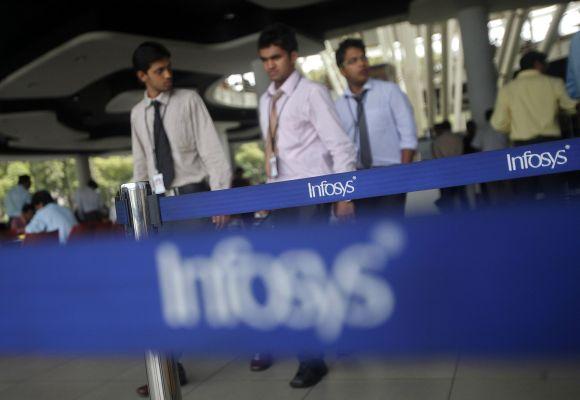 Image: Infosys campus. Photograph: Reuters
"Our 'renew and new' strategy is being received well by our clients and our ecosystem and we are already seeing its early adoption," Infosys CEO and managing director Vishal Sikka said.
He added that based on its strong performance, the company is intensifying efforts to deepen employee engagement and client ecosystem.
Reacting to the results, the shares surged 5.3 per cent in afternoon trade to Rs 2,079.45 apiece.
The company's net profit was higher 4.9 per cent from Rs 3,096 crore (Rs 30.96 billion) in July-September 2014 quarter, while revenue grew 3.4 per cent from Rs 13,342 crore (Rs 133.42 billion) in the second quarter of fiscal 2014-15.
Image: Vishal Sikka and Infosys Founder N R Narayana Murthy at the Infosys Science Foundation Awards ceremony in Kolkata on January 5. Photograph: Indrani Roy/Rediff.com
"Our sequential revenue growth in Q3 was adversely impacted to the extent of 1.8 per cent due to US dollar appreciation against other major currencies," Infosys chief financial officer Rajiv Bansal said.
He added that the company made required investments keeping in mind short-term priorities and long-term aspirations.
In dollar terms, Infosys posted 12.7 per cent jump in net profit to $522 million, while revenue was up 5.6 per cent to $2.21 billion in the third quarter.
The company added 13,154 employees (gross) during the quarter taking its total headcount to 1,69,638 people at the end of December 2014.
Infosys and its subsidiaries added 59 clients (gross) during the quarter.