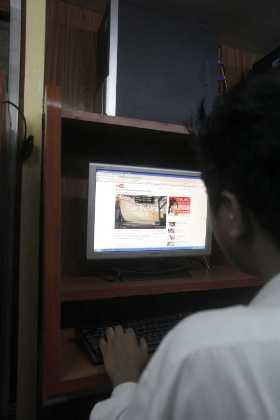 Helped by rising number of people viewing videos on Internet, India's online video consumption has doubled to 3.71 billion videos per month in the past two years, a report by global digital research firm comScore said.

Online video consumption in India stood at 1.86 billion per month as on March 2011.

As per the firm's Video Metrix report, total online video audience in India grew by 69 per cent to 54.02 million viewers in March 2013 compared to 31.94 million viewers in March 2011.

India currently has over 137 million Internet users.

"Total online video consumption has doubled in the past two years to 3.7 billion videos per month.

"This dramatic growth has been driven by a sizable increase in the number of online video viewers, in addition to increasing consumption per viewer," comScore said.

Google web sites, driven primarily by viewing at YouTube, ranked as the top online video property in March this year with 31.5 million unique viewers, followed by Facebook (18.6 million) and Yahoo sites (8.2 million), it added.

Video ad platforms VDOPIA (6.4 million viewers) and TubeMogul (5.5 million viewers) rounded out the top five, highlighting that these platforms can deliver reach similar to that of the top video content networks, comScore said.

"The rapid online video growth we're witnessing in India represents a significant opportunity for both marketers and media companies in India," comScore India Senior Director Kedar Gavane said.

Even in the mature markets of the US, online video has become one of the hottest sectors of because of the value marketers place on video ad inventory, he added.

"As the Indian online video market begins to realise the value of its existing inventory while continuing its growth in viewers and consumption time, there will be substantial upside for the key players in this market," Gavane added.
Image: A man looks at online video portal YouTube at an internet cafe in Yangon, Myanmar | Photographs: Soe Zeya Tun/Reuters