Apart from the growing adoption of the internet in the country, brands are drawn to the agility of the medium, its targeted and data driven approach and the increasing cost of offline channels for sales and distribution.
Illustration: Uttam Ghosh/Rediff.com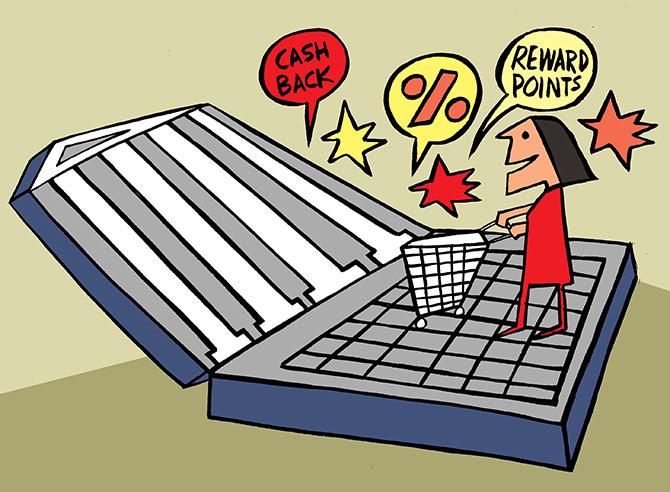 The digital landscape is changing.
It is not just smartphone brands launching cheap phones online, or e-commerce channels using private labels to add heft to their online portfolios.
Increasingly, large traditional players known for their wide distribution networks and offline customer engagements are taking to digital platforms to launch new products and online-only labels.
Recently Nestlé India launched a variant of the popular Maggi brand, exclusively on Flipkart; Samsung launched a global refrigerator brand on Amazon and its exclusive offline stores; Harman International has launched an online store for audio brand JBL and both Hindustan Unilever India and Marico have recently launched digital-only male grooming labels.
Hyundai India uses digital platforms for launching model upgrades, as do several other automobile brands.
Apart from the growing adoption of the internet in the country, brands are drawn to the agility of the medium, its targeted and data driven approach and the increasing cost of offline channels for sales and distribution.
Launching exclusively through digital platforms helps companies get a grip on customer sentiment faster, say experts.
For Nestlé India, going digital helped understand, very quickly, how customers would react to the product.
The aim was to test the market's willingness to adopt a new flavour without the customer having to step out of the comfort of her home, the company said.
It sold one lakh single-unit packets in three days.
Nishit Garg, senior director, Flipkart said, "Nestlé and Flipkart's association to launch (the product) exclusively cements the transition of FMCG's physical goods into the digital space."
Consumer goods major Marico that launched a digital exclusive brand Studio X under the Set Wet male grooming portfolio in May this year says that it may look at 5-6 launches (of digital brands) a year, as internet penetration steadily grows.
HUL has decided to resurrect the popular male grooming brand, Brylcreem, as an online only label.
"Digital is simple, easy, scalable, cost effective and modern and carries a lot of information to the consumers," said Puneet Anand, senior general manager (marketing) and group head at Hyundai Motor India.
The company has recently launched an upgraded version of Creta online and earlier, the Grand i10.
The early adopters of digital were smartphone and electronics brands.
It was seen as a low-risk, low-cost option for new launches.
While the cost of online launches and marketing has risen sharply, the medium is now an integral part of brand strategy.
K V Sridhar, founder and chief creative officer, Hyper Collective said, "It makes a lot of sense to first launch in the digital platforms, create the brand and thus reduce the cost of failure, before moving to the physical market.
"Those who want to succeed have no other option but to focus on digital."
For brands, the radius is no longer physical.
They can find an audience anywhere in the country and in that sense the struggle that many faced when taking regional products to a wide national audience is not as intense, explained Harish Bijoor, CEO of Harish Bijoor Consults.
Going online first helps global brands break into the Indian market, said an Amazon spokesperson.
Especially for television and smartphone brands. Over the years, the average billing size for televisions sold online has gone up 50 per cent, while for appliances and smartphones it has increased by up to 20 per cent in the last one year, according to industry reports.
Samsung launched its global flagship refrigerator brand, Family Hub, priced at Rs 280,000 through Amazon and its own offline stores.
Chinese smartphone company One Plus says that online sales account for a larger share of the Rs 30,000-plus smartphone segment today.
Offline stores bring in four per cent of total sales in terms of volumes for this category, while online accounts for seven per cent of the total sales.
According to a spokesperson for HMD Global that relaunched the Nokia brand in India in 2017, "So far we have launched three smartphones online. We received a good response from Amazon for Nokia 6 with over one million registrations. Nokia 6.1 Plus also had a great sale both on Flipkart and on Nokia.com.
"The phones went out of stock within minutes."
Harman International, launched an online store for JBL audio products last month.
Sumit Chauhan, vice-president, Lifestyle Audio, Harman India said that their online store is meant to reassure consumers about the authenticity of the brand and professional after-sales support.
Harman and JBL products are also sold across other e-commerce platforms.
The company says that online channels bring in nearly half the total sales revenue for JBL brands.