Departments of electronics, excise, I-T launch probe into Rs 251 smartphones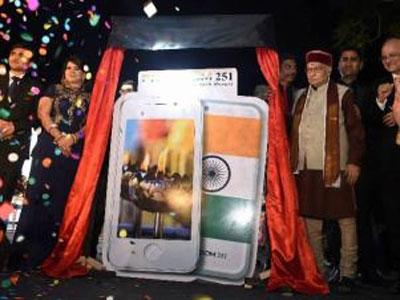 Ringing Bells, a Noida-based firm which claimed to be maker of the world's cheapest smartphone this week, found itself in the centre of controversy on Saturday as the government swung into action following allegations of wrongdoing.
While Telecom Minister Ravi Shankar Prasad has asked Department of Electronics and IT Secretary (Deity) Aruna Sharma to look into the scheme of Ringing Bells offering a smartphone for Rs 251, the I-T and the excise departments are looking into the financial structure of the Noida-based company and have obtained documents, including those from the Registrar of Companies (RoC), in this regard.
Ringing Bells president Ashok Chaddha said in a statement, "Yes, there was a visit from excise department and I-T department. Since we are planning to achieve milestones under Make in India, Skill India and Startup India. They issued us some guidelines for future and extended full support and cooperation."
The government's action has come in response to a letter from BJP MP Kirit Somaiya. "The minister has received a representation from Kirit Somaiya and mobile phone manufacturers, expressing doubts about the veracity of this venture," said a source in telecom ministry. Any action against the company will be taken only after the report of the IT ministry, which will be out by next week.
Prasad has asked the Deity secretary to probe the entire issue. Somaiya has approached a host of ministries, including telecom and finance, regulators Sebi, Trai, RBI, and state governments, raising doubts about the company claiming to offer the world's cheapest mobile phone.
On Saturday, Ringing Bells closed the booking for its Freedom 251 phone, citing heavy demand. The notice on the website of company said it received 3.70 crore (Rs 370 million) registrations on Day 1 and 2.47 crore on Day 2. The company said delivery of all handsets will be completed by June 30.
Ringing Bells' president Ashok Chadha said the manufacturing cost of the phone is about Rs 2,500, which will be recovered through economies of scale, innovative marketing, reduction in duties and creating an e-commerce marketplace. "By going for Made in India components, we can save on the 13.8 per cent duty. Also, we will be selling online first and thus, save the costs incurred on the large distribution network," he said.
Chadha also rejected speculation of the handset being subsidised by the government. "The phone will be manufactured in Noida and Uttarakhand. Two plants will be set up for Rs 250 crore (Rs 2.5 billion) each with a capacity of 500,000 phones. The money will come in the form of debt and equity (1.5:1)," he said. Chadha added that the equity is being met by the promoter family of the company that is "engaged in agri-commodities business" in Uttar Pradesh, but declined to give details.
But this has not gone down well with the industry. "The response... of Ashok Chaddha of Ringing Bells that how much cost will be saved due to import/local assembling/online marketing... far from convincing," MP Kirit Somaiya posted on Twitter.
Indian Cellular Association (ICA) has also questioned the claims. "We have checked with all operators in the industry and no one has admitted to having been in any kind of bundling deal or partnership with them. I will only say consumers should stay cautious. More than consumers, it may hurt businessmen in small towns if the promise made by the company fails," ICA National president Pankaj Mohindroo said.
The company had heavily advertised before Wednesday's launch, resulting in a mad scramble for the phone when online bookings opened on Thursday. Consumers and media persons were in for a rude shock when they found the small office closed and company officials not responding to phone calls.