Tata Consultancy Services (TCS) has become the second most valued brand in the information technology (IT) services sector globally, while Accenture retains the title of the world's most valuable and strongest IT services brand, according to Brand Finance.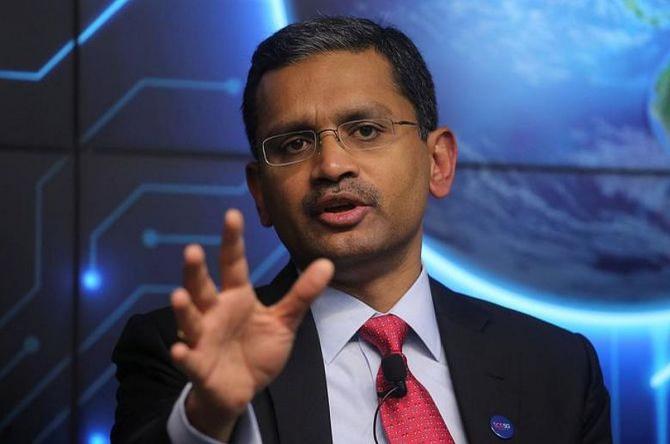 Infosys has emerged as the fastest growing IT services brand following 52 per cent brand value growth since last year and 80 per cent since 2020 to $12.8 billion, earning it third spot, the brand valuation consultancy said in its latest Global 500 IT Services Ranking report.
TCS and Infosys have pushed IBM to fourth spot from second. IBM's brand value now stands at $10.6 billion, a decline of 34 per cent from last year and 50 per cent since 2020.
The US technology major's brand value has fallen significantly after the divestment of Kyndryl.
The sale caused a loss of over $19 billion in revenue to IBM, impacting its brand value.
Apart from TCS and Infosys, there are four more Indian companies in the top 25 IT services brands -- Wipro (7th), HCL (8th), Tech Mahindra (15th) and L&T Infotech (22nd).
The ranking of TCS, valued at $16.8 billion, was propelled by its business performance and successful partnerships, said the report.
TCS grew its brand value by $1.84 billion (12.5 per cent) to $16.78 billion over the last 12 months.
This growth is attributed to the company's investments in its brand and its employees, customer equity, and strong financial performance, it said.
Indian IT services companies have outpaced their competitors from the United States in brand value growth over the past two years of digital transformation in the global economy, accelerated by the Covid-19 pandemic, the report said.
The average growth of Indian brands that have appeared in the Brand Finance IT Services ranking since 2020 is an impressive 51 per cent, while the US brands have on average contracted by 7 per cent.
"Despite the global pandemic and its inevitable impact on businesses, the IT services and technology sector has proven that it is equipped to perform with successful results.
"By re-evaluating the market and gaining a clear focus on cloud services, technology consulting, machine learning, and artificial intelligence, IT services brands – from India and around the world – will continue to flourish and innovate in the face of challenges posed by pandemic-related shortages and restrictions," said Savio D'Souza, valuation director, Brand Finance.
Reacting to the report, TCS said the ranking was a validation of its increased market relevance and focus on innovation and transformation of clients, their customers, and the larger community.
"Our new brand positioning 'Building on belief' captures our aspirations and convictions.
"Our 'customer-centric focused' strategy and focus on research and innovation over the last decade positions us to capitalise on upcoming opportunities," Rajashree, chief marketing officer, TCS, said in a statement.
Salil Parekh, CEO, Infosys, said, "Our clients have rapidly scaled their digital adoption in the last two years and have reposed tremendous trust and confidence in our ability to help them transform."
RIL, Jio, Mahindra group, HDFC Bank all see dip in ranking
Though the Tata Group continues to be the only Indian representative among the top 100 most valued brands globally, its ranking has slipped by one position to 78 this year, from 77 last year.
Meanwhile, Reliance Industries (RIL) slipped to the 236th spot, down from 229 last year.
It's subsidiary, Jio, too, slid in the ranking, falling from 409 in 2021 to 451 this year, the lowest ranked Indian firm in the top 500, according to the report.
It's competitor Airtel saw a rise in ranking from 323 last year to 269 this year.
Mahindra group's ranking slipped 22 positions to 364 in 2022, from 342 in 2021.
While L&T was stable at the 417th position, HDFC Bank saw its ranking slide from 295 last year to 319 in 2022.
The three state-run firms on the list all saw a rise in their respective ranking.
Initial public offering bound Life Insurance Corporation of India LIC rose to the 179th spot in 2022 from 208 last year.
The State Bank of India managed to climb to 279 from last year's position of 334. Indian Oil, too, saw a minor improvement in its position to 448 in 2022 from 453 last year.
Valuation
According to the report, Tata Group's brand value rose an impressive 12 per cent over last year to $23.9 billion.
In addition, its chairman, Natarajan Chandrasekaran, ranks as the top chief executive in India and stands at the 25th position globally in the Brand Guardianship Index 2022.
The role of a brand guardian is to build brand and business value.
"Our ranking recognises those who are building business value in a sustainable manner, by balancing the needs of all stakeholders — employees, investors, and the wider society," explained the report.
"The performance of Tata Group exceeded expectations in 2021, thanks to a number of new acquisitions and partnerships and as key group companies — from Tata Consultancy Services to Tata Steel — witnessed major growth.
"The market capitalisation of Tata Group's 20 listed subsidiaries has exceeded that of 70 listed central public sector undertakings (CPSUs) in India," said the report.
Additionally, the Tata Group will be sponsoring the Indian Premier League (IPL).
Every year, brand valuation consultancy Brand Finance puts 5,000 of the biggest brands to the test, and publishes nearly 100 reports, ranking brands across all sectors and countries.
The world's top 500 most valuable and strongest brands are included in the annual Brand Finance Global 500 ranking, now in its 16th year.