At TCS, Chandrasekaran would be succeeded by Rajesh Gopinathan, currently the company's chief financial officer.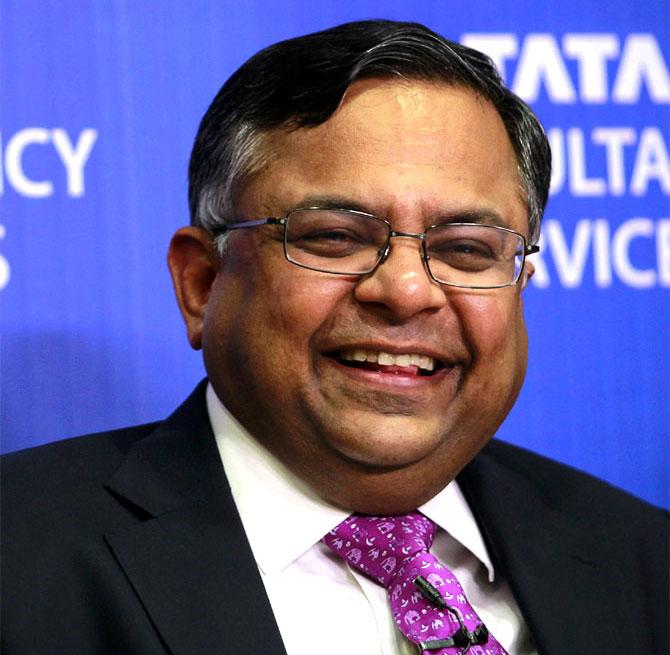 Tata Sons on Thursday named Tata Consultancy Services chief executive officer and managing director N Chandrasekaran as its new chairman.
Popularly known as 'Chandra', the 54-year-old was chosen to step into the shoes of interim chairman Ratan Tata, who took over on October 24, 2016.
The decision to appoint Chandra, a Tata group veteran, was taken at a meeting of Tata Sons board in Mumbai, sources said.
The decision followed a five-member search committee comprising Ratan Tata, TVS Group head Venu Srinivasan, Amit Chandra of Bain Capital, former diplomat Ronen Sen and Lord Kumar Bhattacharya zeroing in on Chandrasekaran.
Chandrasekaran has been heading the Tata group's 'crown jewel', software firm TCS, since 2009. He was appointed as a director on the board of Tata Sons on October 25, 2016.
On his appointment as the chairman of Tata Sons, Chandrasekaran said, "I am humbled and honoured to be chosen to lead a truly great institution that occupies a unique position in the hearts of people in India and the world.
"I am proud to have been part of the Tata family for over 30 years and assuming this position is a great privilege.
"I want to thank the Tata Sons Board and Mr Ratan N Tata for their confidence in me to lead this trusted institution that has a rich heritage.
"At the Tata group, we are at an inflection point. I am aware that this role comes with huge responsibilities. It will be my endeavour to help progress the group with the ethos, ethics and values that the Tata group has been built on."
The search panel was given four months to find the new head of the promoter company of the major operating firms of the $103 billion salt-to-software conglomerate, but the decision has been reached even before that.
Chandrasekaran had joined TCS in 1987 after completing his Masters in Computer Applications from Regional Engineering College, Trichy, Tamil Nadu.
Under his leadership, TCS generated consolidated revenues of $16.5 billion in 2015-16. The company remains the most valuable company in India as of 2015-16 with a market capitalisation of over $70 billion.
An avid photographer, he is also a passionate long-distance runner and completed several marathons around the world, including in Amsterdam, Boston, Chicago, Berlin, Mumbai, New York, Prague, Stockholm, Salzburg and Tokyo.
At TCS, Chandrasekaran would be succeeded by Rajesh Gopinathan, currently the company's chief financial officer.
Announcing his appointment, Tata Sons board said: "Mr Chandrasekaran has demonstrated exemplary leadership as the chief executive officer and managing director of Tata Consultancy Services.
"We believe he will now inspire the entire Tata group to realise its potential by acting as leaders in their respective businesses, always in keeping with our value system and ethics and adhering with the practices of the Tata group which have stood it in good stead."