Money changers operating behind the RBI HQ in Mumbai said they would charge a 15% fee to convert Rs 1 crore.
Shrimi Choudhary reports.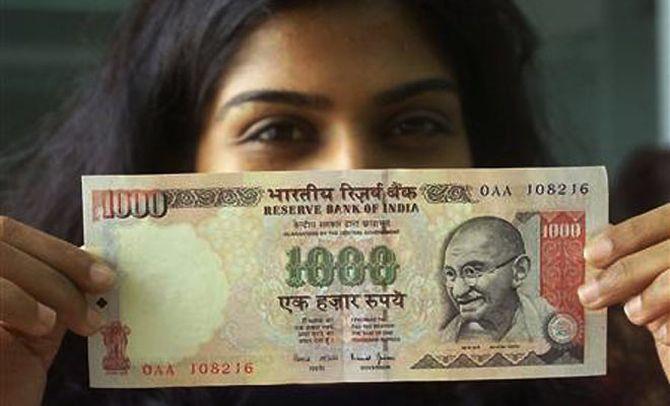 The income tax department is tracking operations of money changers known to convert large amounts of unaccounted cash.
With the government banning Rs 500 and Rs 1,000 notes from Tuesday night, people with black money are trying to have their existing currency notes converted into new ones through money changers.
A tax official said these operators charged a 10% to 15% fee to exchange the old notes using multiple bank accounts.
Some money changers operating just behind the Reserve Bank of India building in Mumbai's Fort area said they would charge a 15% fee to convert Rs 1 crore by Thursday afternoon.
Asked how they would receive their new currency notes, they said they had their own arrangements.
"Several currency suppliers are hand-in-glove with bullion traders while others deal with bank officials," the tax official explained.
In some cases, chartered accountants laundered money for their clients, he added.
The government has allowed people to exchange Rs 500 and Rs 1,000 notes at banks and post offices till December 30.
The income tax department, on its part, has created a database of individuals who were raided in the past two years.
The department also has names of thousands of individuals and companies suspected to be involved in black money transactions.
'I would appeal to citizens that people holding lots of unaccounted cash may seek your help,' Economic Affairs Secretary Shaktikanta Das said on Tuesday.
'Do not let yourself be used for exchange of such notes.'