Despite the Jat agitation and investor scepticism, the state is trying hard to improve ease of doing business by several notches.
The seventh of a 11-part series looks at the state of affairs in Haryana.
Part 1: 'Andhra Pradesh is Gujarat of the East coast'
Part 2: Maharashtra remains India's richest state
Part 3: Madhya Pradesh: Quite a few scores, but many misses, too
Part 4: The real story behind Uttar Pradesh's development
Part 5: Jharkhand has ambitious plans to woo investors
Part 6: Rajasthan scores high on reviving economy, ease of doing biz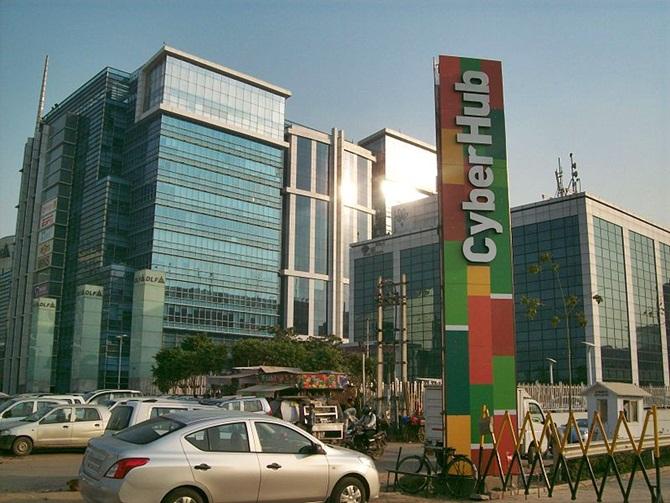 IMAGE: The state has put a lot at stake in promoting industrial development. Photograph kind courtesy: Pithwilds/Wikimedia Commons
The glitzy business towers that dot both sides of National Highway-8, just after the Delhi border ends and 'millennium city' Gurgaon begins, are conspicuously missing further down the road into Haryana.
The highway has long jams, right from Rajiv Chowk to Hero Honda, but clears after some time, with names of some known companies in manufacturing and service sectors visible on the left.
There are direction signs to the Industrial Model Town (IMT), Manesar. Further down, the newly-built Manesar-Palwal stretch of the Kundli-Manesar-Palwal Expressway or the Western Peripheral road to Delhi can be seen on the left.
The 136-km expressway is part of a host of development projects on which the state is banking heavily for spurring investment.
The state has put a lot at stake in promoting industrial development in areas other than those in the Gurgaon-Manesar belt and along National Highway-1.

The idea is to promote balanced regional development through geographic dispersal of industry, says Devender Singh, principal secretary, industries and IT.

"This would be strategised through fiscal incentives that assist dispersal of industry to backward areas and infrastructure-led geographical dispersal, driven by mega projects and industrial corridors."
The state has been divided into developed, intermediate, backward and most backward areas under the Haryana Enterprise Promotion Policy, brought out by the current Bharatiya Janata Party government in 2015.

The industrial policy of 2011 under the earlier Congress regime had classified these into three categories.
While Gurgaon district has none of its blocks in the backward category, adjoining Rewari has three of its five blocks - Khol, Jatusana and Nahar - in the most backward category.

Bhiwani, Sirsa and Jind do not have any block that figure in the industrially and economically developed categories.

Altogether, there are 83 blocks in the C & D categories of backward and most backward. In these districts, higher incentives for industry are being proposed.

The investment subsidy is higher in the C & D category blocks than those in the B-category for mega and small and medium enterprises.

In the case of large units, this subsidy is restricted to C & D blocks only.

The enterprise policy envisions gross state domestic product growing at a yearly rate higher than eight per cent, an investment of Rs 1 lakh crore and employment generation for at least 400,000 persons, while positioning Haryana as a pre-eminent investment destination, added Singh.
A district-level industry department official, who has worked in one of the backward districts, however, says the incentives have not worked so far.

"Chal raha hai dhakke se (industry is somehow carrying on with the push) in the backward blocks."

On being asked whether results from the Happening Haryana Summit in March this year were visible on the ground, he says: "Hawa si nahi ban rahi (the mood has not picked up)."
Not being on the highway and the water problem are primary reasons for industry not showing much interest in the backward areas, he says. Besides, villagers have started demanding a higher price for land, forcing Haryana State Industrial & Infrastructure Development Corporation (HSIIDC) to rethink on acquisition.

"Locals ask for Rs 1 crore an acre against Rs 60 lakh earlier, even in the dark (backward) districts," the official says.
The acquisition law is only one of the reasons that the locals feel entitled to a higher land price.

A high level of industrialisation, rural awareness and better living standards than many other states makes Haryana expensive for industry.

The state's per capita income was Rs 1,65,204 in 2015-16 (Advance Estimates), about 68 per cent higher than the national average of Rs 98,565.
"The process for acquisition of 3,600 acres for expansion of IMT Bawal and setting up of an Integrated Multi-Modal Logistics Hub in Rewari district was dropped by the government, due to agitation by land owners," says Singh.

The Rewari hub, along the route of the proposed Delhi-Mumbai Industrial Corridor, was planned by the earlier government. Singh says the project is now being planned elsewhere.
The state has signed 407 memoranda of understanding till date for attracting investment. There are also about 140 leads/proposals, with potential to fructify into investment.

The total investment potential of these nearly 550 proposals is in excess of Rs 6.4 lakh crore. In about 120 cases, land for the projects has already been allotted to or procured by investors, he says.
These projects have potential to the tune of Rs 70,000 crore (Rs 700 billion). China's Dalian Wanda Group, which had pledged $10-billion this January in an HSIIDC industrial park at Kharkhoda in Sonipat, is yet to start investing.

Even as discussions on structuring of investment through Wanda are still underway, the state has signed up with another Chinese company for development of a new industrial township in Gurgaon district.

HSIIDC will form a joint venture with China Fortune Land Development Company for the project estimated to cost $5 billion.
Historically, Haryana has seen movement of people and industry, both after Partition in 1947 and later during the Punjab militancy problem in the 1980s.

"The reason industry came to Rewari and other areas adjoining Delhi was also the closing of manufacturing units in the national Capital; many had shifted here," says Surendra Kumar Sharma, former assistant director at the District Industries Centre, Rewari.

The district has three industrial centres - Rewari, Bawal and Dharuhera - that house automobile, host of auto ancillary, metal processing and agro-based units.
Some chemical units in the Rewari area had to shut down as pollution control norms rendered these unviable, says Sharma.

The nearby industrial growth centre at Bawal on the national highway to Jaipur looks impressive, with broad internal roads and a neat layout.

"Haryana has a good industrial policy and HSIIDC lends a supportive hand," says Anuradha, joint secretary, Rewari Chamber of Commerce.
In a conference room of DE Diamond Electric India, a 100 per cent subsidiary of a Japanese company, Anuradha is distributing cheques and talking to the staff.

Her Japanese managing director banks on her for running their day-to-day operations.

"They call me Jhansi Ki Rani," she says, narrating how she handled a strike threat in her company last year. A resident of Rewari, Anuradha belies the image of Haryana as being unfriendly for women, with a low sex ratio of 879 females for every 1,000 males.
She heads the human resource and administration departments in the company that makes ignition coil for Maruti Suzuki and printed circuit boards for home appliance companies such as Daikin and Voltas.
Asked whether her company employs women on the production side, she says, "I am planning to employ some and take necessary permissions, so that they can work in shifts."
Good connectivity, single-window clearance and availability of manpower are the three main reasons she lists for investment in Haryana.
However, she's quick to add that the issue of industrial relations and incidence of strikes in the neighbouring Posco and Minda units, besides Maruti, had shaken the confidence of foreign investors in the state. Also, lack of institutions for higher learning in this part of Haryana, right up to Gurgaon, forces residents to move out.
"Many who come are not fit for being hired."
Corruption in the state is another major issue but a proactive approach with processes for government clearances and audits being streamlined has helped to a large extent.
In an atmosphere where all states are competing against each other for attracting investment, the role of business facilitation has become crucial.
Despite the Jat agitation and investor scepticism, Singh says they are determined to create an economic system, in which ease of doing business in the state matches and even exceeds the best global standards. "We are determined to address and resolve all issues and apprehensions of investors. The overwhelming response received at the Happening Haryana Global Investors Summit is adequate proof that investors are very keen on the state," he adds.
HARYANA IN A NUTSHELL
FACTFILE
Haryana, with an area of 44,212 sq km, has 13 out of 21 districts in the National Capital Region; no area in the state is more than 250 km from Delhi
Total population: 25.35 million; with a population density of 573 per sq km, Haryana is the 16th largest populated state in the country; 65% reside in villages
Sex ratio: 879 females to 1,000 males; among the worst five states
Economy: Of the Rs 4,41,864 crore gross state domestic product (quick estimate for 2014-15), 28% came from industry and 46% from services
Per capita income: At Rs 1,65,204, it is 68% higher than the national average of Rs 98,565
Literacy rate: 75.55%; males 84.06% and females 65.94%
AT A GLANCE
Power: 11,102-Mw installed capacity fed from coal and natural gas brought from outside the state
Rural electrification: Of 2.97 million rural households, 28,500 are un-electrified
Road & railway connectivity: Almost complete connectivity of rural areas with metalled roads; five national highways - 1, 2, 8, 10 and 22 - pass through the state
Industrial clusters: Haryana has eight major diversified industrial clusters, with about 1,000 large and medium-size companies; besides Maruti, Mitsubishi, Honda, Posco and Nestlé factories, it has Cairn, Shell, EY, PwC, Lanco, Sapient, IBM and SAP, with operations in the Gurgaon region