Backed by technology banks are expanding the branch network - and adding more to the workforce.
Illustration: Dominic Xavier/Rediff.com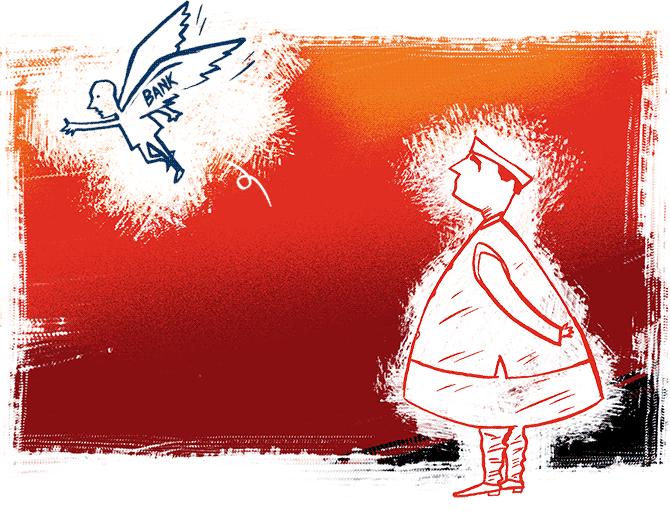 Though economic growth has slowed, banks have not reduced hiring.
Backed by technology they are expanding the branch network - and adding more to the workforce.
Rajkamal Vempati, head of human resources (HR) at Axis Bank, told Business Standard: "We have hired six times more of employees this financial year (FY) as compared to last year.
"Going forward, we are expanding our branch network; therefore, we will need more people at different levels, with specific skill sets.
"We are investing in workforce backed with technology."
Some are using artificial intelligence (AI) to identify the right candidate. Federal Bank, for instance.
Ajith Kumar K K, executive vice-president and HR head, says: "We are planning to grow by 800-plus people by the beginning of the next FY.
"The core of the hiring plan is to get 700-plus on board through the campus recruitment channel.
"This year, we have (also) deployed our Fed Recruit Solution; it has streamlined our hiring and recruitment by giving us access to some of the best talent using an AI-driven algorithm.
"Our campus recruitment cycle for 2019-20 is in full swing and we have released 300-plus offers in two months, using Fed Recruit."
The additions are across levels, skill sets and job profiles.
Rajeev Ahuja, executive director at RBL Bank, says: "We expect to be at 380 to 400 branches in metro and urban centres by the end of FY20.
"Going by that number, we do expect to go strong on hiring as well.
"We recruited around 1,800 employees last fiscal year and will be looking to continue the same momentum in this fiscal.
"We are seeing growth at every level for our retail, branch banking, financial inclusion and cards businesses, leading to job creation across the spectrum."
Online job portal Shine.com has reported a spike in job postings for the sector, with Maharashtra leading other states.
Says Zairus Master, its chief executive: "Over the past three months, the number of jobs posted on Shine.com in the BFSI (banking, financial services, insurance) sector have shown a stable trend.
"The majority of jobs (43 per cent) are at the mid-level (four to eight years experience).
"Nearly 40 per cent of BFSI jobs on the platform for this experience range have a salary bracket of Rs 10-15 lakh (annually).
"With Mumbai being the banking hub, it was expected that Maharashtra would lead this trend for BFSI."
Master adds: "However, we are also seeing a positive trend in Karnataka, with the number of jobs on Shine.com from this southern state at par with Maharashtra, especially for mid-level hiring.
"This is positive news for managerial-level candidates in these two states, as well as anyone open to re-location, as banks and financial institutions continue to strengthentheir ranks."
Head hunters also believe this momentum will continue and the next year will see higher hiring.
Rituparna Chakraborty, co-founder of TeamLease Services, says: "Banks are fully aware that customers today have higher bargaining power.
"Hence, to capture the market, one needs to strengthen the last-mile reach to customers, as well as engage with them better.
"Future prospects seem bright for a sector which boasts of being the fourth largest retail credit market, as it is steadily growing."
"Hence, it is not surprising that BFSI continues to invest in hiring. There seems to be little impact (of a slowdown) on their future hiring outlook as well," Chakraborty adds.