While OnePlus has sought to step into the iPhone's storytelling shoes, Apple is working towards creating a more accessible brand, says T E Narasimhan.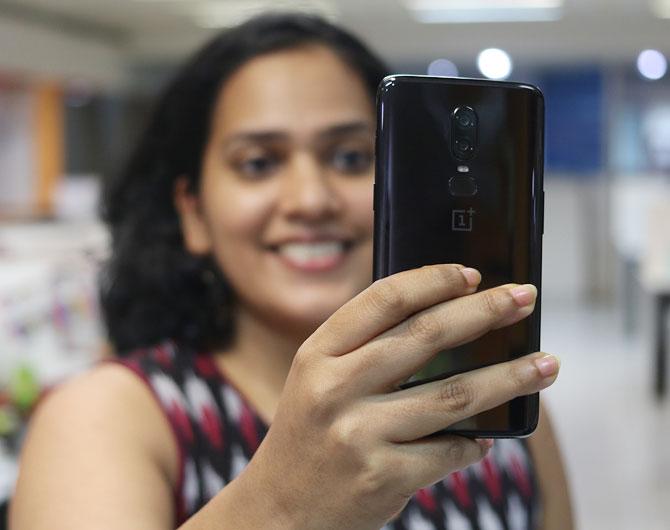 In the cacophonous sales season that precedes the festival months in the country, OnePlus, the Chinese smartphone brand that is currently top of the charts in the premium category, and the all-American iPhone faced off in an interesting battle.
Both played a wait-and-watch game over the launch of their new models, finally releasing them within a day of each other and OnePlus even held the global launch of its new flagship in New Delhi while Apple wrapped its pitch around its phones being made in India.
This is not the first time the two have stepped on each other's toes in the narrow turf that premium smartphones (Rs 30,000 plus) occupy in the country.
In January this year, OnePlus tweeted iDare you, addressing Apple's voice assistant Siri, asking it to name India's top premium smart phone.
Its online bravado followed reports that OnePlus had hit top spot with 30 per cent share, in the quarter ending December 2018.
OnePlus has since increased its share to 42 per cent (Counterpoint Research), followed by Samsung (22 per cent) and Apple (21 per cent).
Market dominion is not the only goal on the brand's bucket list.
It wants to slip into the haloed universe of iPhone.
Hence the consistent baiting by the brand and following in Apple's advertising footsteps, with large 'Shot on OnePlus' billboards running down all the major highways in the country.
It also partnered with Netflix for its popular show Sacred Games, for the 'shot on' series.
OnePlus has also roped in actor Robert Downey Jr for its promotions in India.
While OnePlus has sought to step into the iPhone's storytelling shoes, Apple is working towards creating a more accessible brand.
It has a recent campaign extolling the durability and strength of its models, rather than just driving home the elite nature of the brand.
Apple has also cut down the price of its old models and is making iPhone XR, now manufactured in India, available at around Rs 50,000.
The OnePlus 7Pro is around Rs 49,000.
K V Sridhar, founder and chief creative officer at Hyper Collective sees the two brands turning into versions of each other.
OnePlus established its metier with affordable, quality phones and initially focused on its price advantage while iPhone has always been about the superiority of its product.
"In a way, Apple started from the top and is trying to settle at a mid-point, while OnePlus started from below and is moving towards a mid-point.
"They are aping each other's strategies and at the end of the day, both will have to meet somewhere," Sridhar added.
The brand is as much a matter of perception as it is about performance.
According to an IDC spokesperson, "Apple still enjoys a huge brand halo amongst aspirational consumers in India.
"Consumers would love to own an iPhone, but not everyone can afford one."
However, in India, its pricing has proven to be prohibitive and according to IDC, affordability schemes and low-priced old generational models are meant to expand the brand's appeal, without impacting the brand.
However brand consultant Harish Bijoor said that by bringing down the price Brand iPhone will get diluted while OnePlus will find more acceptance at the top end.
"In mobile handset industry, there is no clearcut segmentation anymore.
"All brands are in, and want to, occupy all segments.
"There will be a dissipation of brand imagery," he added.
Ashish Mishra, managing director of brand consultancy, Interbrand, said that the two brands want to leverage the epicentre of a market.
"The premium market is small in volumes, but highly profitable.
"It has seen constant upgradation.
"That's what makes it attractive and explains the convergent moves by two iconic brands," he added.
According to IDC, OnePlus is a "new fresh honest brand, which listens to the consumers, brings new technology at non-flagship prices."
As it moves in close to the iPhone, can it hold on to this appeal?