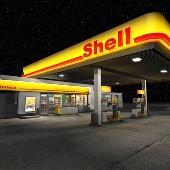 After nearly two decades of being led by the formidable Vikram Singh Mehta, Shell India on Wednesday announced the appointment of Yasmine Hilton as the chairman of group companies in New Delhi.

Mehta's exit and Hilton's entry would see the company making history in India, where women have remained out of the chairperson's slot in energy companies, private or state-run.

The only other name in the same bracket would be that of Rebecca Mark of the erstwhile Enron.

The company left India midway, having burnt its fingers with the Dabhol power plant.

It subsequently got dissolved. Hilton, however, takes over the reins of a company that has been present in the country almost from the very beginning of the domestic oil industry and now has the distinction of surviving in loss-making petroleum retailing.

Hilton will take over in November, when Mehta will call it a day.

She will shift from the London office two months earlier.

She has not worked on any India-specific project before.

Not surprisingly, therefore, Shell India employees do not know much about her.

A reflection of Mehta's overarching personality and Hilton's lack of familiarity among Shell staff here was evident in the company press release, which dwelt more on Mehta's exit than on Hilton as his successor.

Mehta has been at the top level of Shell since he joined the company in 1988, first as a shareholder representative on the board of Shell companies in south and west Asia and then as the India head in 1993.

Though
he started as a civil servant in central services, he quit to join the private sector.
Subsequently, he became an advisor to India's petroleum ministry for four years, giving him the edge when it came to working within the maze the government had created for the petroleum sector.
"He is a well-known person within the government and the industry though his role did not require him to be hands-on," says an insider.
It is not clear whether Mehta is superannuating since the official spokesman did not confirm that, but he seems to be taking the back seat.
Hilton, by contrast, is new to the functioning of Delhi's power corridors but that may not be a requirement for the company at this point of time.
Her experience in the retail business could add value to Shell operations in the segment.
Hilton joined the company as early as 1979.
Born in Mumbai, she joins the league of India-born heads of multinational companies to have set up business here.
With a doctorate in genetics, Hilton does not possess any educational background required in a petroleum company.
But, that she has worked in a number of leadership roles across the Shell group shows she could more than measure up to the task.