Securities and Exchange Board of India (Sebi) chairman U K Sinha wants the National Stock Exchange (NSE) to reconsider the proposal to include brokers on its board.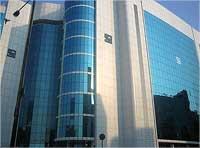 NSE recently changed its byelaws and rules to allow trading members to hold 25 per cent board seats.

In an exclusive interview to Business Standard, Sinha said, "Where 100 per cent representation has come down to 25 per cent, it is welcome. However, where there is no broker representation today and you are going to give them representation, there is need for a rethink."

The NSE board has 16 members, including the representatives of various banks and insurance companies.

Sinha said though "technically it is not a violation, it is not a step in the right direction. They should re-think".

Sinha said the Jalan committee was against this and had suggested an alternative under which exchanges could use an advisory board to benefit from experts.

The Jalan committee was set up to review the ownership and governance issues faced by market intermediaries.

The Sebi chairman said infrastructure debt funds - announced in the Union Budget - should be modelled on the lines of mutual funds.

"We have proposed that it be done through the mutual fund route. We will have a separate chapter, a separate section, beginning with infrastructure debt funds. We have already formulated a detailed scheme and sent it to the government," he said.

Sinha said he would share the details of the scheme only after consultations. "The mutual fund route will allow a much broader participation," he said.

On market manipulation, Sinha said Sebi had put in place a sophisticated surveillance system.

"The first phase has been implemented. There are other two phases which will be completed by December. We will get alerts on all sorts of manipulation," he said.

Sinha said with creation of the Financial Stability and Development Council, co-operation among sector regulators had improved.

"In the last three months I have been here, I find that the urgency to understand each other is much more compared to what I saw when I was in the ministry. It is much better now," he said.