Finding an increasing pool of professionals being dismissed, start-ups and others are improvising to offer emotional support and career guidance.
Illustration: Dominic Xavier/Rediff.com.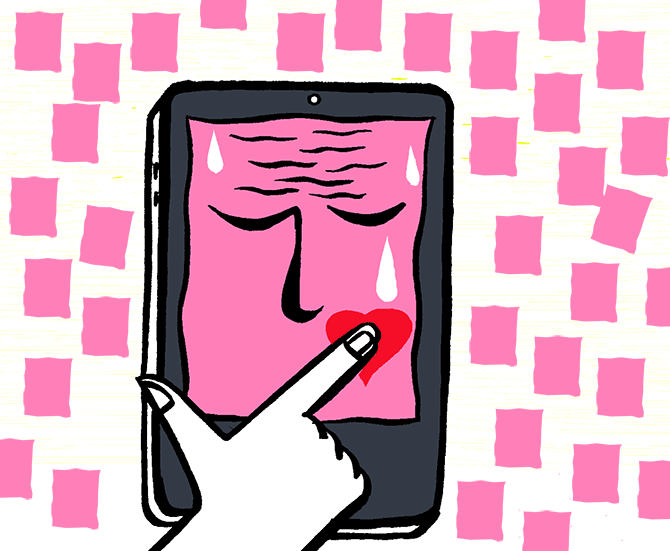 With the recent IT lay-offs taking a toll on mental well-being of professionals, start-ups and talent-acquisition firms are stepping in to offer much needed respite in terms of counselling and career guidance, apart from providing key linkages.
Finding an increasing pool of professionals being dismissed, especially in the information technology (IT) sector, start-ups and others are improvising to offer emotional support and career guidance.
For instance, Bengaluru-based YourDOST, founded by IIT and NIT graduates Richa Singh and Puneet Manuja, is launching a 'Fired to Fired Up' campaign for laid-off IT employees. It will be offering free counselling services on its platforms in the initial period.
Similarly, staffing and talent acquisition firms Collabera and Head Hunters are assisting with career mapping and a bit more.
"We have been seeing people laid off from IT jobs seeking not only new jobs but also some emotional support or counselling. But, are shy to approach psychologists. For instance, one of the persons we came across did not go home for a couple of days after being laid off. Through this campaign, we wish to provide services of expert counsellors and psychologists on our platform, for counselling and emotional support," said Manuja.
YourDOST says it has a pool of 900 such experts and counsellors on its platform -- counsel can be sought through text chat, audio or video chats. The services will be offered free for people from IT for the first few days, before turning into a paid service. While text chats are priced at Rs 400 a session, video chats are Rs 600 a session and above.
"At least 56,000 people have been laid off in the past several months. We have seen people seeking emotional counselling for not only what has happened but where they now stand in life. They need to be advised on how to stay relevant despite being laid-off. For this, we have created a helpline number dedicated for laid-off people," Manuja added.
Kris Lakshmikanth of Head Hunters has been receiving calls for not only job support but also a "listening ear".
"While we are not trained psychiatrists, we are trying our best to help them regain confidence in themselves. These are middle-aged people who were probably in the cream of the manpower in their companies and have now completely lost confidence in themselves. We are, therefore, not only helping them find fresh jobs but also their feet," said Lakshmikanth.
Collabera has added 'softer' services to its temporary staffing solutions, said its managing director, Mehul Shah.
"We are in the human capital business. Hence, it has become apparent for us to offer support on the softer side of counselling and career mapping for job seekers. We are also assisting them in understanding how they can make themselves relevant through proper upskilling," he said.
YourDOST is also looking at potential partnerships with staffing and talent acquisition entities, to not only tap into the pool of laid-off personnel but to offer dedicated content on counselling and emotional support.
"We are looking for partnerships with career portals and talent acquisition firms. We can create content which can be used by these platforms," said Manuja.