Rising oil prices, sharp slowdown in mutual fund inflows and steep valuations remain the key risks for Indian investors going ahead.
Puneet Wadhwa reports.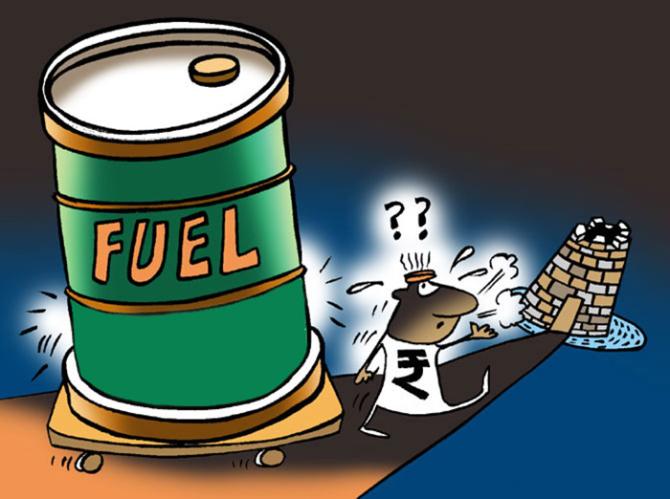 Illustration: Uttam Ghosh/Rediff.com
The main risk to investors in Indian equities, from a dollar return perspective, remains rising oil prices, Christopher Wood, managing director and equity strategist at CLSA, notes in his weekly note GREED & fear.
Prices for global benchmark Brent crude oil shot above $80 a barrel last Thursday, as Washington's decision to reinstate sanctions on Iran extended a rally that has pushed the market to their highest level since 2014.
In the past one year alone, Brent oil price has flared 56 per cent, data shows.
Besides the rupee and oil, another threat for the Indian markets, Wood highlighted recently, was a sharp slowdown in mutual fund inflows.
This risk grows the more the stock market declines.
Still the good news is that so far inflows have slowed but not yet collapsed, let alone turned into outflows.
Though he is not too concerned about the fiscal slippage ahead of the general elections, Wood cautions on the steep valuation of Indian equities, especially in the mid-cap segment.
In terms of sectors, the best stories to invest in in India remain the affordable housing theme and the dramatic, albeit healthy, consolidation of the residential property market triggered by the 'double whammy' of the Real Estate Regulation Act and demonetisation.
Despite a clear mandate eluding the Bharatiya Janata Party in the assembly election in Karnataka, global brokerages expect the Narendra D Modi-led party to assume a second term.
In his weekly newsletter, Wood writes his base case remains that Modi and the BJP will win again, albeit probably with a reduced majority.
This is because the Indian prime minister is a formidable campaigner and some of the positive consequences of his policies should by then be clear at the ground level, he says.
Wood, however, cautions it still is premature to focus on Indian politics before the fourth quarter, as the general election is not due to be held until April-May 2019.
Recently, a report by UBS suggested that global investors are presuming the Modi government will return to office in 2019, and that the markets are factoring in this possibility at current levels.
The other reason Wood believes Modi will be re-elected is that he is focused on implementing policies that impact positively on ordinary people's lives.
'There will also be the inevitable pickup in more 'populist' policies ahead of a general election. Modi also has a track record of targeting policies that appeal to women voters,' Wood writes.