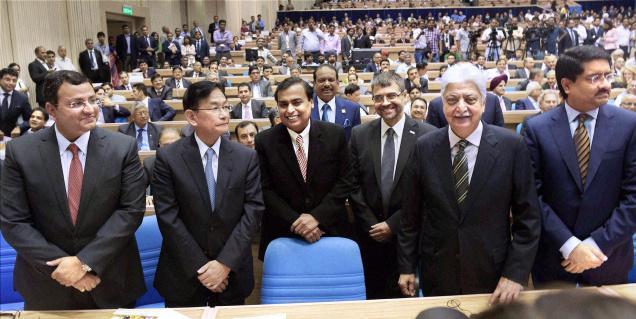 Image: Corporate India says RBI should cut rates in future to spur further investment. Photograph: PTI
Welcoming the 0.25 per cent rate cut by RBI, India Inc on Tuesday said it is still not enough to spur demand and propel industrial growth.
"At least 50 basis points cut in the repo rate was required along with a reduction in the Cash Reserve Ratio (CRR) so that banks are able to reduce their cost of funds, Assocham President Rana Kapoor said.
Echoing similar sentiments, PHD Chamber President Alok B Shriram said there must be an aggressive move to cut repo rate as demand scenario and industrial growth are in severe slowdown. "Repo rate must not be more than 6 per cent to induce demand and refuel industrial growth at this juncture," he added.
Reserve Bank Governor Raghuram Rajan on Tuesday cut the key interest rate by 0.25 per cent, third time this year.
"While expectations were to reduce the rates by at least 50 bps, it still reinforces the perception that the government and the RBI are working to take the economy to a higher pedestal of growth," CII Director General Chandrajit Banerjee said.
"We strongly feel that the accommodative monetary policy stance should be maintained to boost consumption demand and trigger the investment cycle," he added.
While the RBI cut the repo rate (short-term lending rate) from 7.5 to 7.25 per cent, it left other policy tools like cash reserve requirement unchanged at 4 per cent and Statutory Liquidity Ratio (SLR) at 21.5 per cent. Terming the 25 bps cut as "too little, too late", Kapoor said it is time growth is given focus, otherwise growing at the fastest rate in the world in terms of GDP ahead of China would only remain a hype. Meanwhile, industry bodies also exhorted banks to transmit the repo rate cut in the form of lower lending rate to consumers.
"We hope that banks would transmit the rate cut onwards so that credit offtake in the economy improves," Banerjee said.
Besides, engineering exporters body EEPC India Chairman Anupam Shah cautioned that unless some drastic steps are taken immediately, even maintaining the export level of the previous would be a tall order.
Exporters body FIEO chairman S C Ralhan expressed hope that the rate cut would translate into an actual cut in cost of credit.
RBI had previously cut repo rate by 0.25 per cent each in January and March.