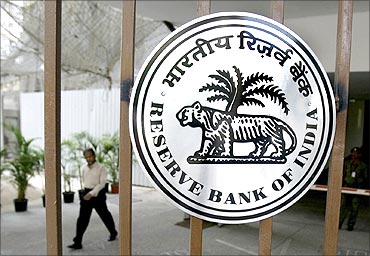 Reserve Bank Governor Raghuram Rajan on Tuesday said it is open to the merger of banks and wants them to decide where more value can be added.

"The Reserve Bank will also be open to banking mergers, provided competition and stability are not compromised," he said while releasing the first bi-monthly monetary policy statement for 2014-15.

"It's better that the banks themselves voluntarily decide where more value could be created if they merge.

"All I am saying is that we are open and there is room for both bigger banks as well as smaller
banks.
"So, what we are saying is that we will be happy to consider if banks decide (to merge)," he said.
The Reserve Bank released a report on 'Banking Structure in India -- The Way Forward' in August 2013, which covered issues such as consolidation of large-sized banks with a view to have a few global-sized banks and the desirability and practicality of having small, localised banks as preferred vehicles for financial inclusion.
State Bank of India, the country's largest lender, has board approval for the merger of its five associates with itself. SBI had merged State Bank of Saurashtra with itself in 2008 and it had combined with the State Bank of Indore in 2010.