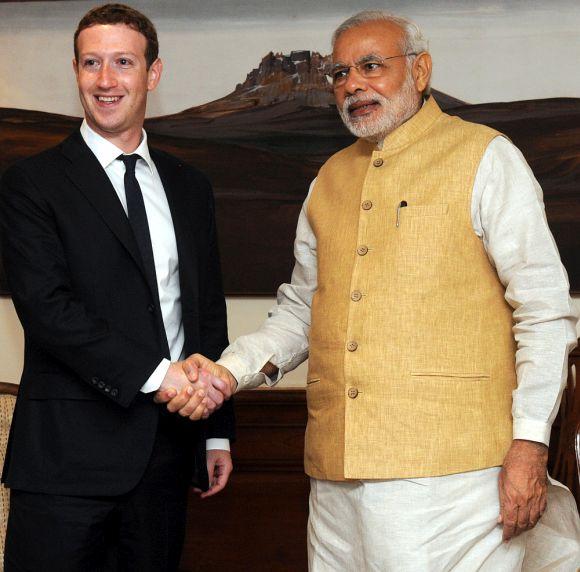 Image: Mark Zuckerberg meets Prime Minister Narendra Modi in New Delhi on October 10, 2014. Photograph: PIB.
Founder and CEO of Facebook Mark Zuckerberg called on the Prime Minister Narendra Modi on Friday.
They discussed a wide range of issues revolving around the innovative use of Facebook as a platform to engage with a large audience in the service of humanity, says a release.

Zuckerberg said that Facebook wants to work with the government of India in the fields of healthcare and education, providing a range of services to the people.

Zuckerberg added that Facebook will help in the creation of the Clean India Mobile App and that it would be launched soon. This would give a strong impetus to the Swachh Bharat Mission.

Zuckerberg said that he is extremely excited about the Digital India initiative. Prime Minister also asked Zuckerberg to identify some domains of Digital India where Facebook can get involved and help.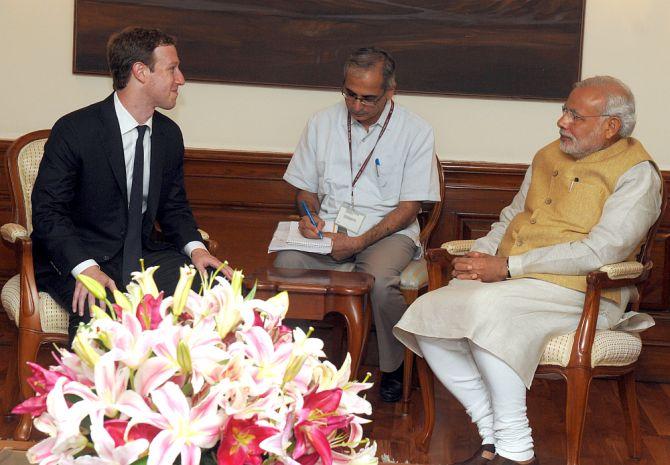 During the meeting the Prime Minister pointed that a lot of terrorist elements are using social media platforms to recruit members to join them. This is unfortunate and that we need to think of the role social media can play to stop terror, he added.

Modi recalled how he used social media during campaigns such as tracking the missing children, during his tenure as Chief Minister of Gujarat and how it gave wonderful results.

The Prime Minister appealed to Zuckerberg to promote India's rich tourism potential through Facebook. He asked Facebook to look at how to enhance Internet literacy along with Internet connectivity.