Here's a five-part series on smart cities. We begin with Surat as the city prepares for a new future.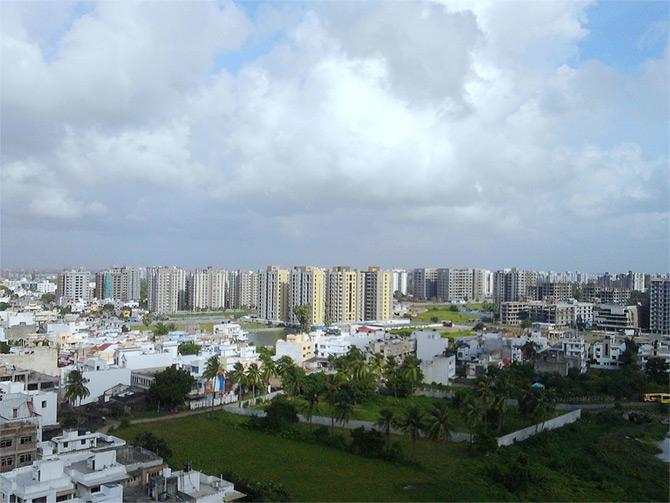 IMAGE: There will be a world of difference from how things are now in Surat.
Photograph, courtesy: Rahul Bhadane/Wikimedia Commons
Through the week, we will cover Bhubaneswar, Pune and Vizag as part of the government's 100 smart cities projects.

In addition, we will look at Lavasa as a private initiative in smart city development.
As you drive through the streets of Surat on a dark and cloudy afternoon, LED street lights spring a surprise on you.

The streets light up automatically. You ride further and before you know it, you get a ticket on your smartphone for over-speeding.

And, speed detectors have replaced traffic police - well, almost. That's not all, an S-Connect Smart Card lets you pay the fine through a cashless transaction.
That's just a tiny glimpse of how the diamond city of Surat would look and feel five years from now, once the National Democratic Alliance government's ambitious smart city project takes shape.

People familiar with the city are already looking forward to the no-vehicle zone that's set to come up on one side of the busy Ring Road between Sahara Gate and Millennium Market stretch.

The other side could turn into skywalks for pedestrians.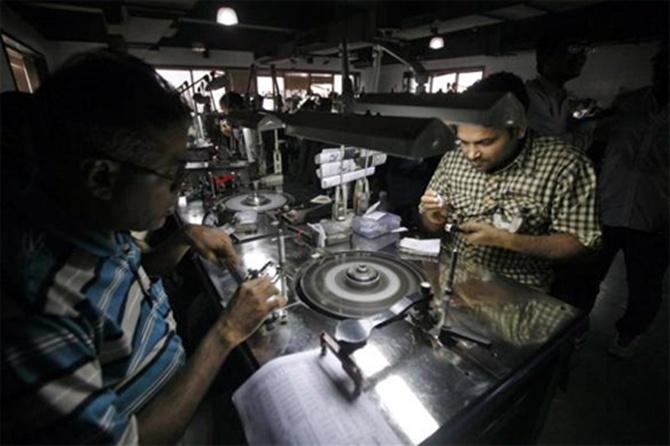 IMAGE: Employees work inside the polishing department of a diamond processing unit at Surat. Photograph: Arko Datta/Reuters
TRADERS DREAM BIG
That should be a world of difference from how things are now.

Traders and buyers who come to buy textiles and diamonds from other states and cities are a stressed lot because of unruly traffic caused by workers loading and unloading stock in the busy market.

"The smart city proposal (SCP) would not only benefit pedestrians but also help the trading community in seamless loading and unloading of stock,'' says Devkishan Manghani, a leading city-based textile trader.
While work on this project is yet to begin, Surat already boasts of a few firsts. Among them is the city's tertiary treatment plant capacity of 40 million litres a day, the highest among Indian cities, apart from having a 95 per cent drinking water coverage to its six-million population.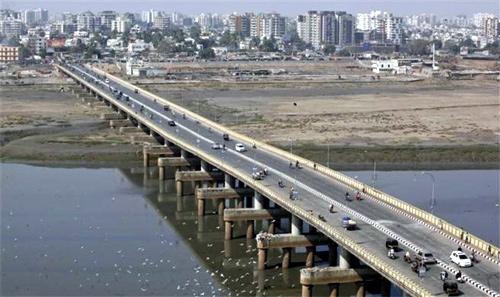 IMAGE: Vehicles move over a bridge built over the river Tapi at Surat, in Gujarat. Photograph: Amit Dave/Reuters
TARGETS
As part of SCP, Surat Smart City Development (SSCDL), the special purpose vehicle set up on March 31, with an initial corpus of Rs 51 crore to oversee the projects implementation, has chalked out an ambitious target of 24x7 water supply to the entire city area of 326 sq km by 2020, up from the current 19 sq km.

Led by Surat Municipal Commissioner and SSCDL Chairman Milind Torawane, along with SSCDL CEO M Nagarajan and city engineer of Surat Municipal Corporation J S Shah, among others, the smart city project is expected to see some headway later this month.
"The vision under smart city project for Surat is utilising the city's potential for enhancing quality of life for citizens by providing equal access to best quality physical infrastructure, social infrastructure and mobility through leveraging state-of-the-art technology," says Torawane, adding the city already topped the list of per-capita household income at Rs 6.5 lakh among Indian cities.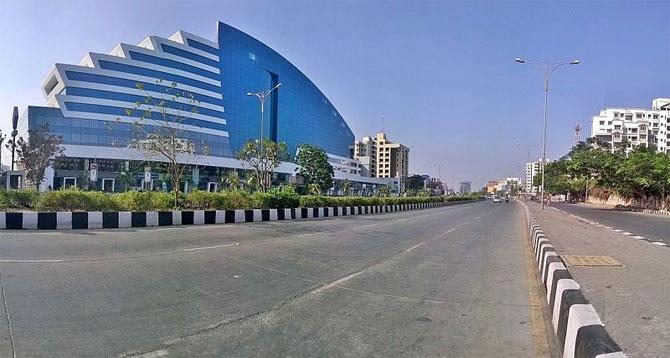 IMAGE: International Business Center, Piplod, Surat.
Photograph, courtesy: Tarunyadav1989/Wikimedia Commons
PROJECT FINANCE
Surat had bagged the fourth rank under the Smart Cities Mission based on its proposal.

It divided the proposal into two parts, according to its mission guideline - pan-city development and area-based development.

While pan-city development will cost around Rs 795 crore, the area-based retrofitting carries a project cost of Rs 1,802 crore, taking the total smart city project cost to Rs 2,597 crore.
Under the pan-city smart solution, the proposal looks to implement systems and services that cater to 'transport, mobility and connectivity'.

These include the Surat Integrated Transport-Mobility Administration Centre, automatic fare collection system, S-Connect Card Management System, fibre-to-home WiFi connectivity and the SMAC Centre.
For area-based development, retrofitting smart solutions are to be implemented for 24x7 water supply, smart metering and quality, LED street lights with seasonal timers, use of renewable energy sources, logistic park, incubation centre, skywalks, smart parking, recycle/reuse of waste water, affordable housing under the Smart Cities Mission.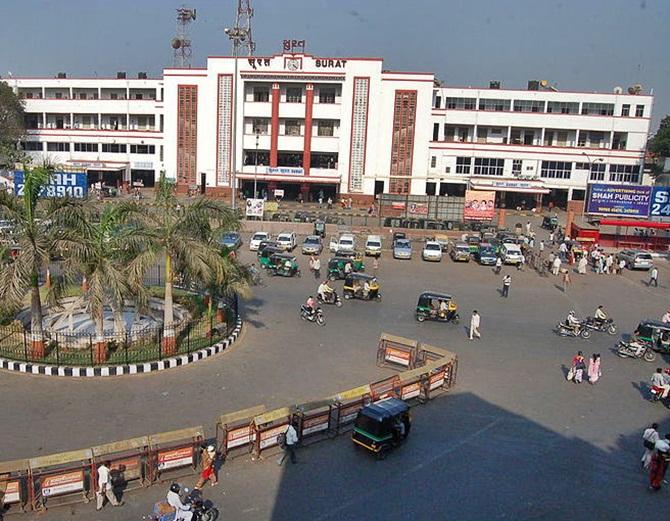 IMAGE: Urban development ministry had set a guideline of minimum 500 acres for retrofitting-based smart city development. Photograph: Vimal Chand/Wikimedia Commons
TOWN PLANNING
SSCDL has identified seven town planning schemes for area-based retrofitting development, including Anjana, Umarvada, Dumbhal, Magob-Dumbhal, Parvat-Magob and Dumbhal-Magob.
According to Shah, area-based development will cover retrofitting.

The urban development ministry had set a guideline of minimum 500 acres for retrofitting-based smart city development.

"These seven town planning schemes together have a combined area of 2,167 acres and form eight per cent of Surat's population, but contribute 18 per cent to Surat's gross domestic product," Shah adds.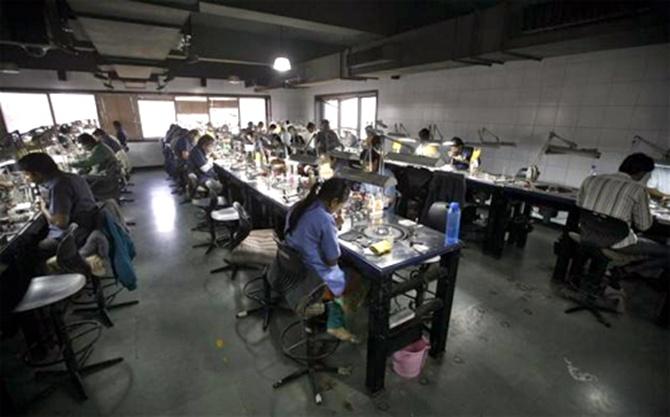 IMAGE: The real action will begin only after a detailed project report is prepared.. Photograph: Reuters
THE CRITICAL PILOT
On June 25, SSCDL will host a pilot demonstration of the SMAC Centre, an Intelligent Transit Management System and a slum redevelopment project on public-private partnership (PPP) basis comprising 4,350 units of affordable housing. "We'll be able to monitor traffic, control smart street lighting system and keep a bird's eye view of the city from the SMAC Centre," says Torawane.
Meanwhile, work has begun on use of renewable energy under the SCP.

"About 25 per cent of the municipal corporation's annual power requirement of 80 megawatt is self-generated through renewable energy sources such as solar and wind," Torawane adds.
Financially, the project is already on track with Rs 194 crore being disbursed by the central government under Smart Cities Mission funding, apart from Rs 102 crore from the state government.
While the Gujarat government has recommended PricewaterhouseCoopers and Tata Consultancy Engineering for Information and Communication Technology (ICT) based solutions and infrastructure aspects of the smart city project, SMC has also been working with its own consultants such as Multimedia Consultants for water supply and MWH for sewerage management.

According to Nagarajan, talks are on for consultants for various retrofitting development areas. So far, SSCDL has partnered with Surat Agricultural Produce Market Committee for implementation of a biogas plant on a PPP model.
The real action will begin only after a detailed project report is prepared. Only then will one know how wide the gaps are or how tough the challenges are for making Surat a smart city.