Shah Rukh Khan-owned team in IPL cricket tourney is now Number 1, with brand value of $86 mn.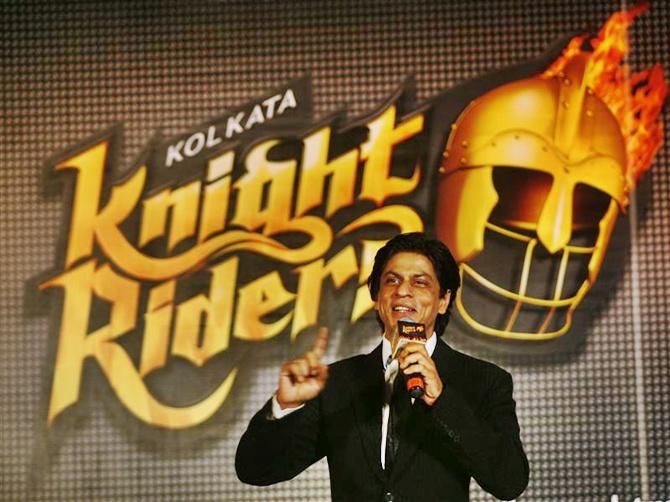 Image: KKR tops in brand value. Photograph, courtesy: KKR
The stress of the cricket match fixing and betting controversy and the resulting lawsuit in the Supreme Court seem to have taken a toll on the brand value of India Cements-owned Chennai Super Kings (CSK).
According to the latest American Appraisal (a consulting firm) report, the MS Dhoni-led team has lost its number one position to Shah Rukh Khan's Kolkata Knight Riders (KKR).
KKR's rise to number one (it was number three in 2014) is the result of CSK's loss of brand value and a soaring increase in its own, on the back of a clean image and its second Indian Premier League (IPL) tournament win in 2014.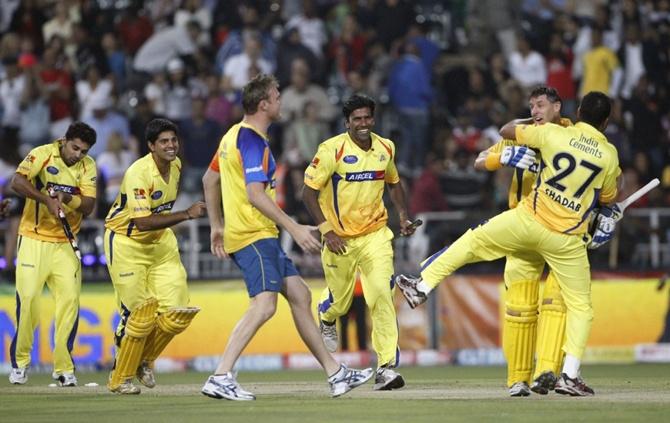 Image: CSK is valued at $72 million in 2014. Photograph, courtesy: CSK
CSK, valued at $72 million in 2014, slipped to number three with a valuation of $67 mn.

KKR, at number three in 2014 (value $69 mn), had its valuation shoot up 25 per cent to $86 mn, taking it to number one.

Mumbai Indians retained its number two spot and valuation of $72 mn.
This is, of course, a far cry from valuations of basketball teams in the US National Basketball Association and football teams in Europe.

For example, LA Lakers' brand value is $536 mn, according to Forbes' report in January 2015. And, ManchesterCity (football) was valued (brand-wise) at $132 mn in May 2014 by the same publication.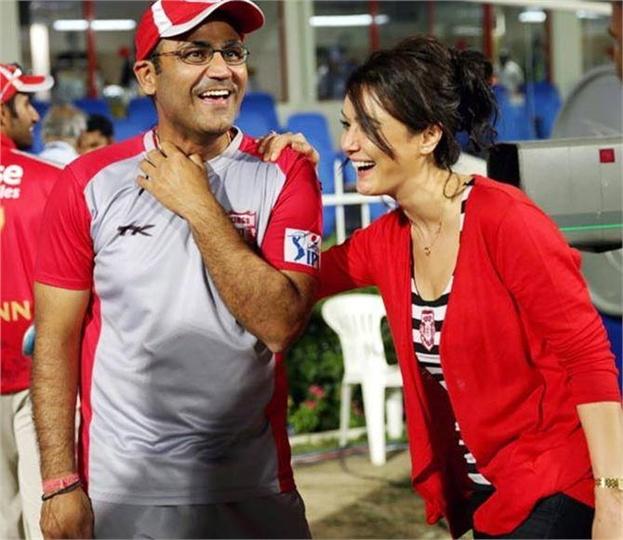 Image: Big gainer at the IPL here is Kings XI Punjab. Photograph, courtesy: Kings XI Punjab.
The other big gainer at the IPL here is Kings XI Punjab, at $41 mn. The team, second in the 2014 edition of the tournament, is at number six in the order this year, up one spot from 2014's number seven.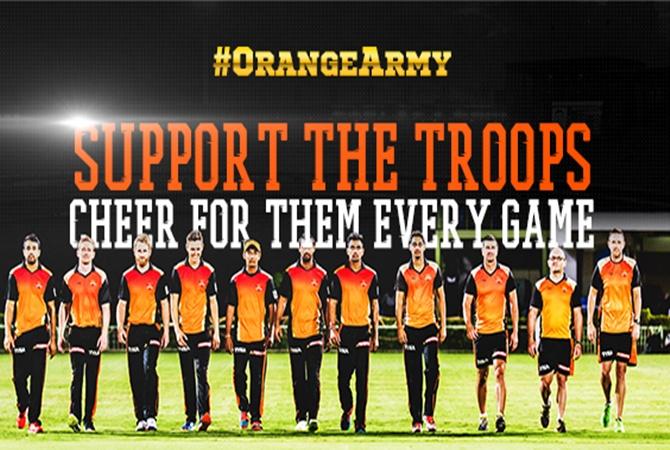 Image: Sunrisers Hyderabad saw a jump in brand value. Photograph, courtesy: Sunrisers Hyderabad.
Similarly, Sunrisers Hyderabad saw a jump in brand value from $25 mn last year (last position in 2014) to $35 mn this year (number seven).
The biggest loser in brand value is Delhi Daredevils, slipping to the last spot from number six in 2014.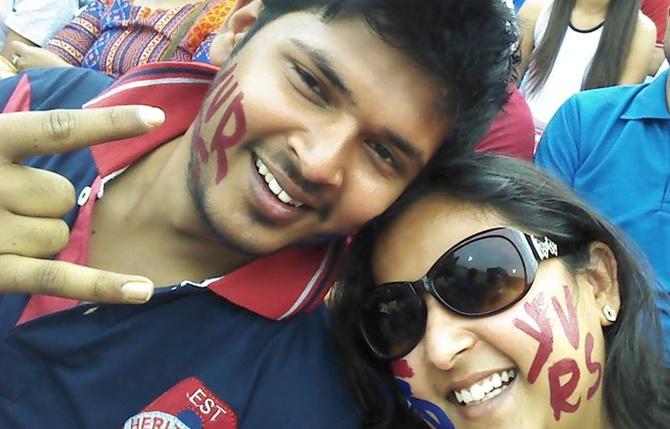 "The highest gainers in terms of individual franchise brand values are Kolkata Knight Riders and Kings XI Punjab, which saw an increase from their 2014 brand values of 25 per cent, mainly driven by a fantastic on-field performance and continued fan engagement," says Varun Gupta, managing director, American Appraisal India.
Adding: "Chennai and Delhi saw a decrease in their brand values, one recovering from a spate of recent controversies that dampened advertiser sentiment and the other failing to improve its standing on the points table. We estimate that, on an average, the brand value of each franchise contributes around 30 per cent towards its overall business value."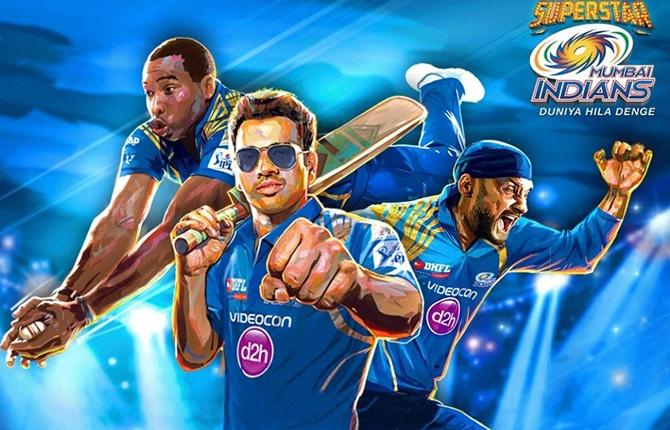 Apart from Mumbai Indians, Royal Challengers Bangalore and Rajasthan Royals retained their positions on the brand value chart and their valuations from 2014. The total value of the franchises grew from $406 mn in 2014 to $432 mn (rounded to the nearest decimal), a rise of six per cent.
IPL's total value has also seen a jump over last year, at $3.54 billion versus $3.25 bn in 2014 (up nine per cent).

"As a part of our analysis, we realised that while the brand value is a significant component of business value of individual franchises, there are several other factors that drive the business value of the IPL. Over the past few years, we have seen several transactions where stakes in a few IPL franchisees were bought and sold at premiums of over 100 per cent to the values originally bid for during the first auction," says Gupta.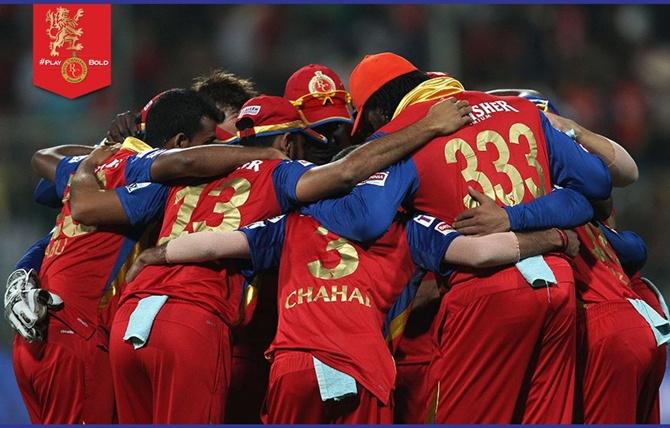 Image: Royal Challengers Bangalore retained their positions on the brand value chart. Photograph, courtesy: Royal Challengers Bangalore
He said though IPL was still at a very early stage of development (less than a decade) compared to other global professional leagues, operational for many decades, the value created by it in such a short time was significant, considering the minimal initial investment by the Board of Control for Cricket in India.
"The evidence of growth is clearly visible in the sponsorship deals and the media rights renewed by the IPL Governing Council, including the new digital media rights, which saw an increase of 50 per cent over the earlier deal. With the TV rights up for renewal by 2017, IPL is set for as huge a windfall as the EPL (English Premier League), which saw an increase of 83 per cent over its earlier TV rights deal," says Gupta.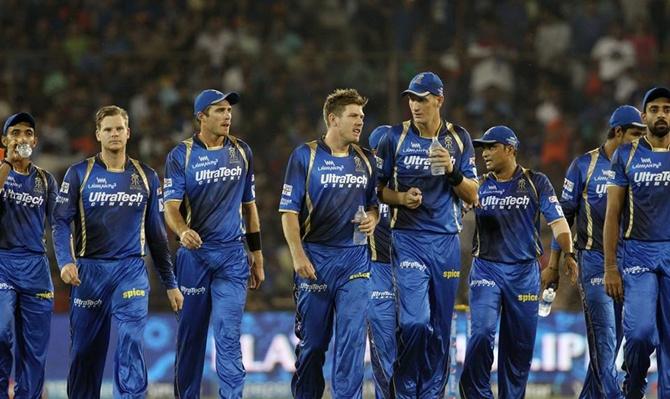 Image: Rajasthan Royals retained their positions on the brand value chart. Photograph, courtesy: Rajasthan Royals
STAR India has won the foreign broadcast rights (television and digital, ex-US) and the digital rights in India.

In the US, ESPN has bagged these rights, while in India, Multi Screen Media continues to be the official broadcaster of IPL.

The Indian cycle for broadcast comes for review in 2018. Advertising rates on the MSM network have seen a rise of 10-15 per cent, and the advertising revenue from the 2015 edition is expected to touch Rs 900-925 crore (Rs 9-9.25 billion).