Like 2013, cash-starved developers faced the problems of huge unsold housing stocks and buyers' protest against delay of up to 6-7 years in delivering projects, forcing them to focus on completion of projects instead of launching new ones.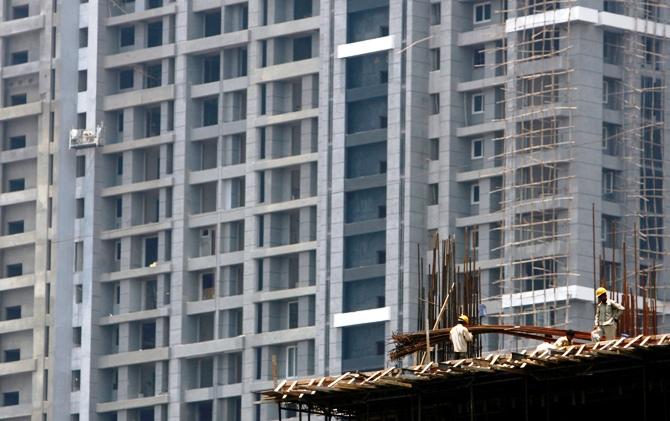 Image: A house under construction. Photograph: Reuters

After a sluggish 2014 marked with falling housing sales and high costs, developers are betting on lower borrowing costs and economic upturn for a turnaround in the real estate market in the new year.
Developers were hopeful that property market, which has been witnessing demand slowdown since last few years, would be back on track in second half of 2014 on improved sentiments after the new government came to power but that did not happen and rather housing sales were slow even during festive season.
In commercial real estate, leasing of office space was higher although the activities were subdued in retail segment.
Rentals remained stable during the entire year.
Like 2013, cash-starved developers faced the problems of huge unsold housing stocks and buyers' protest against delay of up to 6-7 years in delivering projects, forcing them to focus on completion of projects instead of launching new ones.
Developers effort to boost demand by offering discounts and relaxing payments schedules did not help as home buyers kept waiting for correction in prices and interest rates.
Amid these negativities, some positive announcements came from the new government in form of approval for Real Estate Investment Trusts, relaxation in rules for foreign direct investment and setting up of 100 Smart Cities.
These did not have an immediate impact on the market, but realty firms and property experts believe that the interest of global investors would revive in the sluggish property market with these two measures.
The year also witnessed some big-ticket property deals and increased investors interest in realty portals.
While in the beginning of the year realty major DLF sold luxury hospitality chain Amanresorts for Rs 2,200 crore (Rs 22 billion), the Sahara group sold 185 acre land in Gurgaon to M3M India for over Rs 1,200 crore (Rs 12 billion) this month.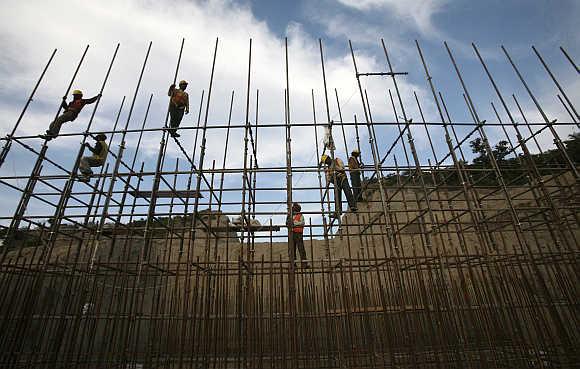 Image: Labourers work at a real estate project. Photograph: Reuters

Private equity investment in the realty jumped more than two-fold to Rs 8,900 crore (Rs 89 billion) in January-September period and the figure is likely to cross Rs 12,000 crore (Rs 120 billion) by year-end.
"This year was challenging.
"It was worst in five years in terms of sales," CREDAI, the apex realtors' body, chairman Lalit Kumar Jain said.
He noted that the realty market would be better next year in terms of sales if interest rates go down and the government brings reforms like single-window clearance, online approvals for projects, lower taxes and permission for building more area on a land parcel.
Property Consultant JLL India Chairman and Country Head Anuj Puri also said that "2015 will definitely be a good year for the real estate sector . . . as borrowing rates are sure to go down from the current levels".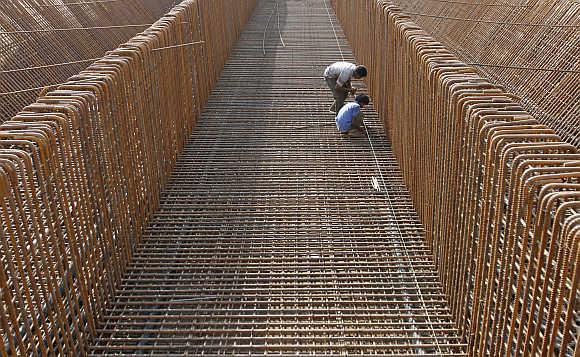 Image: A building under construction. Photograph: Reuters

". . .with property prices staying stable and good deals being offered by developers in order to clear their inventory, fence-sitting buyers be further encouraged to press the 'buy' button," he observed.
According to JLL, housing sales are estimated to have declined to 1.75 lakh units this year in primary markets of top seven cities from nearly 200,000 units.
Developers are sitting on close to 30 months of unsold inventory in the mid-to-high-end segment.
Net absorption of office space is estimated to cross 30 million sq ft in 2014 as compared with 23 million sq ft last year, according to Cushman & Wakefield.
Along with poor housing sales, realty sector this year witnessed adverse court judgements and regulatory orders against some developers including DLF, the country's largest realty firm.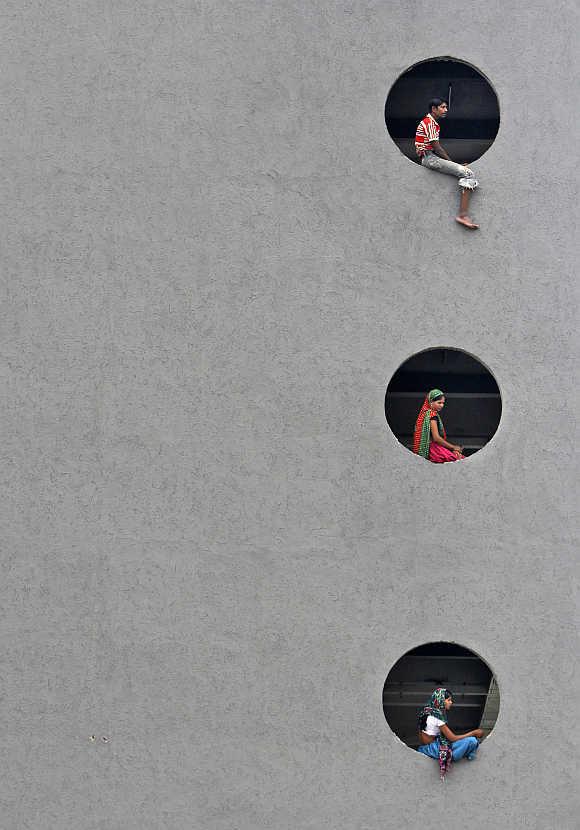 Image:

Labourers rest inside a newly constructed commercial building in Ahmedabad.

Photograph:

Amit Dave/Reuters



In April, Allahabad High Court had ordered to demolish realty firm Supertech's two 40-storey towers in a Noida housing project. The two towers, Apex and Ceyane have a combined 857 apartments, of which about 600 flats were sold.
Next month, the Competition Appellate Tribunal upheld a Rs 630 crore (Rs 6.3 billion) penalty imposed on realty major DLF by the Competition Commission of India for unfair business practises.
The Punjab and Haryana High Court in September cancelled the allotment of 350 acre land parcel in Gurgaon to DLF for Rs 1700 crore (RS 17 billion).
Then, next month market regulator Sebi barred DLF as well as its six top executives, including chairman and main promoter K P Singh, from the securities market for 3 years for 'active and deliberate suppression' of material information at the time of its Initial Public Offer.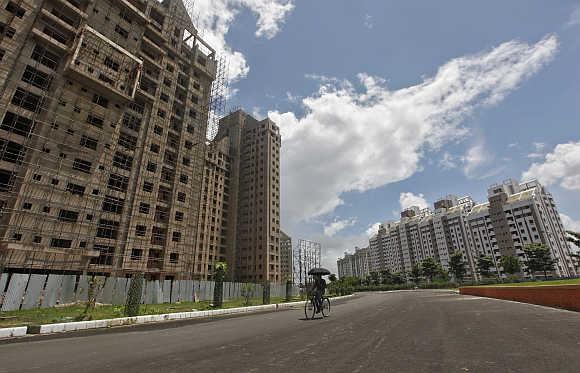 Image: A man holds an umbrella while cycling past residential buildings under construction in Kolkata. Photograph:

Rupak De Chowdhuri/Reuters



Both DLF and Supertech have challenged these orders and are waiting for the final outcome.
Amid poor sales volume and litigations, the realty players also got involved in big-ticket sale-purchase property deals.
Unitech Corporate Parks, the London listed Unitech group firm, sold its entire 60 per cent stakes in six IT-SEZ projects in India to Canada's Brookfield Asset Management for about Rs 1,850 crore (Rs 18.5 billion).
Separately, Unitech sold its 40 per cent stakes in 4 projects to Brookfield for around Rs 1,500 crore (Rs 15 billion).
Parsvnath sold 140 acre township project at Gurgaon to Supertech for Rs 665 crore (Rs 6.65 billion).
Indiabulls Real Estate bought a prime commercial property in London's Mayfair for Rs 1550 crore (Rs 15.5 billion), while Lodha bought 87 acres from Clariant Chemicals in Mumbai for Rs 1,154 crore (Rs 11.54 billion).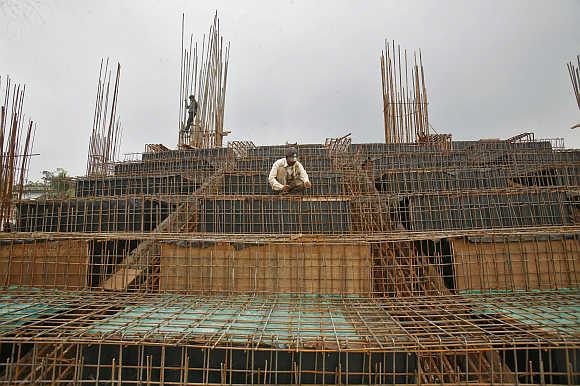 Image:

Labourers work at a construction site of a stadium in Agartala, Tripura.

Photograph:

Jayanta Dey/Reuters



The year 2014 also saw largest office leasing deal with homegrown e-commerce giant Flipkart agreeing to take 3 million sq ft of prime office space in Bangalore from realty firm Embassy group at an annual rent of Rs 300 crore (Rs 3 billion).
Foreign players also started showing interest in Indian property market due to lower valuations and hope of better returns after revival.
Japan's Tama Home announced construction of 12-18 projects at an investment of Rs 6,000 crore (Rs 60 billion) in partnership with another firm Developer Group, which is promoted by Japanese investors but managed by Indian professionals.
US-based realty firm Hines announced a tie-up with a global fund to invest $250 million (over Rs 1,500 crore or Rs 15 billion) in various housing projects in India with an aim to tap the huge demand for mid-income homes.
Singapore's Sovereign Wealth Fund GIC invested Rs 150 crore (Rs 1.5 billion) in Vatika group's two residential projects in Gurgaon, while US-based investment banking firm Goldman Sachs invested Rs 255 crore (Rs 2.55 billion) as equity in Vatika group's hospitality venture.
GIC also acquired over 34 per cent stake in Nirlon, which owns 3.3 million sqft information technology park -- Nirlon Knowledge Park - at Goregaon in suburban Mumbai.
Riding on the e-commerce bandwagon, property portals Housing.Com raised $90 million and CommonFloor.Com raised $30 million for their expansions.
Rupert Murdoch-led News Corp announced acquisition of 25 per cent stake in realty portal PropTiger.com for $30 million (Rs 185 crore).
However, fund raising activities through IPO route was almost absent this year despite bullish stock market.
Lavasa Corporation, the realty arm of construction major HCC, received Sebi's approval for raising Rs 750 crore (Rs 7.5 billion) through an initial public offer in November, but did not launch the offering.
Through the year, the real estate regulatory bill, which was introduced last year in Parliament, could not be passed, much to the disappointment of consumers.
Developers' bodies kept opposing the proposed law, despite assurance from the government that 'there will be no strangulation, only regulation'.
At the fag end of the year, the government notified its decision to relax FDI policy for the construction and real estate industry by easing exit norms as well as reducing the built-up area and capital needs.
The new policy has done away with the 3-year lock-in period for repatriation of investment.
Developers, however, were of the view that reduction in interest rates and higher economic growth would be critical for revival in property markets, especially housing.