In 1935, when Khwaja Abdul Hamied set up Cipla in Central Mumbai to manufacture medicines in India, few could have predicted that in the next few decades the company would take on the world's mightiest multinationals on patents and produce low-cost drugs for the world's extreme poor.
Image: Yusuf Hamied, chairman, Cipla. Photograph: Reuters
It started when Yusuf Hamied, now 77, chairman of the company and the founder's son, saw millions dying across the world for want of affordable medicines.
These are medicines that are available with multinational corporations (MNCs) but are too expensive for the poor.
Taking advantage of the loophole in the Indian patent law of 1970, Cipla decided to take on the world's most powerful corporations by copying the anti-AIDS drugs and selling it dirt cheap to the poor by 2001.
The global media soon portrayed Hamied as a modern-day Robin Hood but was predictably called a "pirate" by the MNCs.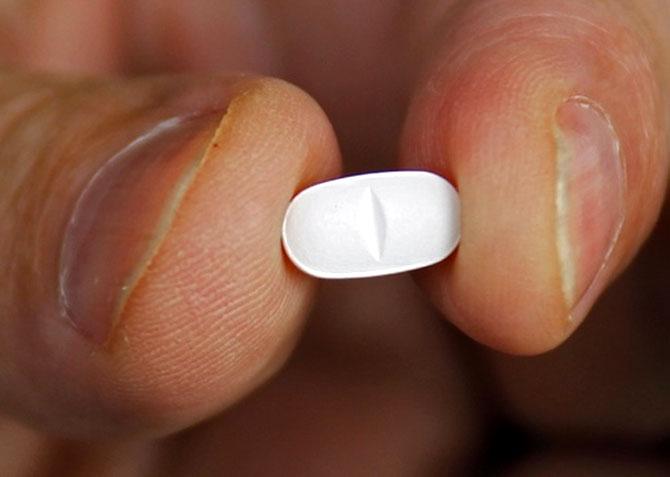 Image: Cipla has pioneered in providing low cost drugs to the poor. Photograph: Reuters
The MNCs soon hit back with multiple law suits in India and abroad.
They argue that they spent billions of dollars to research and invent a drug, so they should be allowed to get reasonable returns.
Hamied argues the inventor of a drug is hardly paid well and the multinationals buy the inventions for a few millions of dollars but make billions from it.
He says as Indian law provides (as it did before amended in the early 2000s) for copying the formula, he did not break any law while providing medicines at cheaper rates.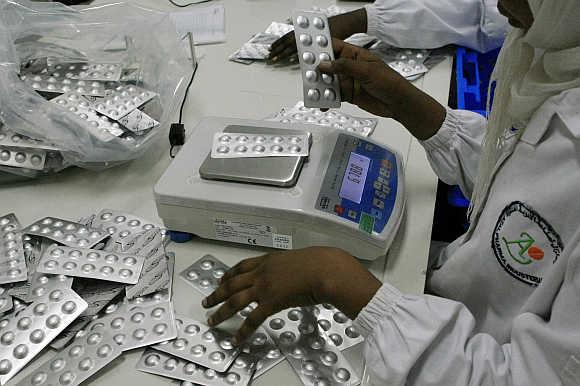 Image: Cipla was the first pharma firm to sell cancer drugs at a low cost. Photograph: Mohamed Nureldin Abdallah/Reuters
How it started
It was during the early 2000, when Hamied - who joined the company as a young scientist - shot to fame when he told a European Commission meeting at Brussels that he could sell a three-drug anti-retroviral combination for the treatment of AIDS for $800 per patient a year.
This enraged the MNCs who were selling the same combination for $12,000 per patient a year.
This was at the peak of the AIDS epidemic and millions of poor Africans were dying for lack of affordable medicine.
Poor African countries, who were big consumers of this medicine welcomed the Cipla offer.
Cipla made an entry into the market with a bang and soon dropped prices to less than a dollar per patient a day.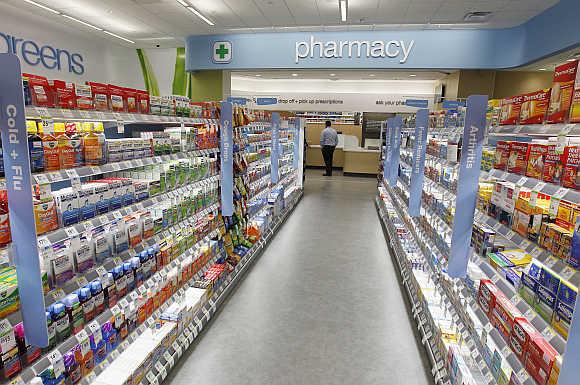 Image: Drugstore chain Walgreens flagship store on the corner of Sunset & Vine in Hollywood, California. Photo is for representation purpose only. Photograph: Fred Prouser/Reuters
As the global media took notice of Hamied, Cipla was inundated with orders. MNCs started losing the global public relations war.
They also reduced their prices for AIDS drug but were no match for Cipla.
Today, more than eight million Africans are treated with the Cipla drug.
In India the price difference between a multinational and Cipla can be gauged by the fact that the latter today sells a stomach cancer drug for Rs 6,500 for 30 tablets against Rs 2,80,000 charged by multinational competitors.
Hamied argues that about 70 per cent of the patented drugs sold worldwide are not invented by the owning companies so there is no point in the hue and cry made against the compulsory licences issued by India to launch generic versions.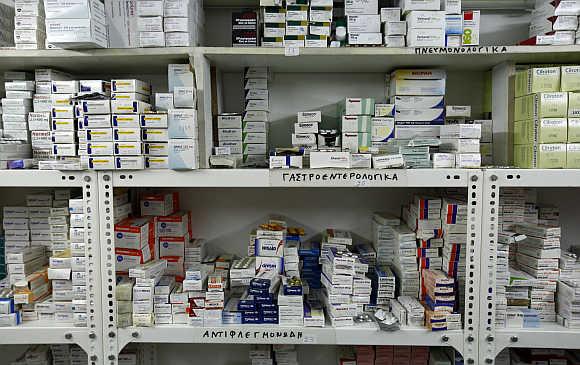 Image: A pharmacy in Athens, Greece. Photo is for representation purpose only. Photograph: Yorgos Karahalis/Reuters
However, most local companies prefer not to join the patent challenges cases due to the high cost of litigation.
For example, Cipla has to pay about Rs 20,00,000 a day for each case and for the entire court proceedings.
MNCs kill competition with expensive litigation in India and abroad, says Hamied.
The next frontier
In 2005, following a World Trade Organization commitment, the Indian government strengthened the patent laws which aligned it with global standards.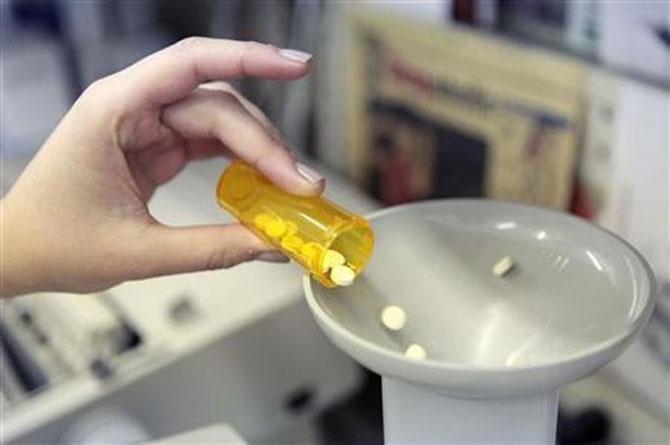 Image: Cipla provides medicines at low cost for deadly diseases. Photograph: Reuters
Indian companies can now break patents - only in a national emergency.
Hamied says every country's patent laws should be need-based to that country and should be national laws not international ones.
Hamied thinks that in its fight against MNCs, the industry is not getting the required support from the government.
"What I am against is the monopoly we are offering to multinationals in India. When the US was facing anthrax and the bird flu crisis, it was ready to break any patents. "
That was in its national interest. The innovator should get a fair return of, say, royalty of four per cent of net sales. India is in a perennial heath crisis.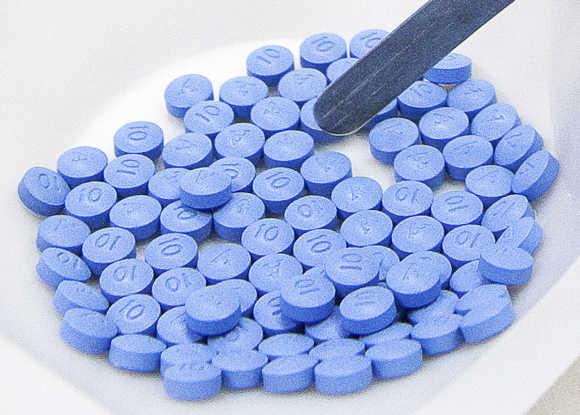 Image: Cipla invests heavily on research and development. Photograph: Reuters
"The largest numbers of AIDS patients, diabetes, TB, malaria are in India. Our policies should be suitable for Indians and Indian companies should have the automatic right to break patents in case of a national emergency," Hamied said in an earlier interview with this newspaper.
Hamied says India should have a new health policy that should favour Indians and not multinationals.
"Look at China. The country is doing everything possible which is in the interest of the Chinese, whether on patents or setting up plants in China. "
But just look at any Indian government hospital and you can see what kind of health care Indians are getting. A benevolent dictatorship is better than our kind of democracy, he said.
Cipla, meanwhile, is also investing in its own research.
"We are investing close to five per cent of net sales in research on new drugs and have received patents on incremental innovations like Dymist, a spray to treat nasal congestion."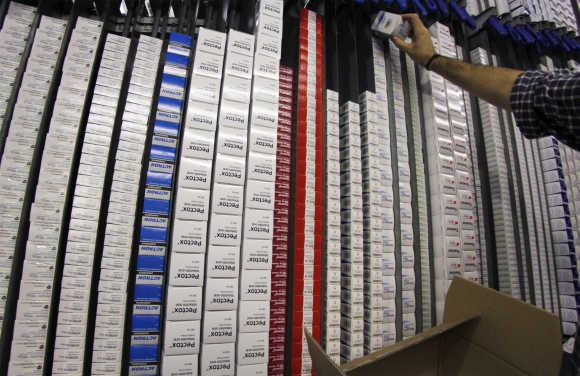 Image: Cipla aims to earn 70 per cent of its revenues from abroad from the present 60 per cent. . Photograph: Reuters
We are actively working on nano particles, which will bring down the cost of anti-AIDS drugs substantially.
If we are ready to pay royalty to the innovator, we should be allowed to make the drug to help the poor in India - for example an anti-TB drug," he says.
The patent for an anti-TB drug is with a multinational and this is where Hamied thinks India should help its citizens by allowing local companies to make the medicine.
Cipla also buying companies abroad to make its distribution base stronger. It took over South Africa-based Medpro for $512 million, bought a Yemeni company in July this year for $21 million and a drug distributor in Sri Lanka.
The idea is to make sure that the company's made-in-India drugs reach every part of the world. Cipla aims to earn 70 per cent of its revenues from abroad from the present 60 per cent.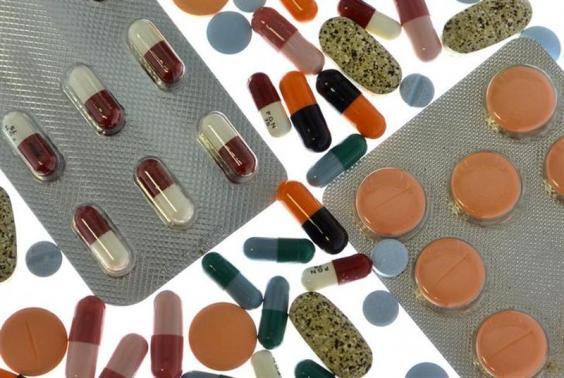 Image: Cipla had created a global stir as it pioneered the access to HIV treatment by making anti-retrovirals available at less than a 'Dollar a Day'. Photograph: Reuters
Clearly, Cipla is re-writing its own history by taking its patent war to the multinationals' camp.
From Mumbai to global icon
1935: KA Hamied set up Cipla in Mumbai.
1939: Mahatma Gandhi visited Cipla's plant in Mumbai and inspires Hamied to make essential medicines for India. During World War II, when India was dependent on imported medicines, Cipla was producing medicines for the country to meet the shortage.
1970: Cipla spearheaded the new patent law by which an Indian company was allowed to manufacture a patented product as long as the process to manufacture was changed. This enabled Indian firms to manufacture any medicines and make these available at affordable prices for all Indians.
2001: Cipla created a global stir as it pioneered the access to HIV treatment by making anti-retrovirals available at less than a 'Dollar a Day'. This saved millions of lives across the world but multinationals hit back with expensive law suits
2005: During the bird flu epidemic, Cipla produced an anti-flu drug in two to three months. The US agreed to suspend patent law to save the lives of its citizens
2012: Cipla makes a breakthrough in reducing the prices of cancer drugs, thus making world-class medicines affordable and accessible to cancer patients