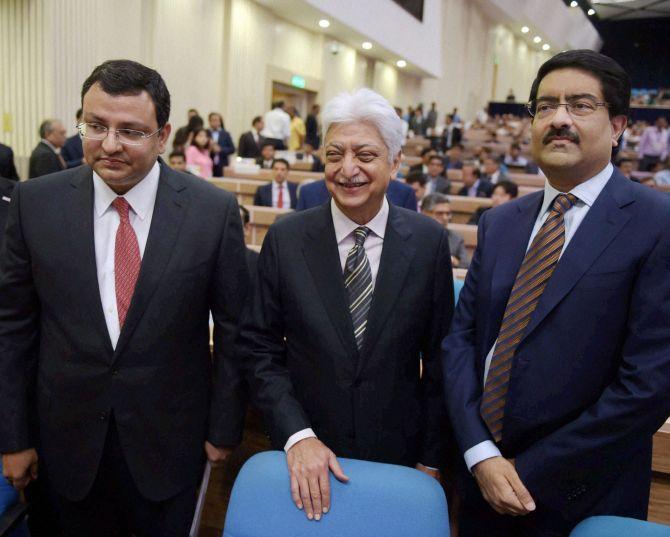 Image: Tata Group chairman Cyrus Mistry, Wipro chairman Azim Premji and Kumar Mangalam Birla, chairman, Aditya Birla Group at the inauguration of the 'Make In India'. Photograph: : Manvender Vashist/PTI
Industry leaders from both India and abroad on Thursday pledged their support to the government's 'Make in India' campaign and sought stable tax structure, labour law reforms and expeditious decision-making to make it a reality.
At the star-studded launch of Prime Minister Narendra Modi's ambitious programme, attended by the likes of Reliance Industries Chairman Mukesh Ambani, Tata Group chief Cyrus Mistry and Aditya Birla Group's Kumar Mangalam Birla, industry leaders said job creation and high growth would be possible only if the manufacturing sector gets into a high growth trajectory.
"Our aspirations on the global manufacturing arena will be fulfilled if we address certain challenges on priority," Mistry said while addressing the gathering.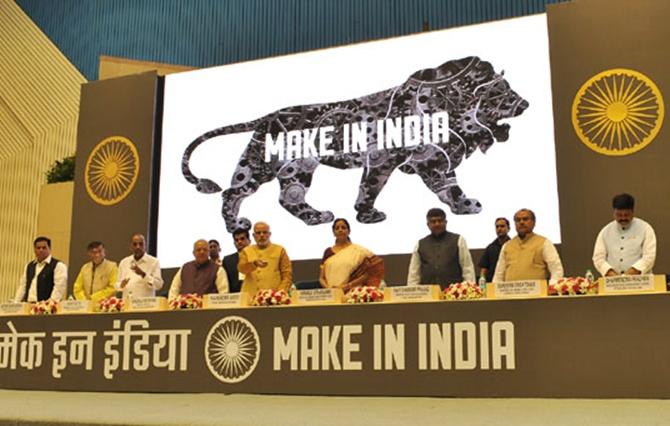 Image: Prime Minister Narendra Modi at the inauguration of the 'Make In India' in New Delhi. Photograph: PIB
These factors will include the build-up of critical infrastructure across the country supported by stable policies, transparent and competitive tax and duty structure, efficient and time-bound administration through the use of e-governance, cost effective and reliable energy coupled with logistics, critical for the competitiveness of industry," Mistry added.
Pledging his support to the initiative, Ambani said in order to succeed in this campaign, it was important to be open to capital and expertise from all over the globe, and implementation of GST will make India one market and strengthen overall Make in India programme.
He further said: "Make In India is about the present and the future, 'Made' is always in the past...We commit ourselves to the Make In India movement that was given to a billion Indians by our PM."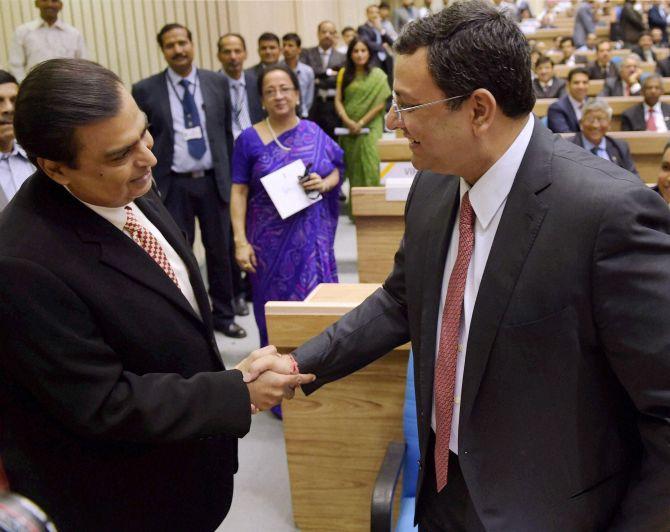 Image: RIL chairman Mukesh Ambani with Tata Group chairman Cyrus Mistry at the inauguration of the 'Make In India', in New Delhi. Photograph: Manvender Vashist/PTI
Ambani, who announced that Reliance Industries would create 1.25 lakh jobs in the next 12-15 months, further said it was also important for villages to stay connected to be a part of growth story.
"It is important to connect village clusters with international markets and not only domestic markets by building physical infrastructure and virtual infrastructure so that all our goods and services are connected to all markets," he said.
ICICI Bank Managing Director and CEO Chanda Kochhar said the 'Make in India' programme would become the next growth driver for the country.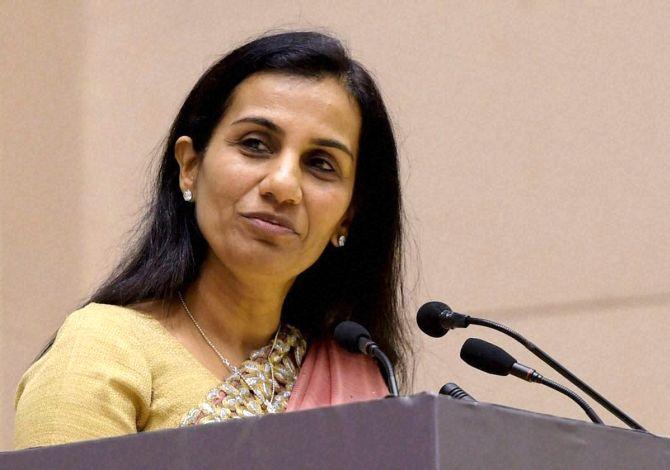 Image: ICICI Bank CEO Chanda Kochchar at the inauguration of the 'Make In India'in New Delhi. Photograph: Manvender Vashist/PTI
"What is being launched today is actually going to be the next growth driver for India...It is believed that manufacturing, if it works to its full potential, can add about 9 crore jobs in the next decade for India," she said.

Kochchar further said: "By creating India as a manufacturing hub for the world, we will increase our exports, so manufacturing is not just going to be a growth driver, not just a creator of jobs but also something that will strengthen the macro-economic stability of the country."
Exuding confidence on India's competitiveness, Aditya Birla Group Chairman Kumar Mangalam Birla said: "India has come to be know as global IT hub and reservoir of intellectual capital. It's high time that India becomes a preferred centre of choice for manufacturing for global companies."
The share of manufacturing in India's GDP is low at 16 per cent as compared to 36 per cent in China, 34 per cent South Korea and 22 per cent Germany, he added.
"Quite clearly in manufacturing we have lot of catching up to do. We need manufacturing to put the economy into a higher growth trajectory and to create millions of jobs," Birla said.
Image: Commerce and Industry Minister Nirmala Sitharaman greets Cyrus Mistry. Photograph: Manvender Vashist/PTI
"We need an educated workforce of thinkers to meet 'Make in India' vision. True success of manufacturing lies in being able to service global markets, said Azim Premji, Chairman, Wipro.
Stating that India is not the easiest country to do business in, Kenichi Ayukawa, Managing Director and CEO, Maruti Suzuki India Ltd said: "We are fully confident that, under the Make in India programme of the Prime Minister, factors that adversely affect the competitiveness of manufacturing will now be removed quickly."
He further said: "Costs of production in India increase because of various government policies, procedures, regulations and the way some of the laws are implemented."
If such hurdles were removed, Ayukawa said India would then become one of the most competitive manufacturing countries in the world.
Exuding confidence that things will move forward, Bharat Forge Executive Director Amit Kalyani said: "Following this, my confidence of investing and the speed of investing will go up."
Bharti Enterprises Vice Chairman Rajan Bharti Mittal said: "It is a great initiative but it will really depend on the ground, how much it takes shape. So once that happens I am sure things will start working."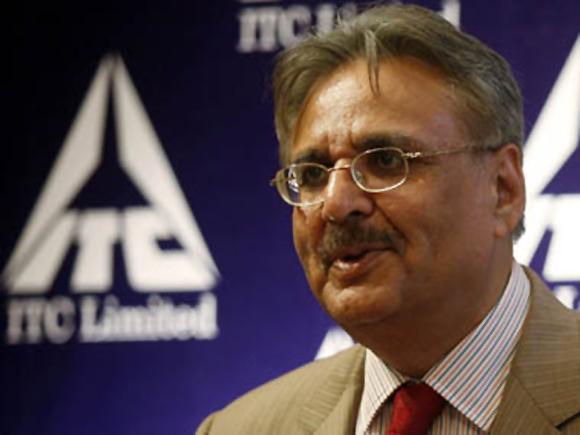 Stating that Make in India will solve problems of deficits, Y C Deveshwar, chairman, ITC, said, "My next destination is Madhya Pradesh. We are going to invest there. 12 million youth come to the market every year, only 2 million jobs created. India's carpenters and craftsmen will get an opportunity."