People with merit are valued; not just degrees from prestigious institutions, Google CEO tells students at his old college.
Avishek Rakshit and Alnoor Peermohamed report from Kharagpur/Bengaluru.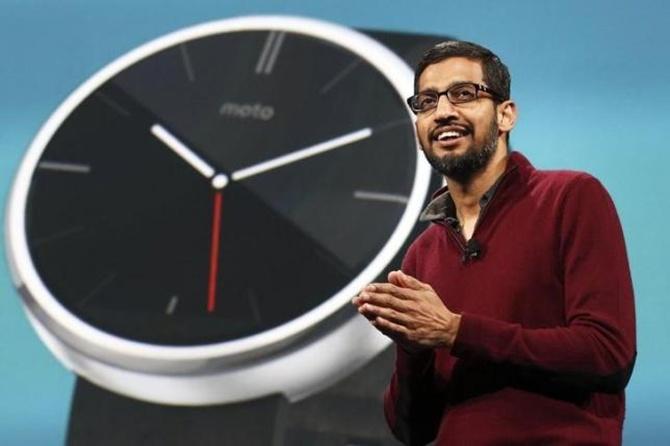 Google's India-born CEO Sundar Pichai said the country's digital economy must reach its potential for local Internet companies to be competitive.
"How can I replace you at Google?" an Indian Institute of Technology-Kharagpur student asked Pichai.
In the blink of an eye, came the reply: "Be careful what you wish for."
Returning to his alma mater on Thursday, January 5, Pichai, a 1994 alumnus of the premier tech institute, got the welcome of a rock star.
He advised students to chase their dreams, but also had a reality check for Indian Internet companies. He said these needed to earn more revenues to compete with their global counterparts.
In a fireside chat, Pichai said the domestic digital economy was yet to reach its full potential.
"We get excited about smartphones, but we're talking about 300 million in a country of 1.3 billion people. Not all of them have good connectivity. As a company that's getting built here, it's difficult to scale across India and reach the full potential which gives you the resources to compete internationally."
Pichai said Indian firms should expand internationally and tap markets in Southeast Asia, such as Vietnam, Indonesia and Thailand.
"Hopefully, Indian companies are more thoughtful about when they build stuff, targeting Vietnam, Indonesia and Thailand. I think those markets are developed and the same products will work there as well, so I think they need to set their sights a little higher," said Pichai.
"I think the trend lines are strongly in favour. I am pretty convinced that at least in 5 to 10 years there will be big global technology companies coming out of India."
Google is working on multiple platforms in the country, including getting over four out of five small firms, who are not online, to use smartphones to build Web sites; introducing tools in local languages to get users online; and working with the government to provide high-speed Internet in railway stations.
According to Google, at present, there are about 200 million smartphones in India. It is expected to scale up to touch 500 million by 2020.
The global technology major is also banking on public-private partnerships such as the RailTel project to drive Internet penetration in the country.
It is of the view that in the next four years, Internet users in the country will increase to 500 million from the current 200 million.
For the students of IIT-Kharagpur, where he studied metallurgical engineering, Pichai said setbacks did not matter.
"It is important to keep your dreams and follow them," he said, adding people with merit were valued; not just degrees from prestigious institutions.
The CEO, who confessed his obsession with new products, got candid about his days in the college. Later, he added that after an "embarrassed first year" at the college, he made up for it in the following two years.
He said he appeared for an interview with Google on April Fool's Day in 2004. "Google had just launched Gmail and asked what I think about it," he recollected.
Pichai also hinted that his favourite Indian actress was Deepika Padukone, though he didn't want to commit. He admitted during his college career, he admired a number of actresses and had their posters.