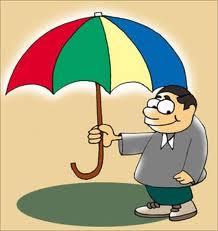 Following the intense all-round media coverage on the benefits of taking pure term insurance policies and keeping insurance and investments separate, there is huge interest in online term plans.

Though more and more consumers are convinced about the benefits of pure term insurance plans, many are confused.

They find online term plans much cheaper (50-60 per cent) than the offline ones available in the market.

An example will show the stark difference: The e-Protect Plan, Bharti AXA Life Insurance's online term plan that offers a sum assured of Rs 1 crore (Rs 10 million) for 25 years, for a healthy, 35-year old non-smoker, is available for Rs 10,675 a year.

LIC's Amulya Jeevan charges the same customer Rs 39,700 a year for an offline plan.

As both policies offer the same benefits, consumers are likely to feel there's a catch involved with the online policy.

They turn to their neighbourhood insurance agent for advice.

The agent, increasingly feeling left out by the online revolution, says companies offering online term plans reject death claims more often than the market leader and, therefore, can afford to provide such cheap policies.

He points to data published by the Insurance Regulatory and Development Authority (Irda) that show LIC rejects only 2.58 per cent of all death claims, while for most private companies, 3.47-33.94 per cent of death claims aren't honoured.

What is the point in buying insurance if the claim isn't paid, the agent asks.

Though this argument sounds valid, it isn't true.

The data is correct, but not necessarily true. Let me explain with an example: If there are multiple routes to a specific destination and statistics indicate accidents on the first are fewer than on the others, it makes sense to take the first route.

The answer, however, isn't necessarily as self-evident as it sounds. The key is to analyse why the accidents occur.

Say, you discover most accidents (including the few on the first route) involve a bike. Here, the way to avoid accidents is to ensure you don't use a bike, rather than always taking the first route.

How does this analogy extend to life insurance? Death claim rejections were much like accidents.

While external data isn't available, most death claim rejections result from insurance companies alleging material facts are falsified or not disclosed while filling the insurance proposal form.

If you disclose all material facts correctly, there are very little chances your family will face a problem in the event of a claim.

Conversely, if you falsify facts or do not fully disclose all material ones, opting for the insurance company with the lowest death claim rejection ratio won't help. In this case, your family is bound to face a problem in the event of a claim even.

This is where online policies have an edge. Since you fill the proposal form online, you can ensure it is filled completely and correctly.

Also, ensure there are no issues with the claim process, should any unfortunate event unfold.

Though it is possible because of the full disclosure the insurance company may charge a higher premium, it is better to have a slightly more expensive policy than a paper policy at a lower premium, one that won't pay when you need it the most.
You can, of course, disclose everything offline as well, but unfortunately, most consumers merely sign at places specified by an agent, leaving the rest of the form to be filled by him.

So, why are online policies so cheap? That is because there is no agent's fee involved (no wonder insurance agents don't like this product), other administrative costs of the insurance company are lower and, most importantly, these use the latest statistics for calculating premia -- statistics that indicate Indians live much longer now than earlier.

I hope that should help bridge the trust deficit a lot of consumers have with online term policies.

A few consumers are worried about buying 20-30-year policies from relatively unknown companies.

They are worried if the insurance company will be around in case the insured dies in 10-15 years.

In this case, the key is Irda regulates all insurance companies and requires these to maintain what is called a 'solvency ratio', which is quite stiff by international standards.

So, the chances of a problem occurring on this front aren't so high.

In fact, we have already seen despite a couple of foreign companies quitting their joint ventures, existing policies have been bought by new promoters or the Indian promoters in a smooth manner.

There is one overriding fact -- one buys a term policy for peace of mind. So, go ahead and buy the policy from any brand that gives you peace of mind, as long as you disclose everything in the proposal document.
The writer is CEO, Apnapaisa.com