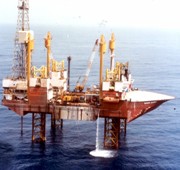 Government has pushed back the Rs. 11,500 crore (Rs. 115 billion) share sale of state-owned Oil and Natural Gas Corp to next fiscal and the public offering is now slated to open on April 5, a senior official said on Thursday.
The follow-on public offer was originally scheduled to open on March 15 but has now been rescheduled.
"The rescheduling is partly because of delay in appointment of independent directors on ONGC board to fulfill SEBI's listing requirement," he said. As per the schedule now drawn, the FPO would open on April 5 and close on April 8. The Government is selling its 5 per cent stake or 427.77 million equity shares in the FPO that in today's closing price of Rs. 269.85 on the Bombay Stock Exchange will fetch over Rs. 11,540 crore (Rs. 115.4 billion).
Post offer, the government stake in ONGC would come down to 69.14 per cent from the current 74.14 per cent.
Roadshows to promote the share offering in the nation's biggest explorer and highest profit earning company, which were to be held in India and aboard from March 2 to 9, have now been rescheduled to begin on March 21.
The official said ONGC was ready with its red-herring prospectus for the FPO but is awaiting appointment of at least one independent director on its board to meet market regulator SEBI's listing requirement.
ONGC has six functional directors, besides the Chairman.
It also has two government nominee directors taking the total strength of functional/ promoter directors to nine.
Against this, the company, at present, has four independent directors and needed five more to meet SEBI's listing norm of having equal number of executive and non-executive directors.
However, since ONGC is without a permanent Chairman and vacancy of Director for Human Resources is not been filled, the effective strength of full-time functional directors together with government-nominee directors was down to seven.
To meet the SEBI norm, three independent directors need to be appointed, which given the timelines is not possible.
So, the government plans to withdraw its two nominee director, bringing down the strength of functional directors to five.
File pertaining to appointment of one independent director is already with the Cabinet Committee on Appointments and once that is cleared, ONGC would meet the SEBI norm, he said.
ONGC last month received the report of independent auditors who certified the company's oil and gas reserves, a mandatory requirement for explorers making public offers.
A group of ministers headed by Finance Minister Pranab Mukherjee would decide on a price band for the FPO on April 1.
Bank of America Corp, Nomura Holdings, HSBC Holdings Plc, JM Financial Services, Citigroup Inc and Morgan Stanley are managing the FPO.