Vinay Umarji finds out how the online furniture brand is crafting an identity that seamlessly travels the real and the virtual.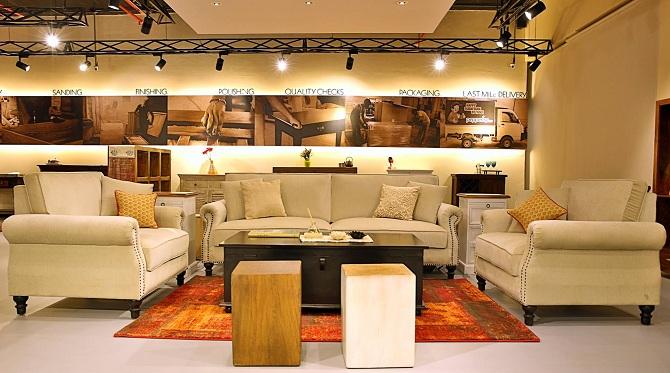 IMAGE: A Pepperfry Studio in Mumbai. The decision to call it a studio is deliberate since the store is and will remain an online property. Photograph: @Pepperfry/Facebook.
When one of the youngest furniture brands decided to shed its purely digital identity, there was one thing that it was clear about. It would show its wares offline but sell online.
"We want to meet our customers at different places wherever they are but sell online," states Pepperfry co-founder and COO Ashish Shah, while adding that the home and furniture player intends taking its studio tally to 46 by March 2018, up from 20 right now.
By doing that the brand is hoping to build an identity that travels both worlds with equal ease. The Pepperfry studios have been designed with this in mind.
Unlike a typical furniture store, the studio (the decision to call it a studio is deliberate since the store is and will remain an online property) greets you not with price tags on products but QR codes. Walk in and one finds neither a sales counter nor are there 'salesmen' manning the studio.
As one would browse and surf online, customers do the same at the studio, armed with a smartphone or access to desktop computers with a large monitor. Select, click and purchase or add to cart; that is the journey offline as it is online too.
The studios are designed as pure customer engagement points with trained 'consultants' addressing queries and guiding people to the online portal for purchase.
For the customer, the offline experience is meant to reinforce the brand's online identity, while for the brand, it is a way to expand its footprint.
Pepperfry claims there is a 50 per cent conversion rate at the studios; half the people that walk in make a purchase. And this, the company says, will drive it to break even by the first quarter of fiscal 2018-19.
Several e-commerce players are jumping in to bridge the gaps between discovery and purchase by setting up an offline identity. All expect that growing the offline presence will boost online sales.
Pepperfry expects the stores to give it an edge in the furniture market that is pegged at $20 billion in India.
"They need a place where customers can touch and feel the products. Hence, such studios will be absolutely necessary for the business. It is more efficient to have smaller stores and wider online catalogue. It is very crucial in this business to store inventory in one single place to make logistics simpler. Hence, I think it is a smart strategy," says Pinakiranjan Mishra, sector leader (Consumer Products and Retail) at EY.
Shah along with co-founder and CEO Ambareesh Murty wants the studios to be more than just product showrooms.
"In the long run, we want our studios to be the Starbucks for architects and designers. It is envisaged as a co-working space for the designer and architect community who can become our channel partners. Being one of our key influencers, they can guide us to more clientele," says Shah.
With this strategy and having wrapped up a Series E funding of $30 million in September 2016 from NVP, BII, Goldman Sachs, and Zodius Technology Fund, raising the tally to roughly $160 million being raised since inception, Pepperfry's future expansion will be mostly offline.
Pepperfry is now mulling a franchisee model.
"The reason to go with franchisee model is not only speed of execution, but also savings on capital and the need for more entrepreneurs in our ecosystem," says Shah.
The challenge would be in terms of maintaining a sustainable business, says Mishra. "Furniture is a difficult category. The question is how they will manage their margins given that in the recent past many online players have reported losses, primarily driven by high advertising costs. Hence, the challenge will be in terms of establishing the right business model," he adds.
Pepperfry says that it sells 40,000 products every month for an average ticket size of Rs 17,000-18,000.
It has 1,20,000 products listed on its platform.
About 25 per cent of the total sales emerges from the studios.
Furniture is the biggest draw for customers on Pepperfry (it also stocks some crockery and home décor items), it accounts for 80 per cent of its business in terms of value and 40 per cent in terms of volume.
The studios, the company expects, will drive both business and brand recall.
Straddling two worlds
The real and the virtual worlds are converging. Online brands are sketching in a physical avatar, bringing form and shape to their hitherto intangible existences.
Flipkart-owned fashion retailer Myntra opened its first Roadster brand store in Bengaluru this year, calling it an experiment from which it will learn and open more stores across the country.
Ananth Narayanan, CEO, Myntra, says that while the company is undoubtedly venturing out of its comfort zone, it actually can develop an edge over offline rivals by using the data it has gathered over the years online.
"For most offline stores the problem I think is driving traffic or footfalls, but for instance we know that there are 40,000 Roadster customers in this area," he says.
Another online only retailer that recently began testing the waters offline is China's Xiaomi.
While the company had been selling its popular smartphones in stores for over a year, it recently opened its first own brand store in Bengaluru, and says its aim to bring down the cost of selling offline through its own stores.
Xiaomi claims using the traditional offline channel doubles the cost of the smartphone since there are so many pieces to the chain.
Industry experts are a little more conservative in their estimates, and they say that selling devices offline is 30 per cent more expensive than online.
For Xiaomi, which is built around affordability, this is unacceptable. Through its stores it wants to make the cost of selling devices offline as efficient as selling online, both in terms of cost and user experience.
— Alnoor Peermohamed