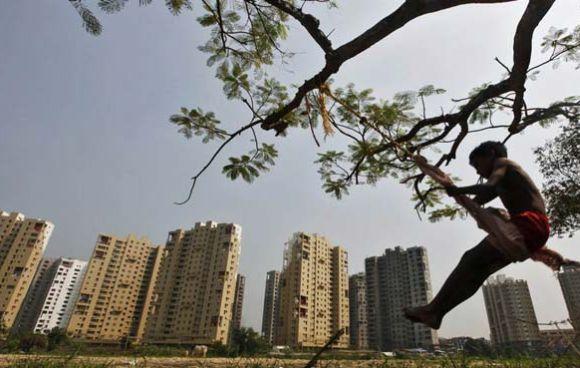 HFCs and banks expect a drop in demand for housing loans in the short-term.
The easing of property prices following the demonetisation of Rs 500 and Rs 1,000 notes will prove beneficial for lenders and housing finance companies as the average size of home loan is likely to increase. This is because the share of cash component in property deals will drastically come down, while the value will rise proportionally.
HFCs and banks expect a drop in demand for housing loans in the short-term. However, as the situation becomes clearer, property prices would come down pushing up demand, they say.
With industrial sector demand for credit remaining weak for more than three years, banks have trained their attention in growing a retail loan book especially housing credit.
This being a secure asset class with low delinquencies, bank lending for buying houses has grown a steady rate of 18 per cent (year-on-year) for the past two years.
The outstanding housing finance portfolio of banks grew to Rs 8,05,800 crore in September 2016 from Rs 6,82,900 crore a year ago, according to Reserve Bank of India data.
CRISIL in its sector analysis said loan against property (LAP) as asset class would witness pressure. Delinquencies in this segment were already on the rise, and the likely fall in resale prices of property and elongation of time to liquidate a property, would add to the woes of financiers in this segment.
Edelweiss Securities in a report said in the short-term, there would be pressure on asset quality for both banks and non-banking financial companies.
---
Room for 25% cut in home prices
Raghavendra Kamath
Coming at a time when property sales have been experiencing a slowdown, the ban of Rs 500 and Rs 1,000 notes could further bring down home prices by 20-25 per cent, say realty consultants and investors Business Standard spoke to.
"There will be liquidity crunch in property markets because so much cash is going to go out of the system. Till stability comes back, the problem is going to be there," said Gulam Zia, executive director, Knight Frank, a global property consultant.
Zia says while the national capital region market could correct by 20 per cent, in Mumbai it would be 15 per cent and southern markets could see a 10 per cent correction in prices.
Zia says both primary and secondary markets will be impacted and the pain in NCR, where cash component is high, will spread to other markets.
"There will be a domino effect. It is foolhardy to believe that primary markets are devoid of cash component. Developers need to pay cash in many places . If they pay in cash, they'll receive in cash," he says.
Twenty-five to 33 per cent of the real estate market is believed to be cash market. Home sales fell 22 per cent in eight major cities to 33,304 units during the September quarter due to muted end-user demand, according to a report by PropEquity Research.
"Housing demand across key cities declined by 22 per cent largely on account of muted end-users demand even when developers continue to offer heavy discounts and benefits," PropEquity added. New launches also fell by 22 per cent at 22,745 units, from the previous quarter, while unsold stocks declined by three per cent.
Abhishek Kiran Gupta of CRE Matrix, a real estate analytics platform, said the secondary market where cash component is high would be negatively impacted first and if the problem continues till the next Diwali, primary markets would be in trouble.
"Till then, developers will put a brave face and give schemes to attract buyers. If the problem persists, they'll have to cut prices," Gupta said. "If you get good deals in the secondary market, why would you pay higher price in the secondary market?"
Amar Merani, chief executive of Xander Finance, said he expects a 10-15 per cent reduction in resale prices of apartments. "But, I don't expect a significant impact on the prices of stock being sold by developers due to this decision."
However, everybody cannot do all-white deals, says a private equity investor. "Those who're desperate to sell can cut prices to sell off their asset. According to him, the ban would weed out the component of black money from the system.
However, the chief executive of a property development firm said the prices would go up because now, the seller will make provision for capital gains. "Now. they'll price it including the capital gains."
The CEO said gold could replace cash in secondary home sales. The ban could also lead to further reduction in interest rates on home loans and increase availability of funds for both developers and home buyers.
"I expect a mortgage rate of eight per cent in the coming days," said Sunil Rohokale, managing director at ASK group, a Mumbai-based fund manager. Rohokale said if the cash component goes down, inflation would reduce and the government would cut the rates. "Banks' Casa (current and savings account) will go up and their costs of fund will come down. They will pass on the benefit."
Shishir Baijal, chairman of Knight Frank, said the move would create a level-playing field among all stake holders in the sector. "Institutional funding to developers, which till now came with a higher risk weightage, is bound to see some softening with the increased transparency."
Photograph: Reuters.