Business Standard checks out trade hubs across the country to assess the impact of demonetisation. In the first of a six-part series, T E Narasimhan takes a look at Tirupur.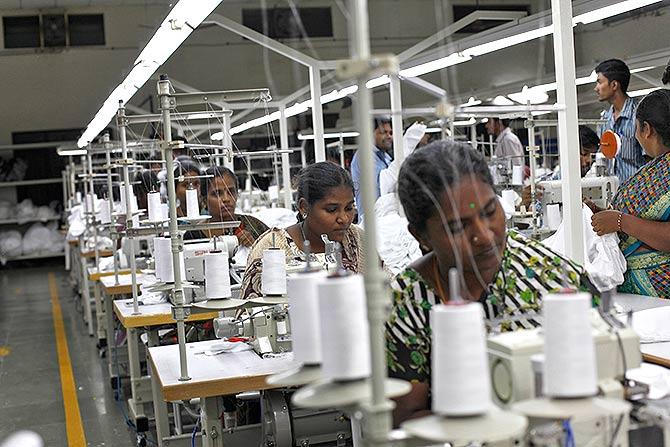 Sixty-two-year-old Gajalakshmi has been waiting all day for buyers in a shop at Banian Bazar in Khaderpet market next to the railway station in the country's knitwear capital Tirupur. She used to do business worth Rs 6,000-10,000 a day. But ever since the Narendra Modi government took the decision to ban old Rs 500 and Rs 1,000 notes, she seldom gets a customer. The market streets, otherwise busy with brisk sale of export rejects, are now empty.
The export-reject market alone, which has mushroomed around the main business of Tirupur, makes up for around Rs 2,500 crore sales every year and houses close to 1,500 shops.
Tirupur is a textile sourcing hub for multinational majors such as Walmart, Ralph Lauren, Diesel, Tommy Hilfiger, H&M, and Marks & Spencer. It exports an estimated Rs 35,000 crore worth of textile products a year.
The first few days after demonetisation were so bad that people failed to turn up for work at export houses, which send their products to marquee global brands. Only 30% of the workers came in the first week after Prime Minister Narendra Modi's demonetisation announcement on November 8.
The numbers are slowly growing, as payments have begun through cheques. But it's far from being normal, as attendance is just about 60%, and that translates to a significant cut-down in orders in the fast-changing fashion world.
The international clients are working the phones and some have sent across their representatives to assess the situation at Tirupur.
The domestic industry around the export hub, estimated at around Rs 15,000 crore, has been hit harder as workers are paid once a week in cash.
The Tirupur Exporters' Association is cautious. It has praised the government for the bold decision but has sought waivers, which would help them meet the payment of weekly wages and other sundry expenses.
Of the 600,000-odd workers here, 40-50% are migrants. Many of these workers don't have bank accounts and they depend on their cash wages, working out to Rs 300-400 a day.
"We are ready to open accounts, but bankers are burdened with heavy load ever since demonetisation came into effect. They are unable to open thousands of accounts," said an exporter.
The challenge is that while they require Rs 10-15 lakh a month in cash to pay the employees, banks are only allowing withdrawal of up to Rs 20,000, said Sabu M Jacob, chairman and managing director of Kitex Garments.
There are logistics problems, too. Scarcity of cash has restricted the movement of vehicles that ferry raw materials and finished products to and from various parts of the country.
The managing director of one of the largest domestic knitwear brands said sales at retail shops were down significantly as people don't have cash in their hand.
But, there are supporters of the demonetisation move, too.
"Any new initiative will have its own pluses and minuses. It all depends on how we manage," said Veluswamy Marappan, chief executive officer of Myco Pranav Creations. The demonetisation drive will actually help the unorganised sector to follow the system and will make them accountable, he added.
"Things are getting more organised now," said Marappan, though not many would agree with him.
Image: The shop floor of a garment factory in Tirupur, Tamil Nadu. Photograph: Mansi Thapliyal/Reuters.
Tomorrow: Indore's Sarafa Bazar.