A digital economy can only work with uninterrupted electricity supply. So, states now face the unpleasant task of telling their citizens that electricity rates need to be hiked. Subhomoy Bhattacharjee reports.
Illustration: Uttam Ghosh/Rediff.com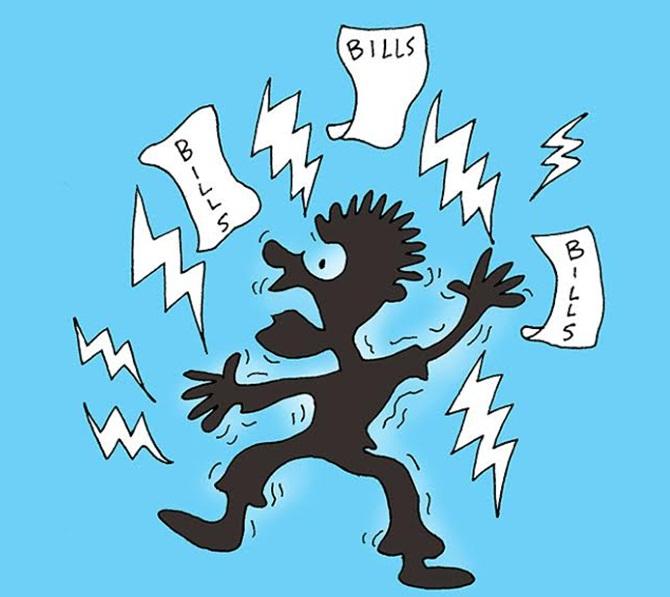 To make mobiles work in villages to act as e-wallets, many states now face the unpleasant task of telling their citizens that electricity tariffs need to be raised by an annual average of 4 per cent from now, for at least the next two years.
Yet, as a recent survey by a respected international organisation among Rajasthan consumers shows, politicians are right to postpone the call. Even the more educated people of Rajasthan approve the huge subsidy the state electricity distribution company carries "as a valid use of public money".
The extensive survey, conducted by Geneva-based International Institute for Sustainable Development (IISD) in four districts of the state notes: "The results showed that citizens in Rajasthan largely expect government to maintain electricity subsidies."
It also puts in perspective a recent CRISIL Infrastructure Advisory report that illustrates the scale of the problem.
Kieran Clarke, lead author of the IISD survey, says tariff rise cannot happen unless the politicians are willing to sell the idea. "Any tariff (rate) reform plan should be coupled with strong communications by government that clearly explains consumers' interests in reform."
Based on the expenditure data it polled, electricity accounts for a third of the household budgets. There is, thus, a good reason for the "negative attitudes to the notion of pricing reform".
For instance, the IISD report notes only 1 percent of those surveyed reported they could manage with a price rise of more than 5 percent, and that too in urban areas such as Jaipur and Dausa. In predominantly rural areas such as Hanumangarh and Jaisalmer, even that percentage was not forthcoming.
With the move to a digital economy, however, the dependence on electricity would only rise.
Meanwhile, as states have delayed price correction, the overhang has risen. The CRISIL report notes that Rajasthan, along with Punjab, Bihar and Maharashtra, has to swallow an 8 per cent rise in power rates in the next financial year. Yet, in the Rajasthan survey "no single respondent (family) reported they could manage a price increase higher than 10 percent".
The discomfort for political parties can be easily gauged.
The CRISIL numbers are uncomfortable, agrees its director and practice leader (energy and natural resources), Vivek Sharma. If the states undershoot the price rise by, say, 50 per cent, that will spray Rs 40,000 crore of red ink in the books of the electricity distribution companies.
To pay for those losses through subsidies, the states will have to cut down investments. Clarke says this means even cutting the benefits of rural electrification, of which mobile wallet is only one. It essentially means that a chief minister has to say digital money needs electricity and that means someone has to pay a higher price.
If this sounds like a chicken-and-egg problem, the IISD survey offers a slim escape route -- more consistent supply of power. "While tariff reform is unsurprisingly unpopular at a general level, urban households are much more likely to support and understand the need for this process," Clarke offers. In Jaipur, 50 per cent of the respondents were willing to pay a little extra.
That percentage drops to 11 in Hanumangarh and scratches 20 in Jaisalmer, though the state depends a lot on electricity-driven pumps to keep its agricultural fields irrigated. Principally because, as Clarke says, of not having experienced any improvement in supply of electricity.
According to the CRISIL report, Bihar, Jharkhand, Punjab, Maharashtra and Karnataka will have to raise tariffs by 3-10 per cent even in the year preceding the general elections, 2018-19. Raising electricity tariffs is a political hot potato, and such a decision would be more sensitive than cutting interest rates of savings deposit.
Sameer Bhatia, president, infrastructure advisory, CRISIL, says states have compounded the problem by not tackling aggregate technical and commercial losses (euphemism for electricity theft). His data show that those losses have run up to 25 per cent in Rajasthan instead of coming down from 20 per cent, between FY13 and FY16. It needs to come down to 15 by FY19. It is 32 per cent in Uttar Pradesh and needs to halve to 19 per cent by FY19.
"Some of the higher figures are because of better monitoring of the actual losses," he adds.
It is like the situation in banks where the deeper they have dug, more bad loans have come to the surface.
So, does the central government's ambitious UDAY (Ujwal Discom Assurance Yojana) scheme to reform the finances of the state-level electricity distribution companies have any chance of success?
All experts agree on this. Bhatia says since the central government has committed Rs 1,09,465 crore to the scheme through various means, it will be difficult for a state to walk away. "Despite the distaste among some of the state governments, UDAY has also stapled their finance to that of the companies, so the results have to come in," Bhatia adds.
The digital economy's structure means there is no way a state can let irregular supply or loss to the distribution companies continue.
"In the post-demonetisation world, it is increasingly important that distribution sectors function well enough to provide both reliable power and grid expansion to households so that they can effectively access the digital world," says Clarke.
And, this would mean political hardsell to the consumers of Rajasthan, as well as in other states.