KPMG CEO Richard Rekhy believes automation in manufacturing will result in loss of job creation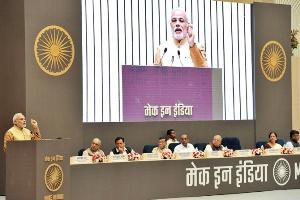 While the 'Make in India' campaign may have laid emphasis on manufacturing, Richard Rekhy, chief executive officer of KPMG is of the view that the new manufacturing industry will not dominate in job creation

Speaking at the annual management conclave 'Confluence 2014' held at the Indian Institute of Management, Ahmedabad, Rekhy stated that automation in manufacturing such as 3D printing will result in loss of job creation in the industry.

"Many times when I look at the Make in India campaign, the question I want to ask myself is whether India has missed the bus.
"This is because India is a strong services dominated economy and we have missed the manufacturing age.
"The new manufacturing (industry) that will grow will be jobless. It will not create employment.
"Employment will continue to be created in services industry but manufacturing is not going to dominate in creation of jobs because all the manufacturing that is there is now automated," Rekhy stated.

However, Rekhy told IIM-A students that they were at the cusp of history given that the next 10 years will be golden for India.
"Just look around the world. Europe and China are slowing. US is going up and down.
"This is the greatest opportunity for India. India's talent stands out as superior but we shouldn't fall into a false sense of complacency," Rekhy said while adding that India could improve its global position by negotiating global mega-trends such as cyber, economic, food and water warfare; 3D printing technology; data; resource stress and climate change, among others.

Rekhy further stated that apart from policy changes, the government will have to move from being a tax-oriented administration to services-oriented administration. "Income tax rates need to come down.
The government should earn through services provided by it and move away from being just a tax-collector," he added.
Among other speakers at the Confluence included Neeraj Bhargava, founder & CEO of Zodius Capital and Vishal Mehta, founder and CEO of Infibeam. The Confluence this year was held on the theme 'Blueprint for Indian Renaissance'.
Image: Prime Minister Narendra Modi at the launch of the Make in India Mission at Vigyan Bhavan in New Delhi. Photograph, courtesy: PIB