Refusing to be cowed by pressure being brought on him, Oil Minister S Jaipal Reddy on Friday said the decision for mining group Vedanta Resources' $9.6 billion buyout of Cairn India will be taken by the Cabinet without "sacrificing" on national interest.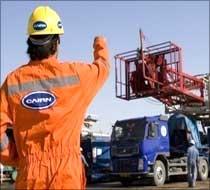 While the oil ministry was trying to sort out contentious issues around Cairn's main asset, UK's Prime Minister wrote to his Indian counterpart seeking an early favourable decision.

"While (such) pressures are natural, we have to address our concerns," Reddy said acknowledging that David Cameron had written to Prime Minister Manmohan Singh on the deal.

Also, UK's Cairn Energy, which is selling most of its 62.4 per cent stake in the Indian unit to billionaire Anil Agarwal run mining group, is hard pressing for a decision by this weekend so as to conclude the transaction by April 15.

Cairn Energy Plc CEO Bill Gammell followed up a February 15 letter, that sought a decision by February 20, with a meeting with Reddy today, the second in as many weeks.

"I told them (Gammell and Cairn India CEO Rahul Dhir) that we are tying to deal with questions as quickly as possible. The matter (is being) taken to the Cabinet and Cabinet will be looking at the question very quickly, in a timeframe of 3 weeks," Reddy said.

The issue at hand is Oil and Natural Gas Corp's (ONGC) liability to pay royalty and cess on behalf of Cairn India in the giant Rajasthan oilfield.

The ministry is pushing for an equitable sharing of the liability so that the state-owned firm does not make losses on the fields.

Gammell on his part said his firm will not go back to its shareholders seeking an extension of the April 15 deadline by which the transaction is to conclude and expected "satisfactory" movement forward.

Following the government nod, Vedanta group is to make an open offer for buying up to 20 per cent shares from minority shareholder of Cairn India, a process that will take minimum one month.

"There are issues relating to royalty and cess. We cannot sacrifice our position completely just to facilitate the deal," Reddy said.

He said while India's image as investor friendly country has to be protected, Cairn "should be able to accommodate" the three weeks time that Cabinet will take to decide.

Cairn had initially rejected the need for government nod for the deal but eventually relented and made a conditional application on November 23, more than three months after the deal was announced.

The applications were not made under any clause of the Production Sharing Contract (PSC) and outrightly rejected the pre-emption rights of ONGC, which has stake in 8 out of the 10 properties held by Cairn India in the country.

"Today the representative of Cairn India and its British counterpart have met me and expressed concern about the uncertainty and delay in regard to clearance to the Cairn-Vedanta deal," Reddy said.

"They were worried about their timeframe. I told them I am naturally concerned about the timeframe," he said.

Reddy said the matter could have been dealt at his level but he preferred to take it to the Cabinet Committee on Economic Affairs (CCEA) for approval.

Asked if the British Prime Minister had written to his Indian counterpart on the Cairn-Vedanta deal, he said, "It is true. British Prime Minister wrote to our Prime Minister and raised 2-3 issues. One of which relates to Cairn-Vedanta deal.

He wanted the government should faciliate early clearance of the deal." "While pressure is normal, we have to address our concerns," he said.

On the February 20 deadline that Cairn has been talking for approval, Reddy said there was a "larger date of April 15" for concluding the transaction.

"It is not easy to work to such tight schedule," he said. The oil ministry is preparing a note for the CCEA and views of all concerned ministries, including finance, law and corporate affairs, will be taken before it's put to the Cabinet.

Reddy had earlier this week stated that his ministry was supporting ONGC's demand of recovering royalty it pays on the Rajasthan block.

ONGC not just pays royalty on its 30 per cent share of oil from the Rajasthan block but also on partner Cairn India's 70 per cent share, making the nation's largest onland fields a losing proposition for it.

Cairn says ONGC is also contractually bound to pay Rs 2,500 per tonne cess on all of the 12 million tonnes of projected crude oil output from the fields in the 3,111 sq km block.

Both Cairn and Vedanta are opposed to sharing the levies. Sources said the oil ministry would tell the Cabinet that ONGC would pay Rs 12,600 crore on behalf of Cairn India as royalty over the 12-year life of the fields.

It would have to pay another Rs 9,200 crore (Rs 92 billion) as cess, if Cairn has its way.

ONGC's July 2010 suggestion (made more than a month before the Cairn-Vedanta deal was announced) of adding royalty to the project cost, so that it can be recovered from the sale of oil produced would be presented to the Cabinet as one of the 11 pre-conditions that can be imposed for approving the deal.

Sources said on cess, it may suggest that Cairn withdraw its arbitration and equitably it partners ONGC.

Cairn pays its share of cess under protest but has included the levy in project cost for recovery before profits for all stakeholders, including government, is calculated.