Hiking paddy MSP by almost Rs 200 per quintal, as against Rs 80 per quintal last year, is of electoral value in major parts of eastern India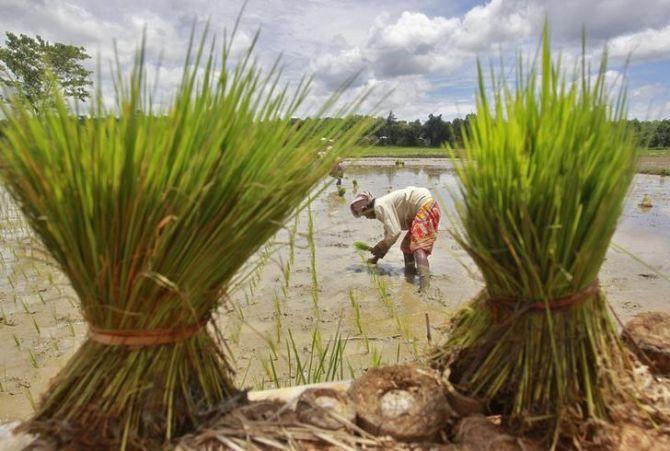 The Bharatiya Janata Party (BJP) and opposition parties are in a battle over farm distress, set to unfold as legislative assembly election dates come nearer in Rajasthan, Madhya Pradesh and Chhattisgarh.
The Opposition has announced "massive" farmer and worker protests on August 9 and September 5.
The BJP is conducting workshops for its adherents to spread the message of the Narendra Modi government's "farm friendly" policies.
The BJP leadership is wary of repeating the 2004 'India Shining' campaign, and of the recent Gujarat assembly poll, where it suffered in the rural areas.
With elections to these three state assemblies and to the Lok Sabha next year, the government is also set to announce an increase in the Minimum Support Price (MSP) this week for the kharif season.
The biggest impact on MSPs is expected for paddy, oilseeds, pulses and, to some extent, in cotton. On paper, the increase would cover farmers in much of eastern and central India.
In an interview to Swarajya magazine on Sunday, the PM said the earlier UPA government allocated Rs 1.21 trillion to agriculture, while his government had given Rs 2.12 trn in its tenure.
"But, unlike them, our initiatives do not stay limited to the files but enter the field," he said.
The Union cabinet's likely announcement to raise MSPs by 1.5 times of the cost of production is as much with an eye on the 2019 Lok Sabha poll as on the coming assembly elections.
Hiking the paddy MSP by almost Rs 200 a quintal, as against Rs 80 a quintal last year, is of electoral value in major parts of eastern India.
It is particularly grown in Bihar, West Bengal, Odisha and eastern Uttar Pradesh. Together, these states account for 184 Lok Sabha seats and the BJP is hopeful of making inroads in Bengal and Odisha.
Historically, procurement of paddy is eastern India is much less than production. The Modi government has ambitions to change this in the coming season, especially in Bihar and Odisha.
Paddy is also a big crop in BJP-ruled Chhattisgarh, slated for assembly polls by December.
The Centre has progressively increased its paddy procurement from here and in the past kharif season enabled the state government to announce a bonus of Rs 300 a quintal on common-grade paddy, over and above the Centre-fixed MSP of Rs 1,550 a quintal.
As for oilseeds and pulses, these are primarily grown in the kharif season in Madhya Pradesh, Rajasthan and Chhattisgarh.
MP and Rajasthan also account for a little over 60 per cent of the country's soybean production, while groundnut is a big crop in Gujarat.
Cotton is another crop whose MSP could go up substantially. It is a major cash crop in Maharashtra and Gujarat.
Experts said a low price of cotton in Gujarat was one reason for the ruling BJP performing poorly in the state's Saurashtra region last December.
A big increase in cotton MSP, supported by effective procurement by the Cotton Corporation of India, could help the BJP recover lost ground in Gujarat.
On May 18, 19 and 20, the BJP's farmers cell conducted a training programme for 300 of its state leaders in Gurugram (former Gurgaon).
Agriculture minister Radha Mohan Singh, junior minister Gajendra Singh Shekhawat and NITI Aayog head Rajiv Kumar addressed the session.
Similar training programmes of BJP workers are now being conducted at the state and district levels.
"The objective is to blunt the Congress party's efforts at creating a farmers' movement in the country. We asked these leaders to showcase the Modi government's achievements at the block level," said BJP kisan morcha national vice-president Shailendra Sengar.
Communist Party of India (Marxist)-affiliated All India Kisan Sabha's joint secretary, Vijoo Krishnan, said the MSP announcement was unlikely to abate anger among farmers.
"They are yet to make public how the MSP will be calculated and what are the input costs that will be factored in," he said.
He adds that the Centre's announcement for sugarcane farmers in recent weeks would help factories, not farmers.
"Cane farmers have been protesting in Tamil Nadu. Sugarcane farmers in Karnataka, Telangana and Maharashtra are also suffering. Nothing has been done for them," he said.
In recent months, Modi and party chief Amit Shah have spoken of the BJP having expanded its social base, and being no longer thought of as an urban party of 'Brahmins and Baniyas'.
The planned moves are aimed to help it focus on 360 of the 543 Lok Sabha constituencies that are considered predominantly rural.
Photograph: Jayanta Dey/Reuters