Business Standard checks out trade hubs across the country to assess the impact of demonetisation. In the fourth of a six-part series, Ajay Modi visits Moradabad, to see how the brass city is coping with the after-effects of demonetisation.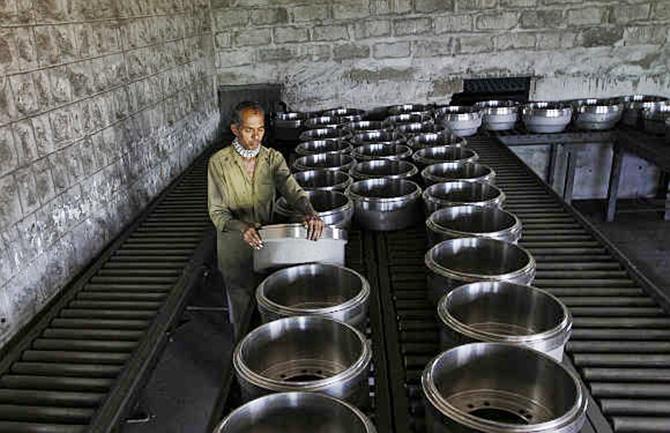 It's 3 pm already and Mohit Khanna, owner of a brass decor shop in Moradabad's Bartan Bazaar, is yet to make a sale. This is the new normal in a city which is known for brisk business all day long.
Khanna's 15-year-old shop in Peetal Nagri (BrassCity) had seen much better days before the withdrawal of two high denomination currency notes early November. The lane, with about a dozen shops selling decor products, is left without buyers.
The only relief is that the note ban came after Diwali, a season of peak sales. Even three weeks after the sudden decision to withdraw the Rs 1,000 and Rs 500 notes, the sales in these shops are just a quarter of the normal.
The impact of this drop in sales has been severe on the large number of artisans and craftsmen in and around Moradabad, which gets over $1 billion every year from brassware exports alone. This city in Uttar Pradesh is estimated to have well over 100,000 artisans employed in the sector.
Khanna said he has stopped giving fresh orders as there's hardly any demand. Also, there's no cash left to make payments to artisans.
A number of artisans are employed full-time in large export oriented units and get paid in their bank accounts. But there are many others who cater to small time traders and manufacturers selling locally. Those artisans have always been paid in cash. There are many migrants engaged in this industry and many of them have left the city temporarily.
Exporters are less impacted.
"We have largely shipped our export orders for the Christmas season. Now, there is an impact on production as many of our employees have been taking leave to queue up at banks. There is also a challenge in getting raw materials and repair work done due to cash problems," said Vinay Gupta, president at Designco, which exports brass decor products worth Rs 300 crore every year and employs over 600 artisans.
Bartan Bazaar is estimated to have more than 600 bartan (utensil) shops catering mainly to wholesale demand from outside the region.
"I used to have an average daily sale of Rs 30,000 which has come down to just Rs 3,000-4,000 even though this is a season of weddings. Many of our customers came from rural areas and have never used a debit or credit card. We have only done cash transactions. Situation will only improve once the liquidity improves," said Ajay Agarwal, owner of a utensil shop.
Outside the brass industry, too, businesses have been hit. In fact, the only establishments where one could spot a sizeable number of people were banks and ATMs.
Kailash Group, which is the sole distributor of Patanjali products in Moradabad, was seeing its business grow at an impressive pace.
"We sold Patanjali products worth Rs 40 lakh a month until last year and this had grown to Rs 1.25 crore in recent months. We seem to have temporarily lost half of the sales," said Banwari Lal Todi, director. Since November 9, Todi has seen contribution of cheque payment from retailers go up from just 5 per cent to over 50 per cent now. Many retailers are lifting lesser products.
Real estate sector in the city has been impacted as well. Akash Group, a local real estate developer, was forced to put construction of 250 flats at its three acre project on hold.
"We managed to continue the work for the first couple of days but it had to be halted since I did not have the cash to pay those hundreds of workers at the site,'' said Mahesh Chandra Agarwal, CMD.
The buyers have stopped making payments as well. Most such workers were migrants from states like West Bengal and Bihar and have left the city. ''Widespread unemployment of contractual workers is inevitable across many industries." Related sectors such as cement, sanitary ware and paints have also registered a sharp decline in business.
Hotels, restaurants and shop owners have new posters/printouts displaying acceptance of mobile wallets. But, that has not helped normalise the business. Banks in the region have seen a spurt in the opening of new saving accounts after demonetisation but there are challenges in withdrawals.
Most in the brass industry said they have started encouraging those dealing in cash to get their bank accounts opened. Until that happens and liquidity improves in the banking system, Peetal Nagri struggles to maintain its shine.
Image used for representational purposes only. Photograph: Babu/Reuters.
Next: Coimbatore
Previous: Surat