Finance Minister Arun Jaitley revealed that the government wanted to give Hasmukh Adhia a post-retirement role, but Dr Adhia said he would not work for a single day after November 30.
Arup Roychoudhury reports.
Hasmukh Adhia, who retired as India's revenue secretary on Friday, November 30, is moving to Ahmedabad -- quite unusual for a top bureaucrat who has been at the centre of things from demonetisation to the goods and services tax.
Known to be among Prime Minister Narendra Damodardas Modi's favourite officers, the 1981 batch Gujarat cadre Indian Administrative Service officer has surprised many by not sticking around in the capital waiting for a plum post-retirement posting.
The man once tipped to be the Cabinet secretary is clearly looking to break away from the past.
People who know him describe Dr Adhia as quiet and dignified. He does not socialise much beyond work, one of his colleagues said.
It was his work that gave Dr Adhia prominence as the principal secretary to then Gujarat chief minister Modi. His shift to Delhi soon after Modi became the PM in 2014 and his subsequent rise to the top rank in the finance ministry all seemed only logical.
What changed for Dr Adhia then that he's moving back to Gujarat?
Allegations made by the Bharatiya Janata Party's Rajya Sabha member Dr Subramanian Swamy may have been responsible for the shift, according to sources in the government.
Dr Swamy alleged that Dr Adhia had a role in the Punjab National Bank scam and had helped Nirav Modi and Mehul Choksi flee the country.
He also alleged that Dr Adhia had tried to save former finance minister P Chidambaram in the Aircel-Maxis case by terminating Enforcement Directorate officer Rajeshwar Singh's services.
In addition, a news report made allegations that Dr Adhia had received expensive Diwali gifts in 2016. While he had them sent to the government's toshakhana as per procedure, no probe was ordered on who had sent the gifts, the report had claimed.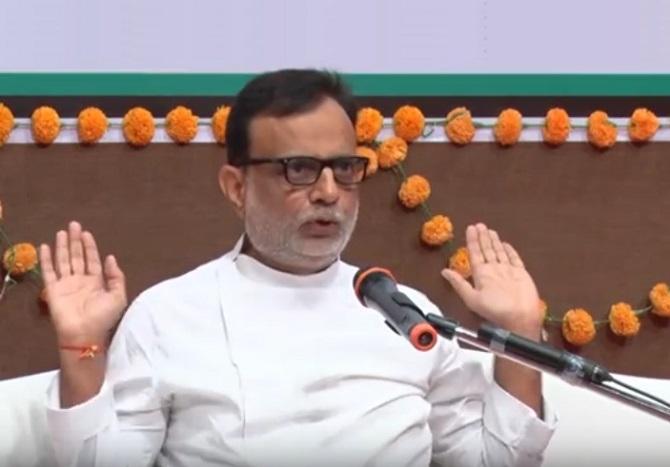 Even as the allegations may have damaged his career, which many thought had several years left still, Dr Adhia is unlikely to write a memoir or a tell-all book, his colleagues quoted above said.
Instead, he will devote time to the study of spirituality. Dr Adhia holds a doctorate in yoga from Bangalore University.
In four years as secretary in the finance ministry, first in charge of the financial services department and then the revenue department, Dr Adhia has overseen many initiatives of the Modi government including GST.
Finance Minister Arun Jaitley, in a farewell blog for Dr Adhia, called him a highly competent, disciplined and no-nonsense civil servant of impeccable integrity.
The government wanted to give him a post-retirement role, but Dr Adhia said he would not work for a single day after November 30, Jaitley added, in an indication that the bureaucrat has had his stint.
Over to yoga and spirituality now.