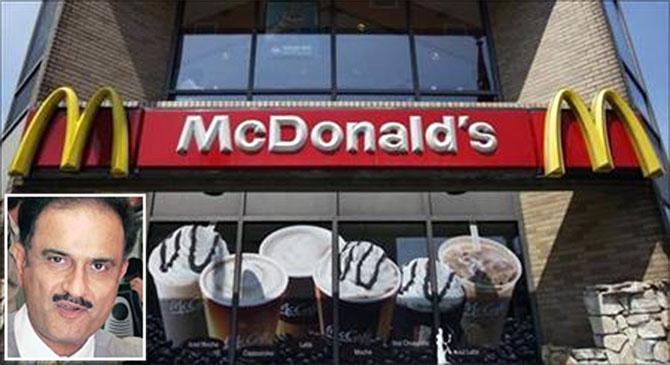 On Thursday a division bench of Badar Durrez Ahmed and Sanjeev Sachdeva struck down the earlier order.
Vikram Bakshi, who owns 50 per cent in Connaught Plaza Restaurants which runs the McDonald's franchise in India, has said the legal battle has made the company suffer.
In the long drawn war over ownership of Connaught Plaza Restaurants between Vikram Bakshi and McDonald's India, the US food chain has won the latest round.
Setting aside a plea by Bakshi, the 50 per cent owner of CPRL, the Delhi High Court on Thursday allowed McDonald's to approach the London Court of International Arbitration against Bakshi and his wife.
CPRL runs the franchise for in north and east India.
Differences between Bakshi, his wife and McDonald's India emerged in mid-2013 when the chain removed Bakshi from the position of managing director of CPRL.
Following the removal, McDonald's offered to buy shares held by the duo, which was countered by Bakshi with a similar offer.
Since then, both parties have been fighting over ownership of the company at the Company Law Board's principal bench in New Delhi.
However, matters reached a head in late 2013, when McDonald's approached the London Court of Arbitration. Bakshi, in turn, appealed in the Delhi HC against the move.
A single judge bench had on 22 December, 2014, ordered in favour of Bakshi, asking both parties to settle the matter in an Indian court.
On Thursday, a division bench of Badar Durrez Ahmed and Sanjeev Sachdeva struck down the earlier order.
Currently, a four-member board runs CPRL.
Bakshi and his wife and two representatives of McDonald's.
According to sources, the board could not decide on matters because of difference of opinions.
Since 2012, CPRL's revenue growth has suffered.
According to Bakshi, the legal tussle has taken a toll on the company's performances.
It grew about eight per cent in 2015, down from an average rate of 20-30 per cent earlier.
Image: A McDonald's outlet. Vikram Bakshi (inset). Photographs: Reuters