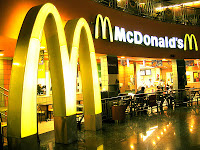 The war of words that has broken out between Vikram Bakshi and McDonald's Corporation is the latest in the long list of ugly spats between Indian businessmen and their overseas collaborators.

The two are equal partners in Connaught Plaza Restaurants, which runs McDonald's restaurants in the north and east of the country. McDonald's has alleged that Mr Bakshi diverted money to his private companies and that's why he has been removed as the company's managing director.

Mr Bakshi has said that he has done no wrong and McDonald's is using strong-arm tactics to buy him out.

The company had offered him $5 million for his 50 per cent stake in Connaught Plaza Restaurants, Mr Bakshi has said; when he declined, it is said to have raised the offer to $7 million.

Mr Bakshi, reportedly, will settle for nothing less than Rs 200 crore (over $30 million at the current exchange rate).

He has also alleged that McDonald's is doing this in collusion with Amit Jatia's Hardcastle Restaurants, which operates the fast-food chain in south and west of the country.

The matter is now with the Company Law Board.

McDonald's started out in India in 1996 with two 50-50 joint ventures: Connaught Plaza Restaurants and Hardcastle.

(At that time, it was the first McDonald's anywhere in the world without beef on its menu.)

In hindsight, it wasn't the best possible entry strategy but McDonald's was able to put together a working model.

The two companies would collaborate on marketing (single creative and media buying agency), menu and supply chain management.

The arrangement seemed to be working well.

There was no sign of any friction, at least not on the surface.

Then, a couple of years ago, Mr Jatia bought out the overseas partner and Hardcastle became a franchisee of McDonald's.

Some months ago, the royalty paid by Hardcastle to McDonald's was raised from three per cent of net sales to eight per cent.

This is amongst the highest royalty rates being paid by an Indian company to its overseas collaborator -- an issue that has been flagged by more than one investor protection group.

Now, there is discord in the other joint venture.

Is it possible that McDonald's wants to turn Connaught Plaza Restaurants also into a franchisee?

If it can do that with Hardcastle, which runs 166 restaurants, why not with Connaught Plaza Restaurants, which operates 154 and is hence the smaller of the two?

However, amid all the name-calling, it seems unlikely that McDonald's will sell out of Connaught Plaza Restaurants too and then make it a franchisee.

One possibility is that Mr Bakshi can sell out to McDonald's, which will then run Connaught Plaza Restaurants.

Or else, McDonald's can exit the venture and start
afresh on its own in the north and east. Current rules allow 100 per cent foreign direct investment in single-brand retail; so there is no regulatory hurdle for McDonald's to be on its own.
The only issue is that it will lose the scale Connaught Plaza Restaurants has built over the years and will have to start from scratch; several of its stores are housed in prime real estate locations.
The controversy has shown once again that it is only successful ventures over which partners fight.
Both Hardcastle and Connaught Plaza Restaurants are known to be profitable companies.
They had broken even more than six years ago. India is one of the busiest markets for McDonald's in the world in terms of footfalls, though average expenditure by a customer is amongst the lowest anywhere.
McDonald's innings in India will always be known for some out-of-the-box thinking and street-smart innovation.
In 2003, McDonald's opened its first dessert kiosk in Faridabad on the outskirts of Delhi.
It was meant for customers in a hurry.
The model has since been scaled up. In 2004, McDonald's introduced home delivery.
Customers wanted the stores to deliver at home, like the other quick-service restaurants in the country.
Heavy traffic and parking woes had made home delivery a runaway success in urban India.
Thus was born McDonald's Delivery Service or simply McDelivery -- customers could order on the phone and the meal would be delivered within 30 months.
In the congested lanes and gullies of Chandni Chowk in old Delhi, the delivery was done on bicycles.
Next, it lobbied various state governments so that its outlets could stay open till 1 am, which gave it two extra hours of business.
Then, in December 2008, it began to experiment with breakfast.
This gave McDonald's another two hours of business in the morning.
In addition, it opened stores on highways, customised the menu for Indian tastes and sensitivities and held on to the base price point of Rs 20.
It has been able to keep prices low because it has worked hard to get its back-end operations going.
Aware that as many as 30 per cent of its customers come to McDonald's only to eat its French fries, the company strove hard to localise its potato purchases.
Today, all the potatoes required by McDonald's are procured from Gujarat and processed at the McCain plant in the state (set up with an investment of $25 million).
McDonald's buys fresh lettuce from Pune, Delhi, Nainital and Ooty; cheese from Dynamix Dairies at Baramati in Maharashtra; fresh buns and sauce from Mrs Bector's Foods at Phillaur in Punjab and Khopoli in Maharashtra; chicken and vegetable patties from Vista Processed Foods at Taloja in Maharashtra; and dairy products from Amrit Food in Ghaziabad, Uttar Pradesh.
After so much innovation and effort to build a strong business, the fight with Mr Bakshi is a controversy McDonald's could have done without.