Vikram Bakshi, who controls 50% in JV and was MD, weighs legal options

McDonald's, the world's second-largest fast-food chain, and its Indian partner, Vikram Bakshi, are heading for a showdown.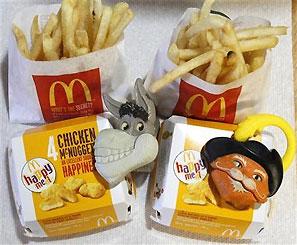 The US-based chain on Friday made it public that Bakshi would no longer be the managing director of Connaught Plaza Restaurants, a 50:50 venture between the two that has the franchise to run the McDonald's stores in North and East India.

In a notice, McDonald's India on Friday said Bakshi's term as managing director expired on July 17. The venture operates and runs about 150 McDonald's restaurants under non-exclusive licences from McDonald's India, the notice said.

In a circular, essentially to all its suppliers in India, the head of McDonald's global supply chain said the day-to-day operations would be run by the board "till a new managing director is appointed". It has also told its suppliers in a communication that "it is business as usual" for the company and it has business plans which it had already committed to follow.

But Bakshi hinted his removal could lead to legal complications. "This matter is in the legal domain now. However, I continue to be a director and a JV (joint venture) partner with control of 50 per cent equity in the JV company. I shall respond to all queries in due course." He, however, declined to comment when asked whether he has already legally challenged his removal as the managing director.

Bakshi also made it clear that he will not sell his stake to the US partner or to the second Indian franchisee, Hardcastle Restaurants, run by BL Jatia Group. Hardcastle controls the western and the southern markets. "We are not negotiating with anyone to sell our 50 per cent equity in the JV," Bakshi said.

A McDonald's Corporation spokesperson said: "As this is an internal matter, it is
inappropriate for us to comment."
Those who have worked closely with the two companies said Jatia, whose operations was much smaller than Bakshi's when McDonald's started out, had expanded faster by launching stores. Bakshi, on the other hand, did not make the large investments required to meet the US fast food giant's ambitious growth plans.
In 2009-10, for instance, Bakshi's joint venture controlled 90 and Jatia's had 78 stores. The equation changed and Jatia now has 166 stores, while Bakshi runs 153 stores.
The Jatias also steadily took full control of the McDonald's business in the west and south. What began as a 50:50 joint venture in the 1990s was converted into a development licence in May 2010. The Jatias bought McDonald's 50 per cent stake in Hardcastle and subsequently consolidated the latter with listed entity Westlife Development. In FY13, Westlife Development reported a revenue of Rs 684.3 crore. The Jatias also announced investment of Rs 500 crore to double the number of stores to 250 by 2014-15. Bakshi had stayed with the joint venture arrangement.
Turning sour
* 1996 McDonald's enters India
* Operates with two partners — Vikram Bakshi's Connaught Plaza Restaurants and BL Jatia Group's Hardcastle Restaurants (subsidiary of Westlife Development)
* 2010 Jatias take full control of their venture
* Bakshi stays in joint venture arrangement with McDonald's India
* 2013 McDonald's India says Bakshi's term as managing director ended on July 17 and is removed from post
* Bakshi says he still has 50% equity in the joint venture and talks of legal options