Equity benchmarks Sensex and Nifty surrendered early gains to close with losses on Thursday, snapping their four-day winning streak as investors pared exposure to auto, bank and IT stocks after the RBI left its key interest rate unchanged.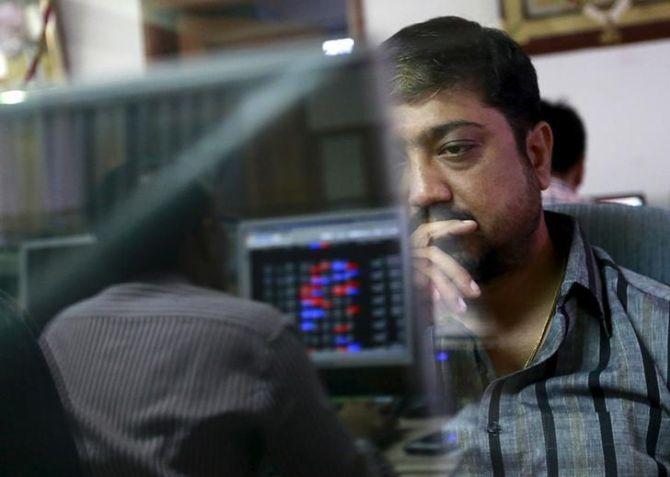 After remaining in the positive territory for the most part of the session, the 30-share BSE Sensex fell 294.32 points or 0.47 per cent to settle at 62,848.64.
During the day, it tumbled 353.23 points or 0.55 per cent to 62,789.73.
The NSE Nifty declined 91.85 points or 0.49 per cent to end at 18,634.55.
Kotak Mahindra Bank was the biggest loser in the Sensex pack, sliding 2.68 per cent, followed by Tech Mahindra, Mahindra & Mahindra, Axis Bank, Hindustan Unilever, Tata Motors, Tata Consultancy Services, Bajaj Finserv, Bajaj Finance, Nestle and Titan.
In contrast, NTPC, Power Grid, Larsen & Toubro, HDFC, Reliance and HDFC Bank were the gainers.
In Asian markets, Seoul and Tokyo ended lower, while Shanghai and Hong Kong settled in the green.
Equity markets in Europe were trading mostly in positive territory.
The US markets ended mostly lower on Wednesday.
The Reserve Bank of India on Thursday left its key interest rate unchanged for a second straight policy meeting but signalled that it wants to see inflation moderate more while preserving the growth momentum.
The monetary policy committee (MPC), which has three members from RBI and an equal number of external experts, voted unanimously to keep the benchmark repurchase, or repo rate unchanged at 6.50 per cent.
While consumer price inflation eased during March-April 2023 and moved into the tolerance band, headline inflation is still above the target of 4 per cent and is expected to remain so during the rest of the current fiscal, RBI Governor Shaktikanta Das said announcing the monetary policy decision.
"Therefore, close and continued vigil on the evolving inflation outlook is absolutely necessary, especially as the monsoon outlook and the impact of El Nino remain uncertain," he said.
"Our goal is to achieve the inflation target of 4 per cent and keeping inflation within the comfort band of 2-6 per cent is not enough."
Dhiraj Relli, MD and CEO, HDFC Securities, said, "The RBI MPC left the repo rates unchanged at its meeting on June 8 in line with street expectations.
"MPC members were in a sweet spot in the backdrop of higher than expected GDP numbers and moderating headline and core inflation print."
Global oil benchmark Brent crude dipped 0.31 per cent to $76.71 a barrel.
Foreign Institutional Investors (FIIs) bought equities worth Rs 1,382.57 crore on Wednesday, according to exchange data.
The BSE benchmark had climbed 350.08 points or 0.56 per cent to settle at 63,142.96 on Wednesday.
The NSE Nifty advanced 127.40 points or 0.68 per cent to end at 18,726.40.