The Duff & Phelps report shows that Virat Kohli has increased his brand value by 40 per cent to $237.5 million in 2019 and taken a huge lead with his closest rival, Akshay Kumar, ranked second.
Sohini Das reports.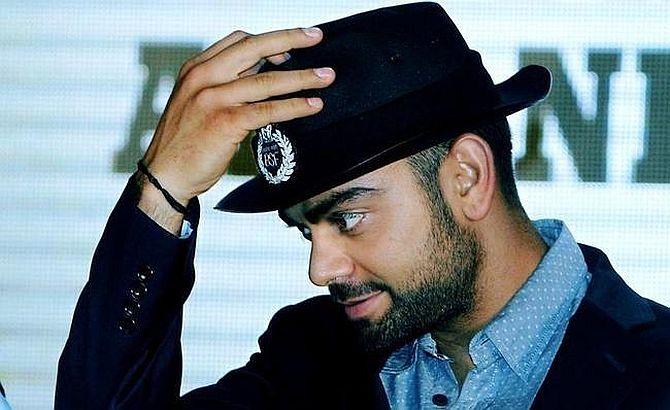 IMAGE: Cricketer Virat Kohli after being felicitated as the brand ambassador of the BSF at a function in New Delhi. Photograph: PTI Photo
Virat Kohli is the shiniest star on the celebrity list as he holds on to the top rank, third year in a row, in the latest brand valuation study by Duff & Phelps.
Released recently, the report shows that Kohli has increased his brand value by 40 per cent to $237.5 million in 2019 and cracked a huge lead with his closest rival, Akshay Kumar.
The latter has climbed a rung up the ladder to second spot, displacing Deepika Padukone.
Barring this, the top five list remains largely unchanged.
In a year when couple endorsers have been popular, the title for the first such goes to Padukone and Ranveer Singh, who share the third spot.
The brand value of the top 20 celebrities in 2019 is estimated at $1.1 billion, an increase of 25 per cent from last year, it said.
Among the veterans Shah Rukh Khan and Salman Khan stayed the course, ranked at 5 and 6 respectively while rising star Alia Bhatt has improved her ranking one notch to take the seventh spot.
Surprisingly, MS Dhoni (Rank 9), who many had predicted would drop off the charts as his career wound down has improved his ranking, going up three places from the previous year.
The annual parade of celebrity endorsers largely stuck to the script and the increasing sway of actors and sportspersons on the endorsement circuit is evidence that India continues to remain a star-struck nation.
The cumulative number of product brand endorsements by top 20 celebrities increased from 235 in 2016 to 370 in 2019, representing a CAGR of 16.3 per cent over the last 4 years.
And established actors and sportspersons continued to rule the roost.
But the emergence of new stars such as Ayushmann Khurrana (Rank 10), Tiger Shroff (Rank 17) and cricketer, Rohit Sharma (Rank 20) indicates that the year ahead may well see a few upsets in the league table.
Varun Gupta, managing director and leader, Asia Pacific, valuation advisory services, Duff & Phelps, said, "We witnessed a shift in focus from established celebrities to new faces across the advertising and media industry over the past year.
"And not just new faces: 2019 also saw the emergence of new brands and new platforms targeting and growing the Indian millennial ecosystem."
The rise of young celebrities goes hand in hand with the rise in digital media.
Market size for digital as a percentage of films increased from 47 per cent in FY16 to 95 per cent in FY19.
"Given this unprecedented growth rate, digital is expected to soon overtake films to be the third largest segment in the media and entertainment space.
"Resultantly, celebrity endorsements have witnessed a greater push towards use of digital advertising as a means of focused communication," Vibhor Nayar, CFA, vice president, valuation services, Duff & Phelps, said.
As brands have leaned heavily into digital media to promote their labels, the nature of advertising and endorsements has transformed rapidly.
Even when using familiar faces that have established their mark over the mass market, advertisers are devising new ways to use their star appeal - at times by being a part of their Twitter timelines or securing an endorsement on their Instagram stories.
"In real terms, the definition of a celebrity has changed.
"Today, anyone with a substantial social media following can be dubbed a celebrity -- at least for endorsement purposes.
"What businesses are looking for are influencers and having a 5 million strong Twitter following surely makes you one," said Sandeep Goyal, chief mentor, Indian Institute of Human Brands (IIHB).
Celebrity endorsers have also become more conscious of the brands they back, perhaps on account of the threat of greater scrutiny from regulatory authorities or because social media has made them more vulnerable to criticism and censure.
This is reflected in the kind of brands celebrities choose to lend their names to; the report found that the health and wellness brands are seeing a steady spread in the pie of categories that use endorsers.
At the same time, "With celebrities endorsing and investing in the brands that correlate with their social image, advertising has evolved in terms of platform, content and engagement of the celebrity with the brand," the report said.