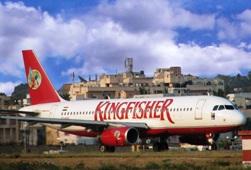 In a tough stand, lenders to Kingfisher Airlines have asked its chairman, Vijay Mallya, to be personally present and submit his action plan at a meeting to be held by the month-end.

The message was given to the airline's CEO, Sanjay Aggarwal, at a meeting here on Wednesay.

State Bank of India Chairman Pratip Chaudhuri said Mallya's presence was necessary to get a "clearer picture" about the airline's plan.

"We would not go by promises or projections. We would like to see action," Chaudhuri said.

"This is a difficult case because the losses are pretty heavy.

"So, nobody should expect quick solutions.

"There may be a need for many more meetings and more concerted action. After all, it is Kingfisher's problem and Kingfisher has to be right in front trying to solve it," he said.

Chaudhuri made it clear the airline would have to infuse capital if it were to come out of the crisis, as other options such as asking for more
collateral or selling properties to recover money might not be feasible.
Asked if banks would ask for more securities, Chaudhuri said, "All the company's assets are largely pledged. So, I don't know whether there is room for topping up the collateral."
On the selling of the airline's non-core assets, Chaudhuri said the process was on, but it was not always easy to find a good buyer willing to shell out cash for such a high-value property.
At the last meeting between the airline and its lenders in July, Kingfisher had committed it would sell non-core assets, including Kingfisher House in Mumbai, and a valuer was appointed to ascertain the price.
Kingfisher Airlines faces the prospect of an operational shutdown, possibly temporarily, to allow it to restructure and reorganise, if it does not receive an investment of around $600 million in the next 30-60 days, according to a research report by Centre of Asia Pacific Aviation.
The carrier also needs access to a further $400 million over 12-18 months to fully fund its business plan.