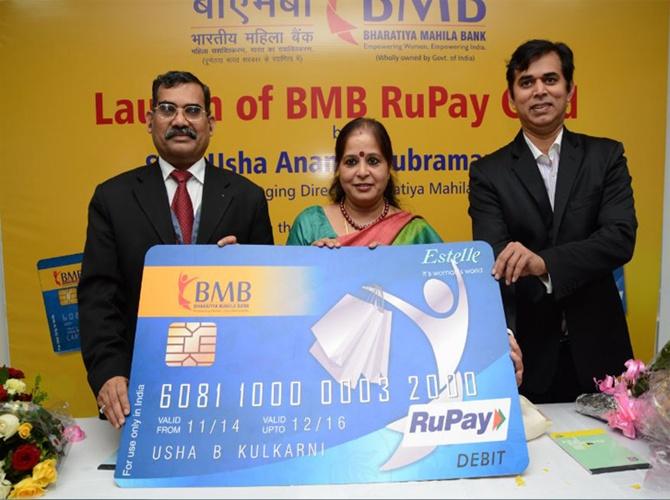 A P Hota, MD & CEO, NPCI, Usha Ananthasubramanian, CMD, BMB and Hari Bhatt, APAC Head- FIS, launches first-ever RuPay Chip Card to be issued by Bharatiya Mahila Bank. Photograph: Courtesy, NPCI
It might take time to offer life and accident insurance covers under the Pradhan Mantri Jan Dhan Yojana to those opening bank accounts under the scheme, as various issues in this regard are yet to be resolved.

Under the scheme, which seeks to open 75 million accounts by January 26, 2015, an accident insurance cover of Rs 100,000 is provided with every RuPay debit card offered by the National Payments Corporation of India.

NPCI officials said HDFC Ergo General Insurance would provide the accident cover under the scheme.

This will cover accidental deaths, provided the debit card is swiped within 45 days of its issuance and is in an active state.

HDFC Ergo did not respond to a mail seeking details of the cover.

There is also a proposal for an additional accident cover of Rs 100,000 for opening bank accounts within a stipulated period.

While general insurance executives said state-owned general insurers would provide this, no official announcement or communication has been sent by the finance ministry to the companies concerned.

"Though this proposal was discussed in meetings with the finance ministry, it hasn't issued any letter on when it would be launched and whether it would be completely free for customers," said a senior insurance executive.

Sources said the general insurers selected for these covers were yet to receive any official communication from the ministry saying they had been selected for this and would have to make payments during receipt of claims.

While debit cards and insurance covers (at least a Rs 100,000-lakh accident cover) will be provided to all accountholders under this scheme, insurance officials say this might not be done immediately.

An official said as the volumes were huge, they would be provided the complete kit within the next few weeks.

Further, the life insurance cover of Rs 30,000 is still being worked out, in terms of the premium collection, amount and the mode of payment.

Life Insurance Corporation of India, which will offer the cover to all individuals who open bank accounts under the financial inclusion scheme by January 26, 2015, has held a series of meetings with finance ministry officials on the collection of premia and administration of the scheme.

A decision on the premium amount and the mechanism to pay claims is still awaited; a clarification is expected in the next three days.

So far, more than 25 million bank accounts have been opened under the Jan Dhan Yojana and all these individuals will be eligible for life covers of Rs 30,000 by LIC.

There have been talks of a minimal payment for this scheme by individuals.

Also, the claim settlements could be through the Aam Aadmi Bima Yojana, a social security scheme administered by LIC.

A life insurance cover wasn't part of the Jan Dhan Yojana announced in Prime Minister Narendra Modi's Independence Day address; it was announced on August 28, when the scheme was officially launched.

The scheme is expected to boost insurance penetration in India. Insurance penetration (premia, as percentage of gross domestic product, fell to 3.9 per cent in 2013-14, compared with four per cent in 2012-13, according to a Swiss Re sigma study).

On the life insurance front, insurance penetration in India was 3.1 per cent; for non-life insurance, it was 0.8 per cent.