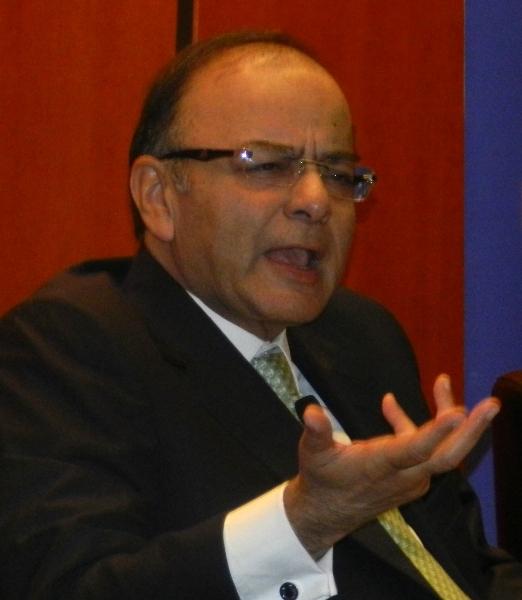 'This is the first year when I initiated some harsh measures to counter the black money menace and I have received the highest criticism'
Union Finance Minister Arun Jaitley said in Silicon Valley on Tuesday that the government is going to get tough on black money and would soon announce a few strict measures.
"I don't want to offend anybody but I think we have to get out of the cynical mindset.
"I had a law passed in the parliament and in a few days I am going to announce the compliance window.
While a new law will come into effect from April 1, 2016, to tackle the black money menace, the government is in the process to put in place a compliance window for those with undeclared assets abroad to come clean by paying the penalty.
"I want to state that if one doesn't use the compliance window, one will not only have to pay a high penalty but will also be prosecuted," Jaitley said responding to a question from the audience.
A member of the audience pointed out that whenever he wants to sell his property in India in 100 per cent white money, he fails to do so and that the tax deducted at source calculation gets tedious.
Jaitley replied that the government "has announced that any cash transaction over Rs 20,000 would be prohibited for property deals.
"I am also going to announce very shortly that if you pay by cash beyond a certain limit –- the limit is yet to be announced –- giving your Permanent Account Number card is necessary," he said.
Jaitley said a number of delegations have met him on this issue where people have opposed this move, "as if transaction in black money is a fundamental right".
Jaitley said the new law has created a fear psychosis in the minds of the tax evaders.
"The same set of people who would get up and say take action against black money would now say this is too draconian. But this is one law, which I am not going to relent neither will the prime minister," he said.
As for getting tough on tax rules, the finance minister said, "If you don't charge tax at the stage of transaction, possibility of evasion and generation of black money increases.
"This is the first year when I initiated some harsh measures to counter the black money menace and I have received the highest criticism," said Jaitley.
"Steps against black money are absolutely necessary.
"India is a part of G20's efforts to ensure automatic transmission of information under the Foreign Account Tax Compliance Act.
"Therefore, sell your property by cheque. When one does high value transactions in cash, one can be in serious trouble," he said.
"We would be signing the agreement with the United States FATCA for automatic sharing of transaction related to Indian citizens by the US and other countries that are going to sign FATCA.
"These are all very tough measures we are announcing," he said.
He said that a very large amount of revenue is collected through tax deducted at source.
"Indian taxation system has a problem and now the government has prohibited physical collection of refunds," he said.
"All information of refunds this year were sent through emails and the amounts were credited to taxpayers' accounts."
During an hour-long event with TiE members in Palo Alto Jaitley, the finance minister mentioned that he had met California Governor Jerry Brown .
Talking to Rediff.com about this meeting, Jaitley said, "We had discussions with him on various issues of common interest. I have invited him to visit India."
The Governor talked on climate change issues, Jaitley said.
"He has been very vocal on climate change and that's a subject of mutual interest," he added.
During his week-long trip to the US, Jaitley had attended over 20 meetings in New York, Washington DC and San Francisco.
"Interacting with all the investors, policy makers, people at institutions, universities, and think tanks was a great experience.
"When I interact with entrepreneurs here, I go back with great satisfaction," Jaitley said during his speech at the TiE event.
"I am not here to flatter anybody in this room but I must say have had an eye opening experience in the Silicon Valley."
He said Indian Americans have prospered a lot and India occupies a great place in their heart.
"You have the desire to see India grow and you are the best ambassadors. You have a great privilege of working in a land of great opportunity," Jaitley said.
"I am not here to persuade people and to urge them to invest in India. Investors are very bright people.
"They always look at the prospects of investment. India today has a better story to tell.
"We now have a great future for long term investment in manufacturing and in startups. The venture capitalists now have a huge opportunity there," Jaitley said.
Answering to Rediff.com if Goods and Services Tax would be a reality in 2016, he said, "I hope so."
The finance minister mentioned during his speech said that if India were able to get the GST approved in the coming session in Rajya Sabha, it would boost growth.
"I think India is going to grow soon at a fast pace. That means more jobs and more revenue and more investment in infrastructure," Jaitley said.
Talking to reporters about his US trip, he said he had a detailed interaction with the government authorities in the US and also with the investors.
"I think they see a lot of positives happening in India now. There is an environment where we should do better."
During their meetings, TiE members proposed that the finance minister should start a forum of interaction with policy makers in India on a regular basis.
To this, Jaitley said, "I carry that suggestion back home."
"We want him (Jaitley) to start an institutional framework between Silicon Valley and India on exchange of ideas," TiE president Venktesh Shukla told Rediff.com.
Image: Arun Jaitley