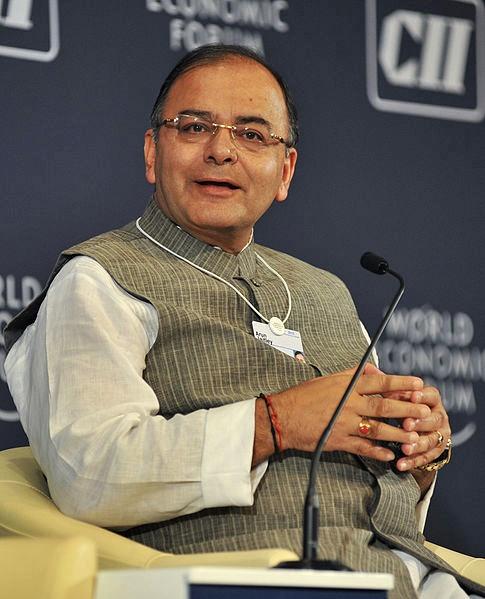 Image: Arun Jaitley. Photograph: Kind Courtesy, World Economic Forum/Wikimedia Commons

Pitching for a rate cut by RBI, Finance Minister Arun Jaitley today said lower cost of capital will give a 'good fillip' to the economy.
"I am quite clear in my mind that the cost of capital has to come down. Inflation has moderated, global fuel price has eased.
"Therefore, if RBI, which is a highly professional organisation, in its wisdom decides to bring down the cost of capital (it) will give a good fillip to the Indian economy," he said.
Delivering the key mote address at the Citi's Investor Summit, Jaitley hoped that as a professional organisation the Reserve Bank will take 'the best decision'.
RBI Deputy Governor S S Mundra, who was present, later said the central bank revises rate, but not on 'popular demand. It changes when there is a clear conviction'.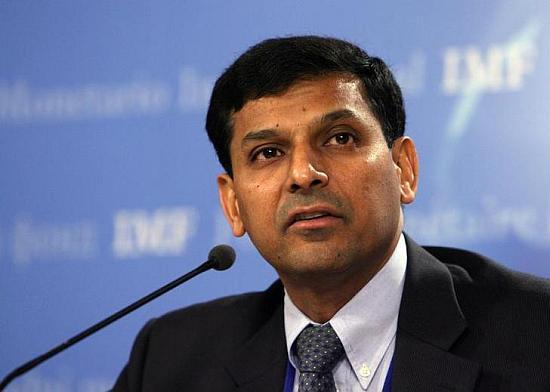 RBI Governor Raghuram Rajan. Photograph: Reuters
At a different function, Mundra told reporters that RBI will take into account various economic parameters while deciding on interest rate at its next policy.
The RBI, which has kept the key borrowing rate at 8 per cent since January to check inflation, is scheduled to come out with its next monetary policy on December 2.
Meanwhile, September retail inflation has dropped to a record low of 5.52 per cent in October, while the wholesale inflation eased to five-year low of 1.77 per cent.
Indian economy, which slipped to below 5 per cent growth in two consecutive fiscals, is expected to improve to 5.4 to 5.9 per cent in 2014-15.
Giving details of various economic reform measures in the pipeline, Jaitley specifically talked about the Goods and Service Tax and Insurance Amendment Bill.
The minister said that he was expecting that Insurance Amendment Bill will be passed in the forthcoming Winter Session of Parliament.
He said he was in touch with the Parliament Select Committee, currently vetting the insurance bill, and would to persuade it to give the report at the earliest.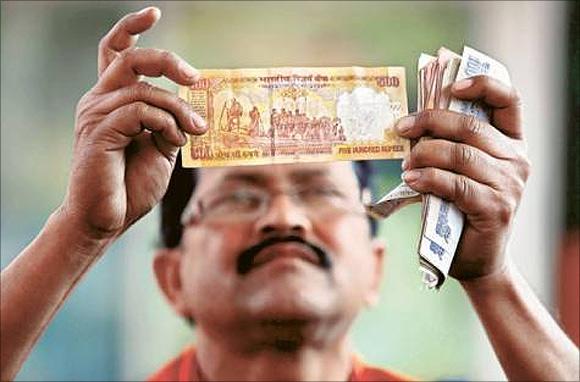 Image: The GST rollout has missed several deadlines because of lack of consensus among states over certain crucial issues on the new tax regime. Photograph: Reuters
As regards GST, the Finance Minister said that he is in discussions with the various state governments and most of the contentious issues have already been resolved.
Jaitley said he will also apprise the Empowered Committee of State Finance Ministers of the draft Constitution Amendment Bill on GST before introducing the same in Parliament.
The GST rollout has missed several deadlines because of lack of consensus among states over certain crucial issues on the new tax regime.
Noting that various sectors have been opened for foreign direct investment in the infrastructure sector by the present government, Jaitley stressed the need to take quick decisions.
"Merely opening yourself out for international investor is not enough, merely saying we will have a red carpet is not enough.
"The system within must be decisive, you can't have investment coming in and stuck in the want of some clearance or some tax policy," he said.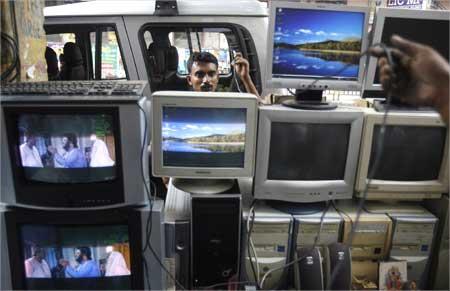 Image: Electronic goods. Photograph: Reuters
Jaitley said that the targets fixed for disinvestment in the current financial year are quite ambitious one, but he was hopeful of reaching near the same.
"We have very ambitious disinvestment target this year.
"I hope we will able to reach close to that," Jaitley said.
He added that road shows in this regard are being held in many parts of the world.
The government has set an ambitious target of Rs 43,425 crore (Rs 434.25 billion) to be mopped up from PSU disinvestment in the current fiscal.
The minister said that he is in discussions with the members of opposition parties to make necessary procedural changes in Land Acquisition Act in order to avoid delay in the implementation of the infrastructure projects.
Department of Economic Affairs Additional Secretary Dinesh Sharma and Citi Bank CEO Parmit Zhaveri were also present on the occasion.