'If one company makes a specific move in terms of leadership changes, or captures growth or mergers or acquisitions, then other players can't stand still.
'Strategically, it becomes a chess-board,' says Aisha de Sequeira, Morgan Stanley's India boss.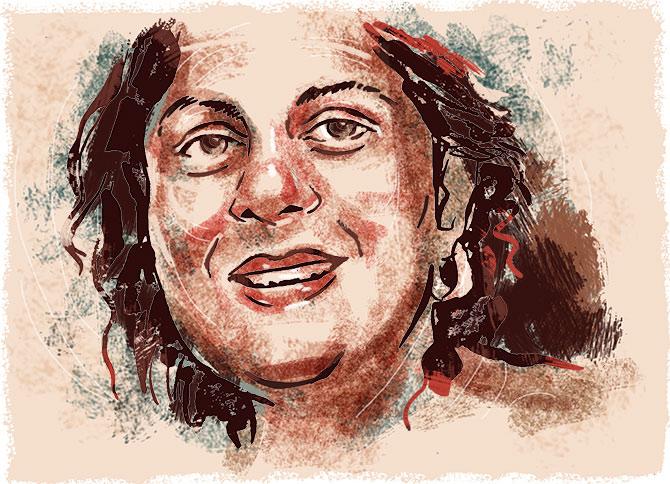 Sorry, I'm running 10 minutes late,' the message flashes on my handphone.
Its sender, Aisha de Sequeira, who arrived from New York City around a decade ago to run Morgan Stanley, has raised some $20 billion of capital for clients in India and provided advisory services for over $70 billion in M&A deals.
Those include investments by Nippon Life into Reliance Life and Reliance Asset Management, the merger of Vodafone India and Idea Cellular, and more recently, the first REIT deal for the Blackstone Group-backed Embassy Office Parks.
She's also fast become the face of the storied American investment banking firm here leading strategic engagements with key corporate clients, and driving strategy for the platform in India with a core team across institutional securities, a global in-house centre, and a private equity business.
Combined with Mumbai's traffic, these are all good reasons to forgive her tardiness.
We are to meet for lunch at the Asian restaurant San:Qui at the Four Seasons in Worli -- perfect given its reputation as a haven for deal-makers.
De Sequeira gets in around 10 minutes later, cheery-natured and smiling as always, and says a big hello. We exchange greetings and get down to ordering.
It's a fresh-lime soda to sip on and a Hunan-style sea bass and jasmine rice for her.
I opt for a bottle of aerated water and a course of stir fried broccoli and asparagus with vegetarian spring rolls.
"Will you have wine?" de Sequeria asks. "I know I'm a girl from Goa but I really don't drink often, which surprised my husband when we first met."
In fact, it's not because she is steeped in Catholicism, has 40 cousins and speaks fluent Konkani that she is the quintessential Goa girl. It's also lineage.
Her grandfather, Jack de Sequeira, was president of the United Goans Party.
Her father Erasmo de Sequeira owned the local Coca-Cola bottling plant and was also a member of Parliament.
De Sequeira went to school at Our Lady Of The Rosary High School after which she went to Goa Engineering College.
"My childhood defined who I am, and one thing I learned was it takes generations to build a reputation but that can be lost in the blink of an eye, if not careful."
Post college, de Sequeira went to Yale University with the intent to study economics and public policy. She audited several classes -- sitting in on law courses and more -- before deciding to major in finance, given her head for numbers.
Right before she graduated, a senior director from Morgan Stanley came to Yale for interviews. It was a Saturday and he was running late.
So when de Sequiera went into the classroom and saw calculus formulas on the board she started to clean it up when he suddenly entered and asked, "What on earth are you doing?".
The young woman answered: "I wanted you to focus on me and not be distracted by the blackboard."
The interview, unknown to her, was to be her first and last job interview.
De Sequeira got the internship, and then when she graduated, she segued into a full-time job with Morgan Stanley as an investment banker, where she worked for 20 years.
As a single professional, she lived in New York for over a decade and learned that a banker's job was beyond just the product.
"You have to grow the business, expand the pie and connect with the clients for the long term because it's never about a one-off deal," she says.
Along the way, clients -- like PepsiCo's former CEO Indra Nooyi -- became lifelong mentors and friends.
Some time in 2007, Walid Chammah, a senior director at Morgan Stanley ran into de Sequeira in an elevator and said, "What do you want to be when you grow up?"
"Already an MD, I thought I'd already grown up, but listened," she says. Chammah said, "Do you want go back closer to home?"
De Sequeira thought he meant Hong Kong, and said no, but would look at India for the right opportunity.
Two months later, she was on a plane to India. She was also engaged at that time and so the change was a 360-degree one.
Within a few years, de Sequeira would be mother to three children and would be juggling her career and the trials of adjusting to a new market.
"It's doable but not easy, you need a supportive spouse and the whole 'lean in' thing works, if you just hang in there," she says.
Things were going well until out of the blue, life threw her a curve ball. "I was feeling off for a few months, working and traveling a lot and had gone to Russia for a YPO (formerly Young Presidents' Organisation) event and felt pain in my stomach," she says.
On her return she got it checked out suspecting kidney stones, and opted for a CT scan. The diagnosis wasn't positive. She had colon cancer. It had spread to the liver.
Shocked, de Sequeira went into fire-fighting mode, travelling to New York to see Dr Nancy Kemeny a specialist at the Memorial Sloan Kettering Cancer Clinic, who'd designed an arterial pump that diffused targeted therapy that was more efficacious than normal chemotherapy.
She was determined she would not let the disease define her, de Sequeira tells me taking a bite of her fish.
In the months that followed, she took time off when she needed treatment but continued working, calling clients, stakeholders and friends, and updating them on her treatment status.
"A lot of people asked 'you're a good person Aisha, why you'?" De Sequeira rationalised it thus: For 40-odd years, she'd never asked why fantastic things happened to her, so why be hypocritical now.
She pauses momentarily, and then adds: "The amount of support I received from the folks in my apartment building was amazing given I'd just moved in there. And the support from Morgan Stanley has always been unwavering."
I ask, if she were to look back, would she have done anything differently? "I think I lost the connection to a higher being along the way, which I have regained," she says. "Prayer works."
Our lunch is almost complete, so we order coffee and ice-cream for dessert.
What's that one thing she wants investment bankers to always remember? "If one company makes a specific move in terms of leadership changes, or captures growth or mergers or acquisitions, then other players can't stand still," she says.
The competitive dynamics kick in on both sides. "Strategically, it becomes a chess-board."
That's the part de Sequeira says she enjoys the most.