'Despite muted growth in financial services, all other businesses have done well,' says N Chandrasekaran.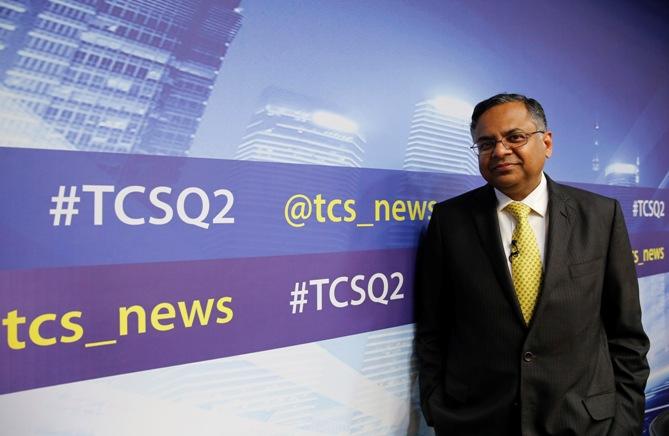 IMAGE: Tata Consultancy Services Chief Executive N Chandrasekaran. Photograph: Shailesh Andrade/Reuters
Tata Consultancy Services (TCS), India's largest information technology services provider, entered the financial year on a strong footing.
But, the numbers reveal lukewarm growth in its key business areas.
N Chandrasekaran, chief executive officer and managing director of TCS, draws the company's growth road map for Shivani Shinde Nadhe in an interview.
Edited excerpts:
What were the reasons for slow growth in key businesses?
Application development management should not be seen in the same light as more work becomes digital.
In the case of financial services, the 1.7 per cent constant-currency growth is not great news, but our incremental revenue from the segment has grown sequentially.
Despite muted growth in financial services, all other businesses have done well. You must see that segments like telecom, utilities, and life sciences have grown well.
Also, you cannot wish away the marco. So far, we have no specific issue with clients in financial services.
Every year, there is a small shortfall and we are unable to draw a conclusion as to what the problem is.
Would you agree that Brexit and currency fluctuations will pose challenges in 2016-17?
Currency has been volatile for some time now. We have to accept this reality.
We want to watch how Brexit plays out. It will have implications, but what will those implications will be on financial institutions needs to be seen.
I have been talking to clients. So far I have not come across any negative comment. Our strategy is to stay close and stay relevant to the customer.
Japan is another headwind. Japan's gross domestic product has been revised downwards so that also impacts us. It will bottom out this year.
The big positive seems to be your digital play. Can you quantify what percentage of work gets onto digital platforms when deals come up for rebids?
Digital adoption is picking up. We have emerged as a partner of choice for customers for deals across segments.
I cannot quantify, but in every legacy deal that comes up for renewal there is a digital play.
If it is infrastructure, it is about moving to the cloud and so on. In the next five to six years it will be all digital.
All our investments in digital have multiple dimensions. We have trained about 165,000 employees on the digital platform and we continue to build platforms like the Internet of Things and analytics.
Take Ignio, it is emerging as a preferred automation platform, and it is not only helping our existing customers but we are also getting new customers.
About 25 per cent of new customer wins this quarter came from Ignio.
You have said future hiring will be low due to automation. Do you think the pyramid model for employees will dissolve?
I think the model will continue. Two things are impacting our hiring.
One, attrition is down and automation will play an important long-term role.
Besides, we are leveraging our global delivery systems, hiring more locals and sub-contractors