A normal monsoon, softer interest rates and inflation, pent-up demand, along with mild budgetary support may help growth pick up in coming quarters.
Ashley Coutinho reports.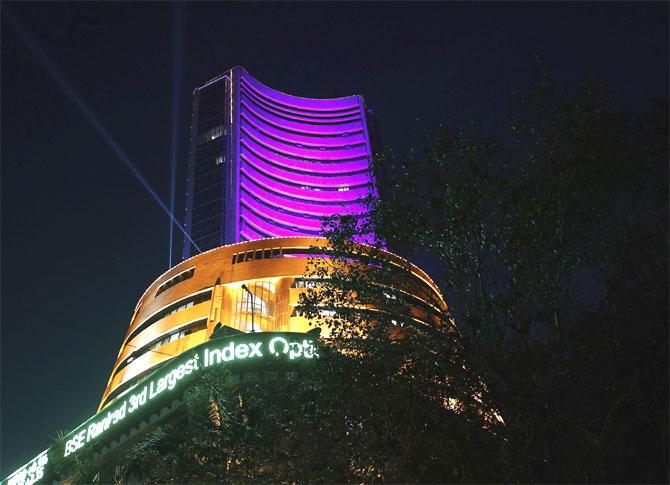 India is now the most expensive market in the world as measured by its price-to-earnings multiple for the next one year.
Nifty 50 companies traded at a price-to-earnings (P/E) multiple of over 20 times based on calendar year 2017 dollar estimates, making India the most expensive market in the world, data collated from Bloomberg and a brokerage report showed.
Benchmark Nifty and Sensex were the top performing indices year to date, behind only Mexico, with the Nifty 50 clocking a gain of 29.3 per cent.
In terms of earnings growth in constant currency terms, however, India was placed 16th when earnings for the Nifty 50 companies were taken into consideration, in comparison with markets such as Taiwan, Singapore, France, the Netherlands, Germany, South Korea and Mexico.
Even if we consider the actual earnings growth in the last three years in constant currency, India is number 12 behind markets such as the US, Indonesia and Thailand.
Analysts said earnings growth would revive in the second half of FY18 and pick up steam in the first two quarters of FY19, as the ripples of demonetisation, goods and services tax (GST) and a spike in banks' non-performing loans (NPL) fade.
An increase in earnings would bring down the P/E multiple, assuming same levels for the indices, thereby making the markets less expensive.
'Nifty earnings growth could rise to double digits from the September 2017 quarter, after stalling around 2 per cent CAGR for the past five years,' said foreign brokerage CLSA in a recent note.
'The macro environment seems favourable as the disruptive forces of demonetisation, GST and NPL recognition fade, creating a low base from which to launch healthy year-on-year earnings trends.'
Despite the prediction of a revival in earnings growth, the same in the past few years has always been lower than initial estimates.
It will be interesting to see if the trend going forward will be any different.
The latest gross domestic product growth, at a three-year low for the first quarter, has not been encouraging.
Analyst attributed the weak GDP data to specific factors such as GST-related destocking, rupee appreciation, weaker agriculture activity and higher subsidy payout.
According to CRISIL, GDP cannot grow at a fast clip in an environment of subdued global growth and weak investments.
'For fiscal 2018, we are in the process of revising down our GDP growth forecast from 7.4 per cent stated earlier,' CRISIL said in a research note.
'That said, normal monsoon, softer interest rates and inflation, and pent-up demand (demand that was postponed due to demonetisation) will support consumption growth in the remaining quarters. There will also be a mild push to consumption from budgetary announcements,' CRISIL added.
'A meaningful and sustained earnings recovery will need a capex-cycle revival, which would follow a resumption of growth in the housing segment,' the CLSA report added.
'Best-in-two-decades affordability and the Modi administration's push will help revitalise housing market activity, which will create more than two million jobs per year,' the CLSA report said.
'With the government turning more favourable on rural policies, we have already seen a small revival in rural wage growth, which should help consumers, autos and housing, among others.'
Photograph: Sahil Salvi