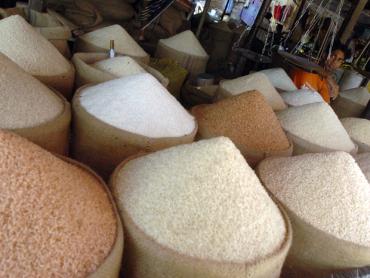 India is again expected to strongly demand a substantial cut in subsidies given by rich countries to its farmers, leading to price distortions and large-scale dumping of agricultural produce, affecting agrarians in poorer nations.
The issue was expected to be raised by Minister of State for Commerce and Industry Nirmala Sitharaman at an informal meeting of trade ministers under the aegis of the World Trade Organization (WTO), on the sidelines of a meeting of the Organisation for Economic Cooperation and Development (OECD) in Paris on Wednesday.
"This is something that has not been raised by India in the near past," a senior commerce department official told Business Standard.
"We are now going to raise it in a significant way. While we are always seen safeguarding our interests, it is time we talk about the billions of dollars spent by the US and Europe to subsidise their agricultural sector." India plans to bring the issue to the main agenda of the ministerial conference, the highest decision making of the WTO, at a meet scheduled in Nairobi, Kenya, from December 15-18.
Abhijit Das, head, Centre for WTO Studies, Indian Institute of Foreign Trade, said: "One of the central elements of the Doha mandate was to reform the agricultural schemes of the developed countries. Over the past few years, there has been an effort by these rich countries to gloss over this issue and only discuss market access.
Getting the issue of cut in agricultural subsidies will certainly go a long way in making their agricultural sector more market oriented.
Besides, it will also impart the much needed momentum in successful conclusion of the Doha round.
"According to the (OECD, agricultural subsidies remained substantially high in 2013 in developed countries, distorting market trends, despite a rise in prices of food commodities. In fact, OECD members spent $258 billion, subsidising agriculture in 2013, according to the organisation. In 2010, the US spent $94 billion on its food aid programmes.
In 2011, it filed domestic support of over $139 billion, double the amount filed in 1995.
Last month, WTO Director-General Roberto Azevedo was learnt to have held meetings with the ambassadors of seven key countries — the US, the EU, Australia, Japan, India, China and Brazil. In that meeting, India was believed to have raised this issue significantly. Since coming to power, the Narendra Modi-led government has been able to successfully steer the talks on public food stocks programme in India's favour.
It was Sitharaman who threatened to scuttle the Bali deal, clinched in December 2013, and managed to obtain for India the permission to offer unlimited subsidies to its poor and marginal farmers by way of minimum support price until a permanent solution to the issue was found.
According to T S Vishwanath, principal advisor at APJ-SLG Law Offices, the informal meet in Paris was crucial for India to put the agenda of farm subsidies of rich countries at the WTO's Ministerial Conference.
"We should talk about significant cuts on the subsidies of developed countries," he added.