Will have to take impairment of Rs 15,000 crore before recovering a single rupee from its arms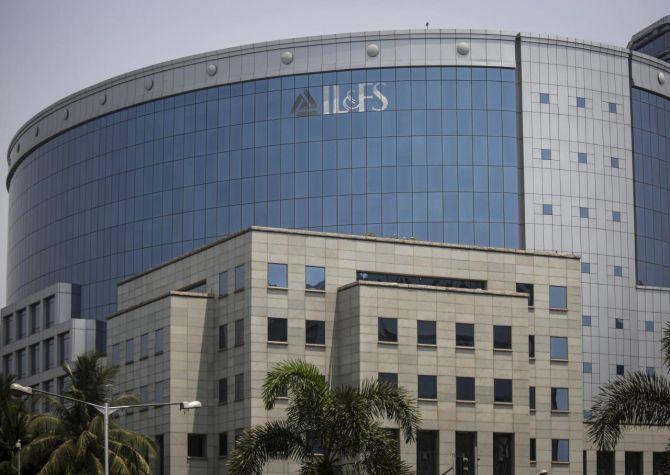 REDD Intelligence, a Singapore-based analytics specialist on distressed debt, says beleaguered infrastructure financier Infrastructure Leasing & Financial Services (IL&FS) will require equity infusion up to Rs 30,000 crore to get back on the rails.
It will also have to take an impairment of at least Rs 15,000 crore before recovering a single rupee from its subsidiaries, says REDD.
"The required equity infusion could be in the range of Rs 22,500-30,000 crore, much higher than the proposed Rs 4500 crore rights issue," it said in a report dated September 27.
"We estimate the equity required to right-size the balance sheet is Rs 29,500 crore, equal to the standalone borrowings at IL&FS and ITNL (IL&FS Transportation Networks). Excessive holding company leverage was used to finance parent contributions in operating subsidiaries."
REDD estimates IL&FS Financial Services (IFIN) and other financial subsidiaries of the group have Rs 25,000 crore in financial assets and Rs 3,000 crore in equity.
IL&FS' consolidated fixed assets, including concessions, are Rs 61,000 crore.
Which, based on a leverage of two (debt to equity), requires an equity contribution of Rs 20,300 crore.
IL&FS also has Rs 8,700 crore in equity investments, loans and advances, and receivables from associates - these should form part of equity and not be leveraged, advises REDD.
All three would bring the total equity requirement to Rs 32,000 crore, it concludes.
IL&FS has a current shareholder fund of Rs 9,300 crore, leaving the required estimated equity infusion at Rs 22,700 crore.
"We estimate high impairment of its assets — an example being the 1,200 Mw coal-fired power plant subsidiary that reported total assets of Rs 13,700 crore.
"This is very high, at Rs 11.5 crore per Mw, compared to the industry benchmark of Rs 8-9 crore per Mw.
"Insolvency proceedings have also been against this subsidiary by its lenders.
"Adding the capital required for IFIN with respect to loans to group companies and impairment for assets, to the extent of Rs 22,700 crore calculated above, makes the Rs 30,000 crore in new capital a reasonable number," it said.
REDD estimates IL&FS will have to take high impairment for its assets on account of power and road projects.
The energy company started facing difficulties after it set up the coal-based power plant and was able to secure a power purchase agreement for only 540 Mw.
It has been referred for insolvency proceedings to the National Company Law Tribunal (NCLT).
"Besides, we estimate the Rs 550 crore in exposure to associates like Hill Country Properties, Dighi Ports (currently in insolvency) and IL&FS Engineering (also filed before NCLT) to have limited recoveries and, therefore, require impairment.
"We estimate a Rs 1,200-1,400 crore write-off is required at its large subsidiary, Chenani-Nashari Tunnelway.
"We have ascribed a value of Rs 3,400-3,600 crore versus the project value of Rs 4,800 crore on the company's books, by discounting the annuities from the project at (an annual) 12 per cent," REDD said.
It has estimated a write-off might even be required for IL&FS' Rs 1,800-crore exposure to subsidiary IL&FS Maritime Infrastructure, which has high related-party transactions and had reported a loss of Rs 300 crore.
It said the related-party loans in most cases were subordinated into the capital structure and in the bankruptcy process.
Therefore, REDD has estimated that IL&FS has Rs 30,000 crore in loans at risk to its subsidiaries.
"Given the second-lien nature of the secured loans at the IL&FS parent and the ITNL parent, recovery could be constrained by the quality of the collateral, such as equity pledges from operating subsidiaries," it added.
Photograph: Shailesh Andrade/Reuters