NEPRA collects waste from registered rag pickers, input their items in the app and pay them a fair price. The entire process is monitored, live tracked and controlled from the company's support office.
Anjuli Bhargava reports.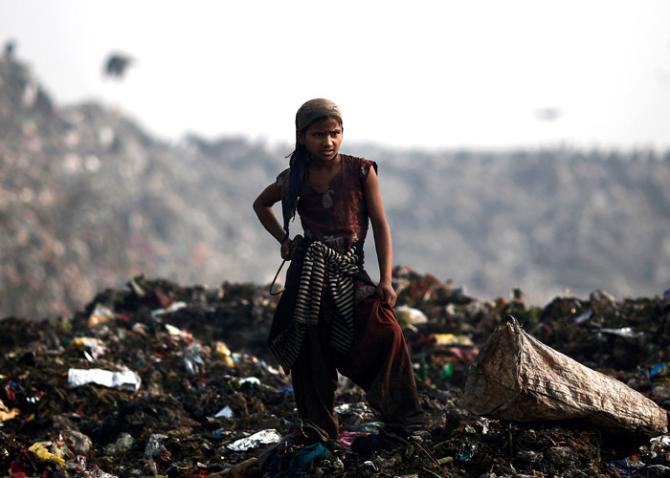 Sandeep Patel is a serial entrepreneur and a Gujarati by birth.
Designing viable business models comes naturally to him and making money runs in his genes.
A bit like Rumpelstiltskin, no matter what you give him, he tries to spin it into gold.
Like with his previous enterprises, Sandeep's natural instinct led him to dry waste.
Estimates show that urban India generates at least 62 million tonnes of municipal solid waste annually.
Of this, only 20 per cent is treated and 50 per cent is dumped in landfills.
If the same trend continues, it is estimated that by 2030, the landfills would triple.
The size of the opportunity that stared them in the face was staggering.
Yet he and his partner Ravi Patel knew that many in the past had tried to fill this space in the past and failed.
In almost any other sector -- be it telecom, retail, or FMCG -- one can name one or two big players who are considered leaders.
In the waste management space, there have been a few large players with bad intentions and many small players with good intentions.
From 2006 to 2009, the duo crisscrossed the country to understand the travails of stakeholders in the sector.
Ragpickers were largely disorganised, were paid way below the fair price for their efforts, and didn't live long enough to protest.
Transporters were reluctant to commit as business was unreliable.
One day there would be waste to transport and the next day nothing.
Recyclers said they didn't get a regular supply of high-quality material.
If they set up a plant to recycle, it was doomed to function at below full capacity as the right raw material was not easy to source.
That's when they understood that if they had to tackle this problem with some seriousness they needed to build a business model quite different from what others in the space had so far adopted.
Moreover, to tackle it at any scale, they needed to bring in technology like never before.
Luckily for the duo, a third partner Dhrumin (yet another Patel) fell into their lap in 2011, even as Sandeep and Ravi were taking baby steps into the world of waste.
This helped strengthen their team.
During 2011-2013, the team started focusing on bridging the gaps they had found in the way the business functions and struggled to build its technology platforms that would allow them to bring in scale.
What is NEPRA, a waste-management company headquartered in Ahmedabad, doing differently from other players who have tried to grab this market in the past? Most companies work on the tipping fee model.
In this, the municipal corporation in the area pays the company to lift the waste (usually mixed) and dump it on a landfill, a practice many in the space feel needs to be discontinued altogether.
Says Avinash Pratap Singh, CEO of NGO Waste Warriors : "This defeats the very purpose".
He says that segregation is at the heart of the matter.
Once segregated, wet waste can be composted, dry waste can be recycled and the remainder -- which automatically becomes more manageable -- can be dealt with as best possible.
How NEPRA's model works is dry segregated waste is collected from homes, schools, malls, hospitals, hotels, restaurants everyday by collection vans run by registered drivers who are linked to their ERP app.
They collect waste from registered rag pickers, input their items in the app and pay them a fair price.
The entire process is monitored, live tracked and controlled from the company's support office.
The bags with waste are taken to the NEPRA facility and it is processed by its automated facility, using optical sorting and is prepared as a commodity according to the requirements of a recycler and sold.
Institutions who work with them know their garbage will be collected daily, ragpickers earn 25-30 per cent more than they would in the unorganised market otherwise, drivers know they have a daily run to do and recyclers are assured of quality raw material on a regular basis.
Almost 90 per cent of what reaches the material recovery facility can be recycled and the remaining 10 per cent is sent to cement kilns for burning.
"Not even a single kilo we collect goes to a landfill", claims Sandeep.
Vineet Rai, chairman and founder of the largest impact platform Avishkaar and one of the biggest investors in the company, says the biggest differentiator for him is the fact that NEPRA took the "trouble to integrate rag pickers into its supply chain -- something that was laborious, time consuming and in some ways thankless".
NEPRA's model may not lead to "quick success" but in the long run, he sees segregation as the "only real solution" to a problem that has plagued us forever.
Sceptics however say that NEPRA like others is dealing only with the easier -- and more lucrative - aspects of the problem.
Dry waste is of high value and many companies have tried to make this into the main proposition.
"To solve the problem from its root, any player must have solutions for all the types of waste generated including medical, sanitary and electronic", explains Singh.
But what has fallen straight from heaven on NEPRA's lap is the timing thanks to Prime Minister Narendra Modi's Swachh Bharat Abhiyan (SBA).
Municipal corporations -- hitherto unknown for pro-activeness -- have suddenly awakened.
Contracts have been firmed up with five cities (560 metric tonnes per day) already, Mumbai the latest to bite.
In Indore -- already ahead of the pack -- a new 300 metric tonnes material recovery facility is under construction by NEPRA to tackle municipal waste.
The plan and ambition however is to go pan-Indian.
Total revenues this financial year will be around Rs 130 crore.
The earnings before interest, taxes, depreciation, amortisation, and restructuring or rent costs margin is between 15 and 18 per cent.
So far, the company has raised a total funding of Rs 78 crore - its two main investors are Mumbai's Avishkaar Group and Asha Impact.
It is now planning to raise a round of funding of $50 million to expand to ten cities.
The total employee count is just over 350 but it is rising fast.
So, can NEPRA reach where no man has gone before or rather achieve what no firm has managed before? If the resolve of the founders is anything to go by, it may.
But India remains an unpredictable trenching ground and separating the wheat from the chaff is easier said than done.
Just like your trash.